Can Hindus and Sikhs unite again?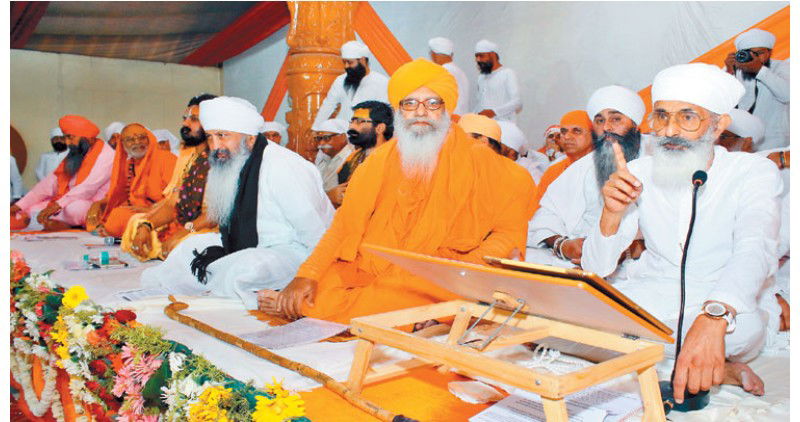 The Hindu-Sikh brotherhood has never been in question until the 'Farmers' Protest and it's consequences.

Hinduism,Sikhism,Buddhism and Jainism are always been categorised as branches of Sanatan Dharma and Gurus of Sikhs were also sacrificed themselves fighting fundamentalist imposition of Islam on Indians by Mughals and many Hindu rulers also fought along with the Sikh gurus. During British colonial period,many Sikhs sacrificed themselves for the independence of United India. Sikhs contributes around 20% of Indian Army besides being 2% of total population and many Olympic medals were also won by them for India. The first time Hindu-Sikh brotherhood was questioned when Terrorist Jarnail Singh Bhindranwale and Congress thrown innocent Hindus and Sikhs into communal riots in the 80s but situation becomes normal later.

When PM Modi brought 3 Farm Laws, Pakistan/Leftists/Congress & Canadians found a way to break Hindu-Sikh brotherhood and they are successful a little bit in it.

Sikhs are always been targetted by Islamist mob in Pakistan and now also in Afghanistan. Remember when Nankana Sahib was attacked by Islamists of Pakistan in 2020 and Kartarpur Sahib is also being underrated their because Pakistan is an undemocratic Islamic majoritarian country. These places should have been in India because during the partition of 1947, Hindu-Sikh places were going to be in India and Muslim places in Pakistan. Every Liberal in the world cries over Kashmir(Despite it was a Hindu region long ago) but never see the other side and also ignores the struggle of Balochistan to gain independence from Pakistan. Therefore,Dr BR Ambedkar also neglected to trust Islam – "Hinduism is said to divide people and in contrast, Islam is said to bind people together. This is only a half-truth. For Islam divides as inexorably as it binds. Islam is a close corporation and the distinction that it makes between Muslims and non-Muslims is a very real, very positive and very alienating distinction. The brotherhood of Islam is not the universal brotherhood of man. It is a brotherhood of Muslims for Muslims only. There is a fraternity, but its benefit is confined to those within that corporation. For those who are outside the corporation, there is nothing but contempt and enmity," BR Ambedkar wrote in 'Pakistan or Partition of India'.
An international organization 'Sikhs For Justice' published a dream map of Khalistan in which there was no Lahore or Kartarpur in it and when a Sikh was killed by Muslim mob,those organisations remains silent. This supports the fact that SFJ and other Khalistanis are just tattus of Pakistan.
There are many Sikh extremist accounts on social media who spews poison against India,Hindus and PM Modi. Almost all of them are from either Canada or Britain.
But there are also many good Sikh people like Amarinder Singh,MS Bitta,Manjinder Singh Sirsa,Tajinder Bagga etc and many good Sikh organizations or websites like-Real Sikhs against Khalistan,Sikhnet,The Khalsa Today,Basics of Sikhi and Real Sikhs For Justice. And also good Sikh people abroad like Sukhi Chahal and Sukhdev Singh Kang who really believes in Gurus' teaching not leftism or chauvinism.
Both Hindus and Sikhs are one and should be one,we should read our glorious past that how we fought every threat to our country or culture together.
Jai Hind 🇮🇳
Jai Shri Ram 🚩
Satnam Waheguruji 🚩
DISCLAIMER: The author is solely responsible for the views expressed in this article. The author carries the responsibility for citing and/or licensing of images utilized within the text.