Chandrashekhar Azad – The First Victim Of Nehru's Backstabbing?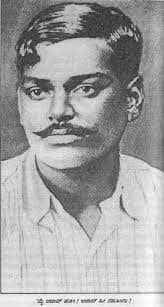 If It Doesn't Enrage You, Then It Is Not Blood But Water In Your Veins – CHANDRASHEKHAR AZAD.
Was Chandrashekhar Azad the first victim of Nehru's Political Murders?
On his Balidan Divas, a small tribute to the legendary freedom fighter and a brief visit on his life and death.
Azad's Nephew Sujit Azad claims that
1) Nehru informed British about Presence of Chandrasekhar Azad at Alfred Park, because other than Nehru & fellow HRA members nobody else knew that he was coming there.
2) Chandrasekhar Azad gave money to Nehru to release Bhagat Singh, but Nehru had swallowed it.
(Link attached at the bottom of the post)
Azad rose to fame when he was a 15 year old kid and stood firm in front of magistrate.
He had shouted Azadi slogans & British arrested him.
When asked his name "MAIN AZAD HOON" came the reply.
SWATANTRATA as his fathers name, Jail as his house.
The agitated Magistrate gave the 15 Year Old Kid 15 Whiplash as Punishment, and for every Whiplash he received, the boy said #BharatMataKiJai
From that day Chandrasekhar Tiwary became #ChandrashekharAzad
He lived for 24 years, but his contribution, sacrifice for Maa Bharati remains immortal.
Azad was born on 23 July 1906, His mother wanted him to be a Sanskrit scholar, but he chose a different path, to sacrifice his life for Freedom from British Clutches.
In December 1921, when Gandhi launched the Non-Cooperation Movement, 15 yr old TIWARY joined & rest is history.
Gandhis U-Turn on Non Co-operation Movement left many people dissatisfied, Azad who was 15 met 13 year old Manmathnath who in-turn introduced Azad to Ramprasad Bismil & Azad joined HRA.
The members of HRA were caught & few were hanged, jailed for Khakori train robbery, but Azad escaped, later he joined hands with BhagathSingh to form HSRA. Azad, used to have a pseudonym BALRAJ and most of the time used to write under this name.
In the history of freedom movement, few became GURU's Savarkar, Tilak, Lala lajpat Rai to name a few.
J P Saunders was responsible for Lalajis death & Azad carried the vengeance of that, and in 1928, AZAD killed Sanders.
Bhagath Singh was caught in Saunders case and Azad, who had escaped again took the help of Jawaharlal Nehru for Bhagats release, Nehru had swallowed it.
Nehru was supposed to meet Azad on Feb 27th at Alfred Park, Prayagraj, insted tipped British that Azad is hiding there along with Sukhdevraj.
The British surrounded the park, asked Azad to surrender, Azad being Azad killed 3 police, helped Sukhdev to escape.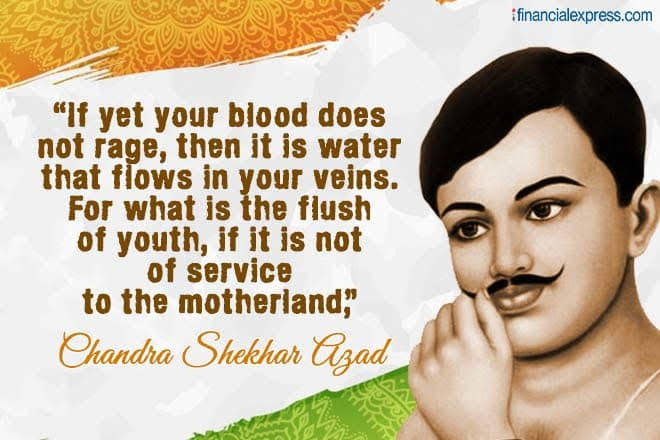 The LAST BULLET in his Colt was for himself, he never wanted to be captured by British, he often used to say, "The Bullet of British Must Not Kill Me" and Shot Himself.
Thus the 24 year old AZAD attained Veergati rather than getting Imprisoned (Again, this was also his quote)
The kid Manmath Nath outlived most of Congis and he in detail has mentioned how Nehru used to call them as FASCISTS and TERRORISTS, Manmath in his epic "THEY LIVED DANGEROUSLY" says, Azad was pained when Nehru used these words.
#VandeMataram
https://www.dailyo.in/politics/chandrasekhar-azad-jawaharlal-nehru-mahatma-gandhi-hinduism-freedom-struggle-sardar-patel-subhas-chandra-bose/story/1/9233.html?fbclid=IwAR1p9NX7Lq9-JIaIPW1xwhSnMTJ1NtnGkuRLc-uTsBM9mh7DFaTa6bImz9w
DISCLAIMER: The author is solely responsible for the views expressed in this article. The author carries the responsibility for citing and/or licensing of images utilized within the text.