Comparing India and the US: Getting into College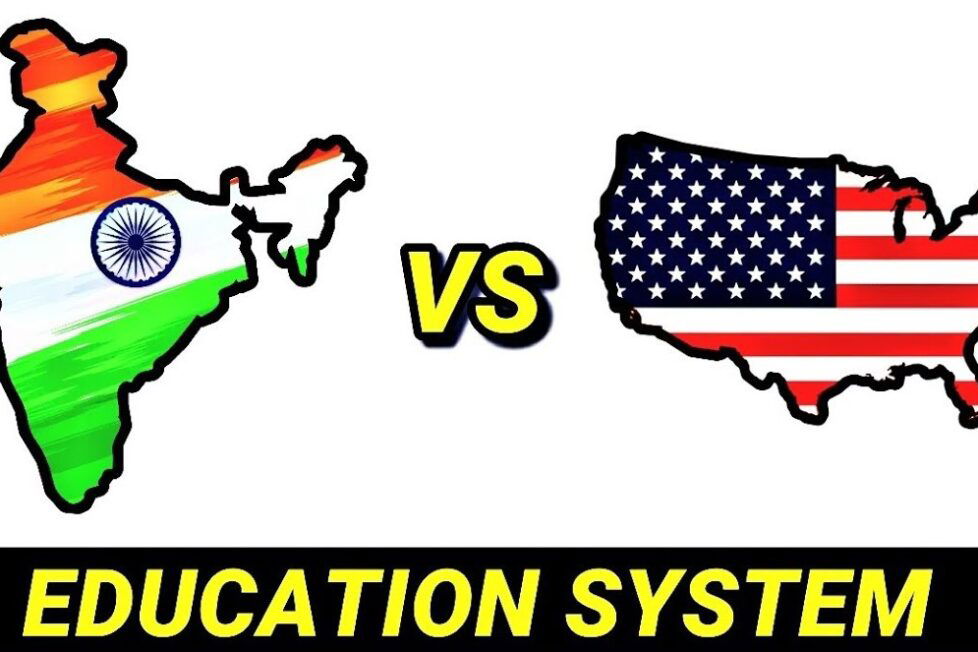 I am Shristi Chitlangia, Second Year Student majoring in Computer Science at the University of Texas at Austin. I am co-authoring this article with Tushar Chitlangia, Second Year Law Student of National Law University Odisha, India. Through this article, we intend to provide some insights on how the education system, particularly the college education, of India and the US are similar in some ways and different in others. We shall primarily talk about the process of how an individual gets into college or a university of his/her choice in the USA and in India. 
In the modern day global society, a formal education to obtain a degree is seen as the validation for one to be professionally involved in their career and take more so-called white-collar jobs. Whether this means being an engineer, a lawyer, CEO, professional artist, or any other educated profession, the race for high school students to get into college is cut-throat across the world, especially in the instances of India and the US. For example, as a college student in the US myself, the preparation to get into college began in 9th grade.
Most public high schools have a ranking system based on one's GPA, and if a GPA is nonexistent then during the college application process colleges will calculate a GPA based on one's academic performance through courses. These rankings and calculations define a student as being in the top tier of their high school graduating class. In addition to the high school academic performance, colleges in the US also require some form of standardized test (SAT or the ACT) along with respective subject tests (like English, Math, Physics etc), Advanced Placement Exams (College level exams for English, History, Calculus, etc), or even exams taken through the International Baccalaureate Educational program. But this is simply the academic component of the college application process.
Colleges look for what we will call a "well-rounded individual" which means being involved in some extracurricular activity (sports, debate, fine arts, business competitions, etc), offering time to volunteer and being part of the community, and maintaining a stable academic performance. Part of getting into a dream college also includes building a resume and gaining experience in what one may find oneself to be passionate about, or have a possible interest in. And after all this, one still has to write an average of 5 – 40 short and long essays recounting their high school experience, and their life's highs and lows. For some competitive college programs and honors recognition, a student additionally has to go through an interview process and submit letters of recommendation. It is after months of the entire process that colleges release decisions from January – May to be able to enroll students starting with the Fall semester in August/September. 
In contrast, there are two ways to get into the higher education mainstream in India. Either you get in by your 12th class board exams grades or you are granted admission on the basis of some entrance examination. There are pan India examinations for some areas in India like engineering, medical sciences, and law etc. To quote some numbers, around 1 million students sit for engineering examinations in India, whereas close to 60,000 sit in entrance examinations for law. There are some set marks, an individual has to score in their class 12th examinations to be eligible for writing these entrance tests. Usually, the top one or two percentile of students get through the top institutions of the country. This may be even lower for some examinations. It is evident that the competition is cut throat, and some students end up preparing for examinations for about 2-3 years.There is no interview process to get in through these examinations and marks in the entrance examinations are the sole criteria for determining admission.
However, nowadays, many private institutions are requiring students to participate in interviews, GDs, etc. to test their skills in order to be admitted in the institution. Some are even giving weightage to extracurriculars done by students in their school. There are also some universities, both public and private, which conduct their own entrance tests. Alternatively, there are some universities and colleges which give admission to students just on the basis of their class 12th grades. The general grading system in college in India is the GPA system or the percentage system, however, due to the range of universities present in India, the authors are unaware if any other system is followed. Upon the completion of the college application process, colleges in India begin their academic sessions starting in the month of July or August.
It is evident that with both the US and Indian processes for applying and getting accepted into college involve a high level of academic competition and race for students to be the best at their skill or passion or have a good academic record. However, there are also differences in that the US also places a heavy focus for students to develop themselves beyond academics, and though that often makes it more stressful on students, students are able to explore their interests in a nonacademic way too. In India the gradual move to interviews and finding alternatives to standardized entrance exams is starting to show a reflective nature that college admissions should not be solely based on academic performance and grades. However, this new style may take time and attract some reluctance by the academia, due to the demographic structure of India.
DISCLAIMER: The author is solely responsible for the views expressed in this article. The author carries the responsibility for citing and/or licensing of images utilized within the text.