Dr. Ambedkar Advocated Sanskrit As Official Language Of India Dr. Bhimrao Ambedkar the architect of the Indian Constitution, unlike the anglicized Jawaharlal Nehru, appreciated the significance of the scientific ancient mother of all languages, Sanskrit. In contrast to Nehru's obsessive slavishness to the foreign English language, Ambedkar was a votary to have Sanskrit, culturally and knowledge enriched fountain head of all languages in the world as the official language of India.
Since all Indian languages ​​have their roots in Sanskrit, Ambedkar rationalised that Sanskrit is the unifying link between all the regional languages and be a cementing force among the myriad socio-cultural zones of India. Reasoning that Sanskrit would be a common base for all, without imposition of a particular zone's language over the other, and to negate all disputes over language chauvinism, he proposed to make Sanskrit as the formal official language for India Union.
Bhimrao Ambedkar proposed that for the first 15 years after independence, English could be retained as the official language of the country while during the period developing country-wide proficiency in Sanskrit.
Ambedkar had also recommended to the Council of National Language constituted immediately after the independence to make Sanskrit the official language of the Union of India.
On September 11, 1949, The National Herald, reported in an article titled, 'Ambedkar Among Sponsors – Sanskrit Proposed As Official Language' reported that Dr. Bhimrao Ambedkar, the then Law Minister of India strongly advocated with other sponsors to make Sanskrit the official language of the Indian Union. He was supported by Dr. B.V.Keskar, the then Deputy Minister of Foreign Affairs, Nasiruddin Ahmad and several others.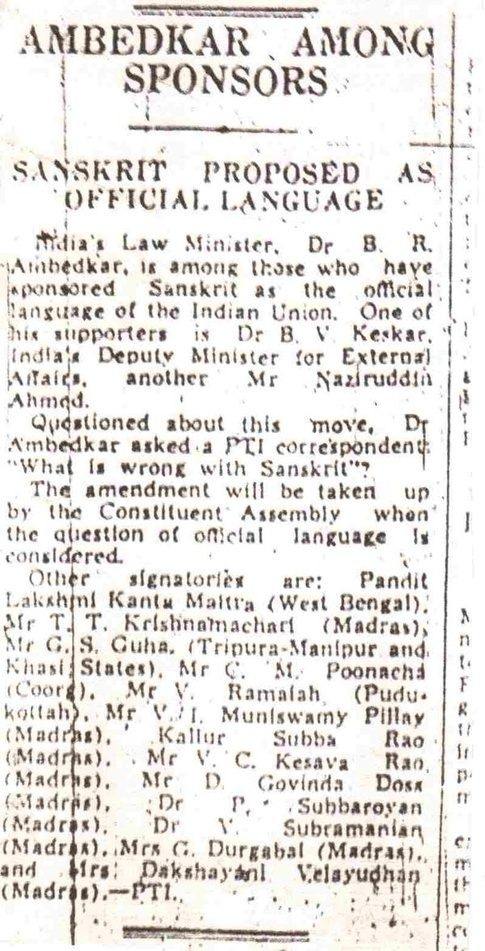 When questioned by a PTI correspondent about his choice, he answered, "Why? What is wrong with Sanskrit? ' Ambedkar said that the Constituent Assembly would deliberate on the amendment while considering the question of official language. In addition to Ambedkar, Pandit Laxmikant Maitra (W. Bengal), T. T. Krishnamachari (Madras), Mr. G.S. Guha (Tripura-Manipur), CM Poonacha (Coorg), V. Ramaiah (Pudukkottai), V.I. Muniswamy Pillai (Madras), Kallur Subba Rao (Madras), V.C. Keshav Rao (Madras), D. Govind Das (Madras), P. Subbaroyan (Madras), V. Subramanian (Madras), Mrs G. Durgabai (Madras) and Mrs Dyakshayani Velayudhan (Madras).
Ambedkar Instrumental In Forming First Sanskrit Commission
Ambedkar also demanded from Nehru to form of a 'Sanskrit Commission' to analyse the status of traditional Sanskrit teaching. In1956 the first Sanskrit Commission was formed whose President was a well-known philanthropist, Dr. Sunutikumar Chatterjee under whom a detailed study was conducted to assess the ground situation of teaching in Sanskrit in India.
Amedkar's Idea Behind Sanskrit Scholarship To Bust Aryan Invasion Theory
Ambedkar was also said to be well versed in Sanskrit scriptures and treatises. Being a well read person and understanding Sanskrit scriptures first hand without the aid of any translations, he completely denounced the Aryan invasion fable created by Christian missionaries in cahoots with western intellectuals in a bid to divide Indians and convert them to Christianity.
He also found the Aryan – Dravidian divide bogus like Maharishi Arvind, Swami Vivekananda, and Dayanand Saraswati. Ambedkar felt that these canards spread by vested interests can be demolished only if Sanskrit is universally learnt by all Indians which would enrich their knowledge and enhance their self-esteem and confidence about their civilizational heritage.
Unfortunately, after Ambedkar's death many organisations and political parties have been formed in India, particularly South India which denounces Sanskrit as an invader's language and calls north Indians as Aryan invaders and south Indians as aboriginal Dravidians in contrast to Ambedkar's beliefs.
Chief Justice of India SA Bobde On Sanskrit As Official Language & Study Of Nyayashastra
On the 130th birth anniversary of Dr. Ambedkar (April 14th), The Chief Justice of India, SA Bobde in a speech inaugurating the academic building of Maharashtra Law University at Nagpur, pointed out the merits of Sanskrit as the official language and link language of India by quoting Dr. Ambedkar's views on the matter. He also emphasised, that Sanskrit was a preferred language as Hindi would be opposed in the South and Tamil is not accepted in the North making Sanskrit the common ground for all of India.
CJI SA Bobde, also impressed upon the importance of including 'Nyayshastra' in legal studies which is as significant as Aristotle and Persian system of logic if not more. He said that, "there is no reason why we should not gain from the geniuses of our ancestors".
News input: ANI,
Information and image source: https://thearticle.in/story-hub/babasaheb-sanskrit-language-can-mitigate-indias-linguistic-differences/?amp_markup=1&__twitter_impression=true
DISCLAIMER: The author is solely responsible for the views expressed in this article. The author carries the responsibility for citing and/or licensing of images utilized within the text.