Hindu Resurgence at Mathura: King Gokul and King Rajaram.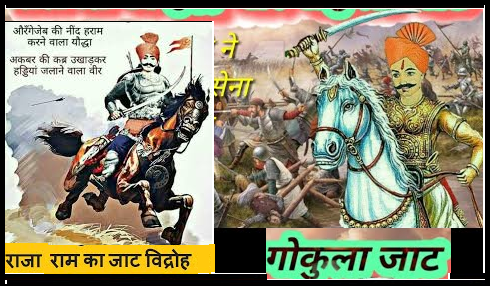 Historian post Independent whitewashed the true Indian History. Hindu resurgence for its gallantry and Self-esteem has an unparalleled history. Unlike Persian, Egyptians and Mongol who were defeated, enslaved and proselytize​d​ by Arab, the Sanatan Samaj of Bharat never buzzed an inch from their belief.
Rajput, Sikh, Maratha, Ahom, Nagas, Satnami, Jat, Gajpati and Vijaynagam led some of the most vicious and bloody battles of History. Their Stories of Sacrifices and Valor had no end. Unfortunately Indian Historians sold their conscience for a few dollars to leftist ideology and documented a selective despicable and Hindu-phobic History.
We write today the Valiant Valor of Two Jat Kings on Mathura who rose against and Mughal Aurangzeb. Despite having constraints of resource and weaponry, the Assault by Jat King Gokul and King Rajaram narrates the gallantry of Indian warriors.
The Medieval jat Warrior were both Peasant and Warrior class. Jat always stood for their self-esteem and freedom. Being so close to Delhi and on the mouth of the gateway to East India, They fought ferocious battles, offered resistance and stood upright against any challenges to oppression.
Un-imaginable perseverance and exemplary strength. It is unparalleled in Indian history.
| | | |
| --- | --- | --- |
| Raja Gokul | 1665-1670 | Led in Area of Mathura |
| Raja Rajaram | 1670-1688 | Expanded to Agra |
Raja Gokul (1665-1670):- Gokul rebellion against Aurangzeb has been shamelessly concealed in History. Hurt by the imposition of Zaziya and religious persecution by Mughal, Gokul organized a band of army from warriors from Meo, Meena, Ahir, Gujjar, Naruka, Panwar community and attacked the Mughal army near Mathura. The Mughal army head Abdun Nabi Khan was killed and the area around Mathura to Agra was declared free. Raja Gokul refused to pay the land revenue to Mughal at Delhi.
Shocked Aurangzeb sent another large force under one Radandaz Khan to crush the jat. Instead faced with the aggression of Raja Gokul, Mughal wanted to make truce. Gokul refused and remained uncompromising. The Aurangzeb finally sent another strong army in 1669 under Hasan Ali Khan. A series of pitched battles exhausted Gokul and his Army. The Gokul led the battle till his limbs stayed strong enough to hold his heavy sword. He met the martyrdom in the battle finally in 1670.
Aurangzeb took advantage of this void and demolished the famous Keshava Rai temple of Mathura which was built by Bir Singh Deo Bundela.
Raja Ram's Rebellion (1670-1688): Bajja Jat, zamindar of Sinsin, commanded a lot of reverence in the Jat Community. Bajja Jat had three sons and for the next 100 years, Jat leadership were ably led by these Powerful Sons. Churaman, Badan Singh and Raja Ram. The demise of Raja Gokul and subsequent void of leadership among Jat was waiting for a new Leader to emerge.
Following the military acumen of King Gokul, King RajaRam also organized warriors of different clans and united them. He went ahead by building Mud forts in deep Jungle and arranged military training for his warriors. Guerrilla Warfare was best suited given to the limitation of resource and command under him.
King Raja Ram started collecting tax from the Caravan travelling through his area around Agra. The Mughal Army led by one Safi khan was unnerved and helpless before the agility and frequency of attack of King Raja Ram. In a few years the Jat warrior became battle hardy and was ready to avenge the death of Gokul from Mughal.
King Raja Ram led his warrior to attack Akbar tomb at Sikandra and besiege the city of Agra. The first attempt was somehow repulsed Mughal fauzdar Mir Abul Fazal but at great loss. Emboldened by the success, King Raja Ram went after more Mughal army heads like Aghar Khan and Mahabat Khan. Fierce battle between jat and Mughal became the folklore those days in this area.
March 1688, King Raja Ram led a very vicious assault on Sikandra. Sensing the belligerence, The Uncle of Aurangzeb, Shaistah Khan withdrew his Mughal Army. Same coward Shaista Khan was later on Killed by Chatrapati Shivajee. King Raja Ram killed Mughal Army annexed the City and destroyed the mausoleum of Akbar as a revenge of King Gokul death.
In Manucci's words, "Dragging out the bones of Akbar, they threw them angrily into the fire and burnt them", avenging the death of Gokula (Mar 1688).
Outraged and disgusted at the news of desecration, Aurangzeb was numb as well as shaken in disbelief. He was terrified at the idea of King Raja ram marching ahead with his band of warriors.
While Historians in India have painted a picture of absolute control on India by Mughal Aurangzeb, truth rests nowhere near to this. Aurangzeb lost Afghanistan to Persian. Mughal were fiercely contested by Rajput, Sikh and Maratha. Nearest to Delhi were the Jat, who found the Aurangzeb weak enough to desecrate the Akbar Tomb and burn the bones of his corpse. The true Mughal were not the one how they have been narrated in the History book.
Aurangzeb sent a much larger army under his grandson Bidar Bakht to take on Jat King Raja Ram now. The skirmish happened all around the Agra. No winner was visible, until an accidental shot by Mughal Musketeer found the target and King Raja Ram attained martyrdom.
Jat revolt was among the greatest and bravest stories of Hindu Power that aroused and established its might in Northern India.​ The Sacrifice of King Gukul and King Rajaram did not go in vain. The later Jat King Surajmal ultimately defeated every single adversary including Baloch, Afghan, Rohillia, Sayyid and Mughal and went on to set up one of the finest and invincible Jat Dynasty of Bharatpur.
The Story of Hindu resurgence is endlessly splendid and fabulous. The Heroic sacrifice and bloody battle sings the song of their Gallantry.
DISCLAIMER: The author is solely responsible for the views expressed in this article. The author carries the responsibility for citing and/or licensing of images utilized within the text.