How Pakistan is slowly breaking apart from inside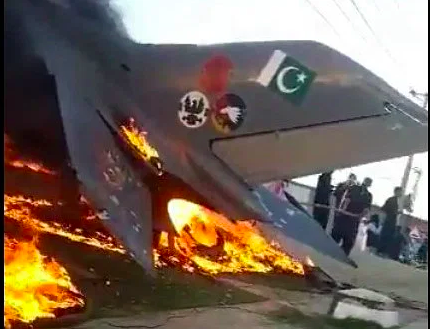 A complete breakdown of law and order which has transpired in Pakistan has been all over the media in recent days.  The turmoil is but an indication of the volcanic eruption which is simmering under the surface and will keep erupting until the whole place blows up.
From the various news reports, specially by the supporters of Imran Khan and the rebel groups in the Army it may have looked like millions of people had come out on the street.  However, the more authentic sources reveal that on May 9th 2023, it was not more than a total of 45000 people who had come out to protest against Imran Khan's arrest.  In fact, the exact figure quoted is 44937 in big and small cities across Pakistan. Lahore had the largest turn out with a total of 7000 people who turned up at 4 different locations. Out of all of those who came out on the road, 16,028 are said to be involved in acts of terrorism, vandalising state and Army property etc. This stands at 35% of all the people who were supporting Imran Khan through demonstrations on the road.
Those involved in acts of terrorism were  were controlled by 54 different people, who were put up at 19 different locations. These 19 people in turn were reporting to 6 main people and were updating them with whatever was happening on ground, moment by moment. These six central people were passing all the reports to a specific person through a former Air Force officer.
Out of the 16,028 terrorists, the police and agencies have identified 13,934 persons through CCTV videos, photographs and social media posts. Of the 13,934 people, 8,911 people have been arrested from all over the country until yesterday. The attackers at GHQ, Corps Commander's House, Mianwali and Faisalabad were accompanied by a backup of armed terrorists and most of these were authenticated terrorists belonging to Tehrik e Taliban Pakistan.
At the PAF base in Mianwali, where the mob wanted to burn down all the Air Force planes according to Punjab Chief Minister, more than 200 terrorists armed with modern weapons were involved. They were continuously receiving instructions on where and how to enter the premises.  They were instructed to break the walls by any means and set fire to all the Pak Air Force aircraft standing in the yard. 3 Suzuki vans were brought along with drums full of petrol for the purpose.
The Pakistan security agencies have claimed that all the remaining terrorists will be arrested "alive or dead" within the next 48 hours. Also involved in the mayhem were some judges of the Supreme Court, Lahore High Court and Islamabad High Court.  Imagine the irony of the situation, where senior members of the judiciary were active parts of the premeditated plan to facilitate this systematic attack on the their own state armed forces. The identification and arrest of several individuals from within the civil and military bureaucracies has also been carried out. Two media channels were directly involved in the whole and three media channels were partially involved in the facilitation work. 39 YouTubers, 13 TV anchors/journalists were openly encouraging and defending him and whereas 29 were doing so covertly.
The acts of terrorism was being encouraged by 427 handles and 800 robots on Twitter and all were carrying out attacks on the armed forces of Pakistan. 96% of retweets were automatically retrieved after prepayment. In addition to twitter, 1,380 accounts on Facebook were going all out to spread enmity and hatred against the state. The sources within Pakistan establishment are alleging that 50% of these Facebook accounts were under the control by India, Europe and America. The person leading this operation was sharing all the information through a lady to Imran Khan.  The phone of a government employee posted in the Police Lines Rawalpindi was used to pass on this information. Imran Khan reportedly expressed happiness and satisfaction over all this activity, and sent a congratulatory message to the mastermind of the project.
The code name of this woman was kept as "Azam Swati", named after a Senator belonging to the PTI, while Mr. Swati has seemingly got nothing to do with the whole process. The same lady also spoke to the Chief Justice of Pakistan to secure bail for Imran Khan, and used whatever means available to ensure this happened. The law enforcement agencies of Pakistan are said to have collected all evidence including phone call recordings and other evidence. There is a plan to bring all this to the public.
The sources go on to claim that this attack was planned on March 13, 2023. For the purpose, seasoned, well trained terrorists were brought in from Afghanistan, tribal areas of Pakistan and from terrorist hold cities in Khyber Pakhtunkhwa. All of them were assigned intended targets and were posted at these places before 25th April. The arrest and release of Imran Khan was just a from to this drama.  It was all pre-planned and was executed like a "systematic military attack".
On 10th May 2023, the day after the major attacks, a very small number of people came out in support of Imran Khan. On 11th May, most of the terrorists went in hiding, and only a few hundred people came out. In other words, it was apparent that the resistance was practically dead. After observing this situation, the Chief Justice immediately released Imran Khan.
All political characters and judges involved in this conspiracy will be taken to task under Article 6 of the Constitution and Articles 59/60 and 74 of the Army Act. The Army sources in Pakistan have warned PTI "workers and sympathizers living abroad" to refrain from getting involved in Pakistan's political activities and advised them that this can harm their families, jobs and livelihood.
These reports shared here are taken from sources who are a part of the current set up in Pakistan, and it can be assumed that they are trying to present a picture which shown the Army and their current governance set up in a strong position.  The reality is not as cut and dry.  Wheelings and dealings continue to take place within the bureaucracy and establishment circles. Deals are being brokered between leaders of PTI to join the ruling PML N in exchange of information, promises of wealth and territory.  Additionally, some recognised terrorist outfits have openly declared their support for one side or the other. Pakistan Army is busy blocking roads around Zaman Park, Lahore, and block roads in the area, with the claim that at least 40 terrorists are hiding inside the house of Imran Khan. On the other side terrorist organisations like Ahl-e-Sunnat Wal Jamaat and Tehreek-e-Labbaik Pakistan have both announced rallies in support of Pakistani military after Friday prayers tomorrow. Yesterday, Ruet-e-Hilal clerics, part of the government's moon sighting committee, were seen on media condemning PTI rioters. Under the circumstances, any independent observer can easily conclude that things are going to continue going downhill in Pakistan, with little or no hope of any kind of stability.
DISCLAIMER: The author is solely responsible for the views expressed in this article. The author carries the responsibility for citing and/or licensing of images utilized within the text.