ISRAEL WILL ONLY STRIKE TO TERROR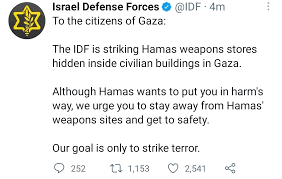 In defending its existence, Israel needs no advice from anybody.It does not require the world's approval. That will never be granted and, in any event, wouldn't minimize even an iota the intransigence of Israel's many enemies – those who lob rockets indiscriminately at civilians, delete the vilified nation from school textbooks, screech venom during public protests, and demand boycotts against Israeli professors in Canadian universities.

A woman was killed and another person was critically wounded in Rishon Lezion after terrorists in the Gaza Strip fired a barrage of rockets in the direction of Tel Aviv late Tuesday night setting off sirens throughout the center of the country.
Israel's Prime Minister Benjamin Netanyahu and Defense Minister Benny Gantz issued a joint statement Tuesday night, declaring that the violence will continue for some time. "Hamas and Islamic Jihad have paid and will continue to pay for their actions," said Netanyahu. "We are all mourning those killed and praying for those who were injured. We give our full support to the IDF and Israeli security forces. This campaign will take time."
Israel has "the complete right and the obligation to act and will continue to do so," said Gantz. As of early Wednesday morning, three Israeli women were killed in rocket attacks, with 46 injured. Two are in a serious condition of those injured: an 81-year-old woman and a 30-year-old woman who caught shrapnel in her upper body.
Israel struck 500 targets, killing dozens of terrorists, IDF chief of staff Lt.-Gen. Aviv Kohavi said. "We will continue extensive strikes against Gaza," he added. 
The IDF responded by targeting Hamas infrastructure in the Gaza Strip. Ben-Gurion Airport was closed as rockets were intercepted above it.
Earlier on Tuesday, two women were killed in Ashkelon as barrages of rockets struck the southern city and the IDF continued to target Hamas and Palestinian Islamic Jihad (PIJ) terrorist sites throughout the Gaza Strip. One of the women was identified as Soumya Santhosh, an Indian national who worked as a caregiver for an elderly woman in Ashkelon. Santhosh was killed in the strike while the elderly woman sustained serious injuries. The rockets fired at Tel Aviv set off sirens in Herzliya, Ra'anana, and the Sharon region. The barrage came after Israel bombed a 13-story building in Gaza. Over 700 rockets were fired into Israel from Gaza since Monday, including 150 that fell inside the Strip and another 200 that were intercepted by the Iron Dome, the army said. Prime Minister Benjamin Netanyahu announced that the intensity and rate of attacks will increase."We are in the midst of a campaign," he said following a visit to the IDF's Southern Command headquarter. "Since yesterday, the IDF has been attacking hundreds of Hamas and Islamic Jihad sites in Gaza. We have neutralized commanders, we have hit many of their quality targets. Hamas will be struck in ways that it did not expect." The Israelis were killed – one woman in her 60s and the other in her 80s – when rockets slammed into their homes in Ashkelon. Minutes later the IDF reported that it had killed two top PIJ commanders responsible for rocket fire in Gaza.  Over 100 Israelis have been injured as close to a dozen buildings in Ashdod and Ashkelon were hit by rockets, according to Israel Police. One of the buildings was a school. Israel has also begun targeting top terrorist commanders, IDF Spokesman Brig.-Gen. Hidai Zilberman said, including the commander of Hamas's anti-tank guided missile unit, Iyad Fathi Faik Sharir, who has carried out a number of attacks against Israel in the past.   "The ATGM unit in Gaza City was prepared to carry out anti-tank guided missile attacks at the time of the strike," the military said. Another Palestinian terrorist killed was identified as Samah Abed al-Mamlouk. The IDF and Shin Bet (Israel Security Agency) said that he was attacked in a hideout together with a number of additional Islamic Jihad operatives. Mamlouk, the IDF said, was in charge of PIJ's rocket arsenal. In another strike, Hassan Abu al-Atta, deputy commander of Islamic Jihad's Gaza Brigade, was also killed when the IDF struck an apartment in an eight-story building in Gaza's Rimal neighborhood. He was the brother of Baha Abu Al-Ata who was killed in an Israeli targeted killing in 2019.
DISCLAIMER: The author is solely responsible for the views expressed in this article. The author carries the responsibility for citing and/or licensing of images utilized within the text.