Hindu Resurgence:- Maharaja Surajmal Jee.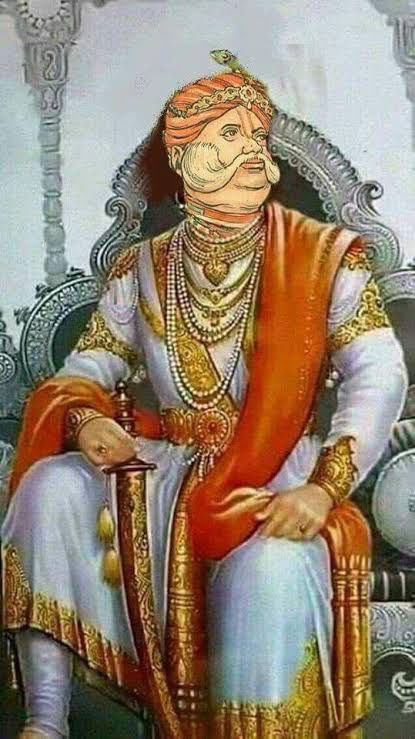 Historian post Independent whitewashed the true History. And certainly with no exception, the Jat Kingdom of Bharatpur was equally given only a passing remark. The Jat Kingdom of Bharatpur was one of the strongest manifestations of Hindu resurgence for its gallantry and Self-esteem.
The Medieval jat Warrior were both Peasant and Warrior class. Jat stood for their self-esteem and freedom. Being so close to Delhi and on the mouth of the gateway to East India, They fought ferocious battles, offered resistance and stood upright against any challenges to oppression. The Heroic sacrifice and bloody battle sings the song of their Gallantry.
The generation of today would never realize the numerous wars for honor these Jat have undertaken from the days of Turk in 11th Century to Ahmad Abdali in 18th Century. In between Afghan, Mongol, Baloch, Mughal and Persian also raided. But such was the courage and indomitability that Jat were never subjugated for long or repressed to change their Hindu faith.
Un-imaginable perseverance and exemplary strength. It is unparalleled in Indian history.
Among the numerous small bands of warriors and local leaders who led the Jat Mutiny the notable Six who made a mark by establishing a Governing System as well are needed to be revered always.
| | | |
| --- | --- | --- |
| Raja Gokul | 1665-1670 | Led in Area of Mathura |
| Raja Rajaram | 1670-1688 | Expanded to Agra |
| Raja Churaman | 1695-1721 | Consolidated Agra and Alwer, |
| Raja Badan Singh | 1721-1732 | Established formally Bharatpur |
| Raja Suraj Mal | 1732-1763 | Established a Big Kingdom in North India. |
| Raja Jawahar Singh | 1763-1768 | Expanded Kingdom into MP. |
Maharaja Suraj Mal (1732-1763) the aging Raja Badan Singh asked his Son Raja Suraj Mal to take care of the Nascent Kingdom of Bharatpur. Prince Surajmal was a sturdy, muscular, 7 feet Tall, very skillful warrior and a wrestler. He is remembered in folklore as an obedient Son and one of the greatest Hindu warriors. History books should have taught our generation about King Surajmal for his Administrative sagacity, Political Vision and Military intelligence.
Late medieval was a battlefield. King Surajmal not only had to protect and expand the nascent Bharatpur Kingdom established by his Father King Badan Singh but also to militarily subjugate Agra and Mathura to fulfill the unfinished military expedition undertaken by King Gokul and King Raja Ram. The Supreme Sacrifice of Jat Warrior should never have gone waste.
Bundi court poet, who was witness to one of his war, narrated his velour in a few sentences.
"नहीं जाटनी ने सही व्यर्थ प्रसव की पीर,
जन्मा उसके गर्भ से सूरजमल सा वीर".
Translation – The Jatni did not bear the labour pain in vain, she gave birth to a brave warrior like Suraj Mal.
King Surajmal spent his initial few years of ascendancy carefully in building a strong military and bridging diplomacy with fellow Rajput Kingdoms. He gradually built a Hindu confederacy to take on Mughal, Baloch, Rulhella and Afghan in days to come. And thereafter he led a series of military expeditions on his enemy.
1746 Chandaus War 1746:- Mughal military commander Asad Khan was defeated and killed in Aligarh. This loss did irreparable damage to vanity of Mughal King Alamgir II in western UP. Bharatpur Kingdom of Suraj Mal now had direct control over Aligarh and adjoining Delhi through one Jagirdaar Fateh Khan.
1753 Ghasera War: – Raja Surajmal had a brief and quick battle with Rao Bahadur Singh Bargujar of Koil. The Rao Bahadur was defeated and Surajmal was able to acquire the Faujdari of Mathura and shahi jagir on Khalsa land. The process of circling Delhi from Aligarh and Mathura was completed now. It was a strategic move made by visionary Jat King.
Yet the Faujdar Bahadur Singh was posing a challenge, who had moved to his ancestral fort at Ghasera. A bitter war between the two sides with open engagement of artillery and infantry took place. And finally Ghasera was captured by King Surajmal in 1753.
1753: Attack on Delhi: – King Surajmal led an important military expedition on Delhi against Nawab of Delhi Ghazi-ud-din (second) on 1753. The arrogance of Mughal power was crushed in Delhi itself when the jat Army overran Mughal at places like Feroz shah kotla, old delhi fort and famous charbagh. Nawab army was summarily defeated and Delhi was captured. King Surajmal was astute diplomat. He installed his selection as new Nawab Intijam as new wajir. And also made Akbar Adil Shah as the next Mughal King. Jat victory on Delhi had decimated the Mughal Pride.
1753: Lohagarh Fort: – The Bharatpur fort was constructed following hard labour of 20 years. The impregnable fort became the Palace of King Surajmal from 1753. Aged King Badan Singh the father of King Surajmal was alive when the Kingdom shifted into Fort.
1761- Agra Victory:- Maharaj Suraj Mal led an ambitious expedition to Agra. He had in his memory the sacrifice of King Gokul and King Raja Ram. He besieged the city for a month and thereafter captured the Agra fort. This fort and Agra remained in its possession till 1774.
1761- Battle of Panipat: – King Suraj Mal had extended assistance to Marathas led by Sadashiv Rao Bhau in attacking Delhi. But the Jat Maratha strategic friendship could not extend beyond a point. King Suraj Mal who had successfully won several battles as military commander, was disillusioned at the rejection of his strategic warfare advice. He withdrew from the battle and Maratha suffered loss in Panipet battle.However Bhratpur Kingdom offered shelter, medical care, food, and water and looked after retreating injured Maratha soldier.
1762- Surajmal Conquest of Haryana:- Post Panipet battle in 1761, Surajmal felt the need to cut off supply routes between Afghan and Ruhella, and to achieve this Haryana had to be subjugated. He mobilized his army under his eldest son Jawahar Singh and younger Son Nahar Singh to do this battle. And within two years this doab of Yamuna was completely subjugated.
1763:- Attack on Baloch of Farrukhnagar: Baloch under Musavi Khan had been unfriendly to Jat and other Hindu communities in their areas. They were in possession of big artillery as well. King Suajmal along with his audacious Son Jawahar Singh laid siege to the strong fort of Farrukhnagar and subjugated the Baloch in a battle of nearly 3 months. The Baloch Musavi was captured and brought to Bharatpur and Jat Kingdom overran the entire Farrukhnagar.
1763:- Attack on Baloch of Bahadurgarh: – West of Delhi Baolch were camping under the Baloch leader Bahadur Khan. The retreating force from Farrukhnagar was in a marauding mood. In a fierce battle where half of Baloch soldiers were killed in one night and King Surajmal captured Bahadurgarh. With this, the Najib-ud-daula of Delhi was completely encircled from all sides now. The strategic war fare of King Surajmal had reached a glorious height.
1763:- Attack on Delhi- Fight with Surajmal and Najib: – The Ruhella under Najib-ud-daula had now been encircled and the war was inevitable. Ruhella alongside Baloch Sayyidu Muhammad Khan Afzal Khan, Zaibita Khan had mobilized the troops which was still weaker in number and weaponry against King Surajmal Military. Jat foray on to the enemy was mobilized from both front and rear end and it was potent enough to have decimated the combined Ruhella and Baloch in two days, but a deceitful ambush by Sayyidu near the Hindon river base took the King Surajmal with surprise. Treachery and deceit has no end. Outnumbered and suddenly the King Surajmal attained Martyrdom on the night of 25 December 1763.
It was 25th dec 1763, Najib and his men "were victorious without knowing it." The leaderless Jat force had to decamp the battle field midway leaving the won battle as a gift to Najib.
The Hindu resurgence in late medieval North India was led by audacious King Surajmal. He single handedly fought with Baloch, Ruhella, Mughal and Afgani in his lifetime and yet never lost a single battle.
King Surajmal expanded his territorial control from Bharatpur (Rajasthan) to Agra (Western UP) and from Rohtak (Haryana) to Mathura (North UP). The battle hardy King thereafter penetrated into UP controlling Farukkhabad and Muzaffarbad as well. It was huge territory encircling Mughal from all the sides.
It was Hindu Benevolence and religious neutrality that allowed the Mughal to survive in Delhi else Surajmal could have eliminated the traces of Mughal. Such was his Military control in the glorious days of his prime.
A contemporary historian described him as "the Plato of the Jat tribe" and another modern writer as the "Jat Odysseus", because of his "political sagacity, steady intellect and clear vision".
King Suraj Mal was a seasoned diplomat who maintained excellent working relations with Madhav Rao Holkar, Scindia, Rest of Jat and Rajput leadership. In Rajput land of Rajasthan, he had very good diplomatic relations with Maharaja Sawai Jai Singh of Jaipur, King of Jodhpur and Several small princely states. He was a brute warrior, a brave soldier besides a nation builder who built a huge Kingdom, overflowing treasury, strong infantry and artillery. He built a reputation of the Jat army that was ferocious in the battlefield and known for its gallantry.
Yet such was the hate among the left historian for this majestic King that only passing remarks and footnotes were made available about him in the history book.
DISCLAIMER: The author is solely responsible for the views expressed in this article. The author carries the responsibility for citing and/or licensing of images utilized within the text.