Liberal Islamist Propaganda about exodus of Kashmiri Hindus nowhere near Reality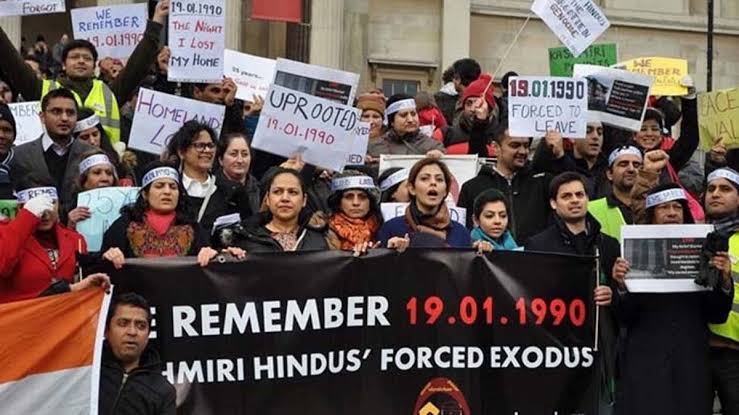 Kashmiri Muslim always say Jagmohon was responsible for KPs Exodus from Kashmir..This fallacy can't stand in front of reality
This slogan uttered at that time will expose there false propoganda and lies
In 90's right from the mosques these #slogans were shouted on Loud speakers by Islamic terror Jihadis
Zalimo, O Kafiro, Kashmir harmara chod do".
"Kashmir mein agar rehna hai, Allah-ho-Akbar kahna hoga"
"La Sharqia la gharbia, Islamia! Islamia!
"Musalmano jago, Kafiro bhago",
"Islam hamara maqsad hai, Quran hamara dastur hai, jehad hamara Rasta hai"
"Kashmir banega Pakistan"
"Yahan kya chalega, Nizam-e- Mustafa"
"Pakistan se kya Rishta? La Ilah-e- Illalah"
"Kashir banawon Pakistan, Bataw varaie, Batneiw saan"
"Dil mein rakho Allah ka khauf; Hath mein rakho Kalashnikov"
"People's League ka kya paigam, Fateh, Azadi aur Islam"
3 choices given to KPs
Raliv Chaliv ya Galiv
These slogans, broadcast from the loud speakers of every mosque, numbering roughly 1100, exhorted the hysterical mobs to embark on Jehad
Most of the Kashmiri Muslims behaved as if they did not know who the Pandits were.
Press release of Hizb-ul-Mujahideen (HM) published in the morning edition of Urdu Daily 'Aftab' of April, 01, 1990.
'Kashmiri Pandits responsible for duress against Muslims should leave the Valley within two days'.
Head lines of Urdu Daily, Al Safa, of April, 14, 1990.
'With Kalashnikov in one hand and Quran in the other the Mujahids would openly roam the streets singing the Tarana-e- Kashmir.'
The sinister of the Jihadi forces led to the exodus of 5 lac Hindus from Kashmir.
DISCLAIMER: The author is solely responsible for the views expressed in this article. The author carries the responsibility for citing and/or licensing of images utilized within the text.