Miraj and Farhad stabbed the father of a hindu girl after he protested the eve-teasing of his daughter.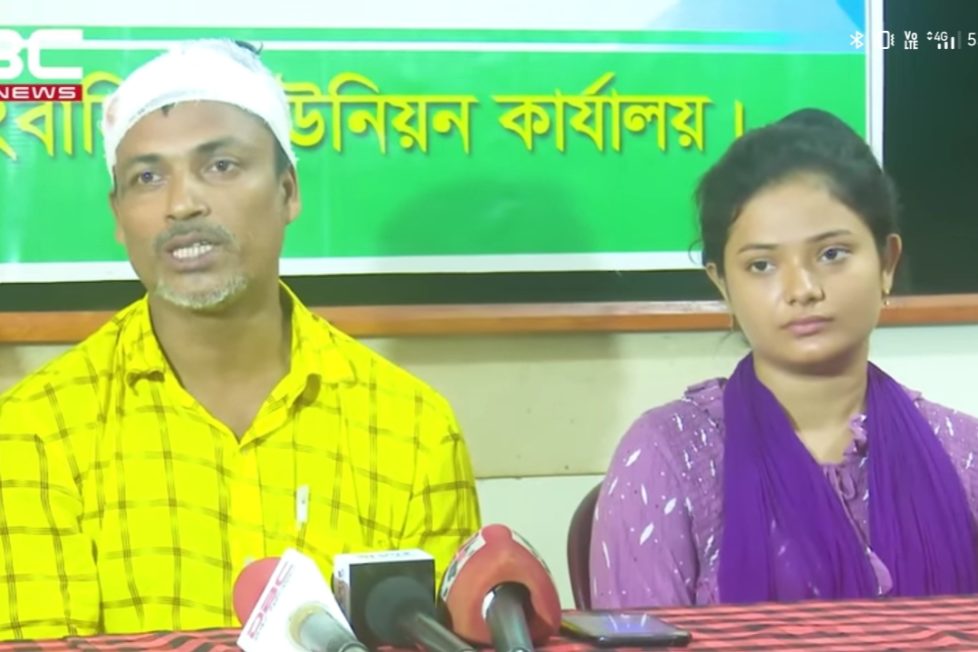 Neel Madhav Saha, a Hindu, was attacked and stabbed on 12th of August after he protested the eve-teasing of his daughter. The incident happened at the Vishwa Vidyalaya railway station in Rajshahi in Bangladesh. According to reports, two muslims harassed a hindu girl when she was going to her coaching centre. Prince and Miraj, also known as Irfan Khan are the accused.
The victim is a student of the Rajshahi Govt. Women's College. She was saved by a man named Emon, who stepped in and assisted her in getting to the coaching facility. Neel Madhav Saha, the victim's 46-year-old father, was beaten by Miraj and Prince that same evening. After a violent dispute with the two, he was viciously stabbed with a knife and struck on the head with a hammer at around 7 o'clock on August 12.
In addition to his wife's necklace, the accused stole Tk 300 from his pocket. He rushed to the neighbourhood police station while blood was gushing from his wounds. But it was useless. He was admitted to the neighbourhood hospital for prompt medical care. The victim's father alleged inaction on the part of the police and hospital staff. When Saha first visited the Chandrima police station, the officers told him to get treatment first instead of registering a case. After that, they instructed him to go to the police stations in Motihar. The police maintained that the case fell under the purview of the Railway Police Force and declined to file a FIR. Sadly, they did not entertain him either.
The Railway police did not file the case against the accused until after he spoke to the media on August 17. Three people were detained in connection with the case on the same day by the Rapid Action Batallion (RAB). There was Miraj (age 23), Farhad (age 27), and Akher (32). It's interesting to note that Miraj and Farhad are participants in the Bangladesh Awami League's student branch, the Chhatra League. The two also support Ruhul Amin, the Rajshahi Mahanagar Chhatra League's vice president and a member of the group.
The incident occurred, despite Sheikh Hasina, the prime minister of Bangladesh, saying that minorities in her country have the same rights as the Muslim majority. Hasina's bland declarations, however, seem to be nothing more than lip service meant to quell mounting dissatisfaction given the country's ongoing onslaught against Hindus.
DISCLAIMER: The author is solely responsible for the views expressed in this article. The author carries the responsibility for citing and/or licensing of images utilized within the text.