RIGHT TIME TO DE-RADICALISE INDIAN MUSLIMS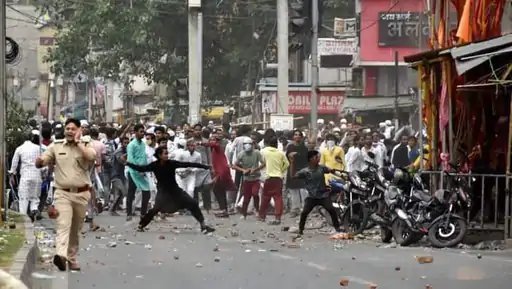 In 1945 Karl Popper introduced the term "Paradox of Intolerance" that said, "If a society is tolerant without limit, its ability to be tolerant is eventually seized by or destroyed by the intolerant". In short, society must retain the right to be intolerant of intolerance.
The silent and unchecked expansion of Islamic radicalisation in India has manifested itself in mobs unleashing hate filled terror and violence in digital and physical spaces. For example, the situation in Kashmir, Kerala West Bengal, and Coastal Karnataka has crossed the threshold of tolerance. Day in and day out ordinary Hindus are put through the ordeal of dealing with hijab row, halal row, namaz on streets, illegal Mazar constructions, stone-pelting during Shobha yatras, mocking and ridiculing Hindus Gods and Goddesses, and love jihad. On the 29th of May 2022, Jamiat-e-Ulema-Hind in their annual meet said India is theirs and those who dislike Muslims should go to Pakistan.
The unhindered flow of petro-dollars from the West has led to mushrooming of jihadi organisations across Bharat. For example, Popular Front of India (PFI – formerly SIMI) is rapidly expanding its radicalisation program of Muslim students in schools and college through its Campus Front of India, Fraternity Movement, and women's wing National Women's Front. Similarly, Jamat-e-Islami Hind's Girl Islamic Organisation, Solidarity Youth Movement and Student Islamic Organisation etc are involved in targeted radicalisation.
With the raising tide of jihad, time is of the essence to act now. Tolerating intolerance without limit will ultimately lead to the destruction of our country, civilisation and Sanatana Dharma.
The rule of the law must prevail and central and state governments need to swiftly respond to neutralise the mob fuelled jihad. The government could examine and adapt/adopt some de-radicalisation model from our region. These models are:
Asian De-radicalisation model – Setup de-radicalisation camps for minors and adults. Govt mandates removal of all references to Gazwa-e-Hind, Kafirs, death in hell fire, killing polytheists, death to murti pujaks, etc. Monitor sermons given via mosques, TV channels, social media and messaging apps. Setup mechanisms to monitor funding of Islamic/leftist NGO, Islamic education institutes, businesses, mosques and madrassas

.

In countries in such as Indonesia and China, de-radicalisation measures have been implemented in the past.
Tajikistan Model – Tajikistan is a constitutionally secular, Muslim country that restricts the radicalisation of its Muslim majority population. They are 98% Sunni Muslims belonging to the Hanafi school of Islam. Tajikistan restricts beards for men beyond a certain limit; a full-face veil for women is banned. If women wish to cover their heads, they can do so with a loose scarf. Children under the age of 18 cannot go to mosques, haj is banned for people under-35, and topics for sermons in mosques are pre-approved by the govt. Their government brought in such restrictions to stop Arab culture from taking prominence over Tajik culture.
Bharatiya Model – A desi model is developed based on fairness, discipline and rule-based. The desi model could be based on Bharat's Saraswati-Sindhu civilisation without any room for Abrahamic supremacy. Specific measures under this model could include implementation of UCC and NRC, deportation of illegal Bangladeshis and Rohingyas. People who participate in rioting including masterminds and digital influencers should have their social benefits suspended. Access to loans from public sector banks prevented, curtail voting rights (akin to jailed criminals), temporarily suspend driving license, passport, Aadhar card benefits, govt jobs, state and central govt pensions, central govt scholarships, Awas Yojanas, etc. Penalise associations with terror groups and terrorist organisations; ban NGOs with links to terror groups and terror abetting nations like Pakistan, Turkey, Kuwait and Qatar. Any NGO taking money from Pakistan, Turkey, Qatar, and Kuwait should be under intelligence scanner.
Hindus are a step away from genocide unleashed by the jihadi mobs. Law abiding Hindus still having faith in the constitution look towards the Government at this critical juncture to take strong actions to protect Hindu lives and livelihoods.
DISCLAIMER: The author is solely responsible for the views expressed in this article. The author carries the responsibility for citing and/or licensing of images utilized within the text.