Sardar Hari Singh Nalwa : Great Sikh Warrior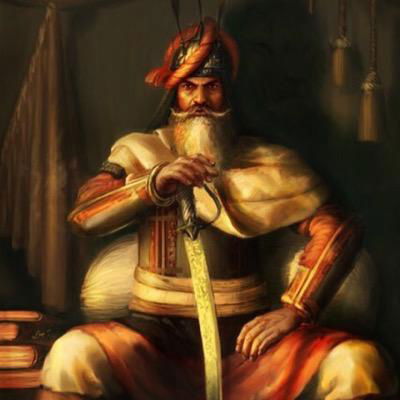 Hari Singh Nalwa – A Legendary name and A Great Sikh Warrior of late medieval history is one of the most unsung Sikh warriors today. His contribution into defending the North Western frontier and his successful military expedition into remotest region of modern days Afghanistan is unparalleled till this date.
Hari Singh Nalwa was the Commander In chief of Sikh Khalsa Fauj – the Army of Sikh Empire under the leadership of Maharaja Ranjit Singh. He was born in the village of Gujranwala in the Majha region of Punjab in a Sanatani family of Late Shree Gurdial Singh Jee (father) and Late Srimati Dharm Kaur in the Year 1791. His mission to defend Hindu-Sikh Samaj and expand the Khalsa Empire went unchallenged until his last day when he finally departed for his heavenly abode on 1837.
Hari Singh Nalwa is one of the most ferociously brave and honoured Sikh Warrior of the mother India. To those who have researched and known the war history, he could be one of the bravest warriors ever the world had seen. During a lifetime of innumerable military expeditions, he remained invincible in his martial capacity despite limited state resource and hostile surroundings.
Unfortunately, the life and achievement of Sardar Hari Singh Nalwa Jee is not taught in the School and college curriculum which could have redefined the Sikh Valour and Self-esteem.
Hari Singh Nalwa will be remembered in the history for having established the Khalsa Raj in the region of Kasur, Sialkot, Attock, Multan, Kashmir, Peshawar and Jamrud. He not only had successful Military expeditions in Peshawar but also ensured the Khalsa Raj expanded into territory as north as into the Khyber Pass.
The generations of today who have not heard and read of inhospitable terrain and treacherous tribal of North Western region should learn and realize that all the so called invincible tribes like Saddozai of Mankera, Pathan forces of Afghanistan, Durranis of Attock, Barakzai of Kabul and Peshwar, Yusafzai tribes of trans-Indus region of Khyber Pakhtunkhwa and Afridi of Khyber were decimated and subjugated under the Commander ship of Sardar Hari Singh Nalwa Jee.
The great military expedition and untold victory of Commander is only comparable to the might of another general Bappa Rawal of Mewar Dynasty in this region. The untold bravery of these two Indian Kings Bappa Rawal and Sardar Hari Singh Jee never forms the part of Indian Academic Curriculum.
Sardar Hari Singh Nalwa Jee was anointed as Khalsa Governor for the Kashmir Peshwar and Hazara by Maharaja Ranjit Singh, where he minted Nanakshahi Rupee and Govindshahi Rupee Coins in the year 1837 and collected Revenue, which was later confiscated and stopped from circulation by the British East India Company.
| | | | |
| --- | --- | --- | --- |
| 1807 | Battle of Kasur | 1821 | Battle of Mangal |
| 1808 | Battle of Sialkot | 1822 | Battle of Mankera |
| 1813 | Battle of Attock | 1823 | Battle of Nowshera (Naushehra) |
| 1814 | Battle of Kashmir Abortive | 1824 | Battle of Sirikot |
| 1816 | Conquest Mahmudkot Muzaffargarh | 1827 | Battle of Saidu |
| 1818 | Battle of Multan | 1834 | Occupation of Peshawar |
| 1818 | Peshawar becomes tributary | 1835 | Peshawar – Mohammad Khan flees |
| 1818 | Mitha Tiwana becomes his jagir | 1836 | Victory on Jamrud (Khyber Pass) |
| 1819 | Kashmir becomes part of Khalsa Empire | 1836 | Panjtaar defeated |
| 1819 | Battle of Pakhli | 1837 | Battle of Jamrud |
These are the list of 20 major battle that Sardar Hari Singh Nalwa Jee commandeered and decimated his rival. His era had successfully instilled sense of relief and peace among Hindu Sikh society of North especially in Afghanistan and Kashmir.
Among the earliest of his battles, the Sardar was only 17 years old and had displayed the bravery of his nerve in the ferociously fought battle of Kasur in 1807. The military expedition in the region of Multan to Peshwar from 1818 to 1834 is an untold ravelling story of bravery and unparalleled ferocity. Despite being outnumbered in a ratio of 1: 10 against the enemy, Sardar Hari Singh Nalwa Jee never lost a battle in his lifetime.
The commander was an able administrator who crushed the turbulent enemy with iron fist. His banned Cow Slaughter and imposed heavy penalty up to death to those who disobeyed Religious belief of Sanatan Samaj. The fear of Sardar Nalwa Jee was such that not a whisper against the State command arose from the local unruly tribes until then known for the turbulence and revolt in the valley of Peshawar and Kashmir
Hari Singh Nalwa died fighting a battle with enemy at Jamrud in Afghanistan. He was cremated in the Jamrud Fort built in the Khyber Pass in Khyber Pakhtunkhwa. Babu Gajju Mall Kapur, a Hindu resident of Peshawar built a memorial of his bravery and sacrifice in the fort in the year 1892.
He was a visionary who built series of Sikh fort in that Trans Indus region of Khyber Pakhtunkhwa, Nowshera, Kabul, Peshawar and Attock and in Kashmir. He built the fortified town of Haripur in 1822 which was the first city of contemporary era with having water distribution system. He built scores of majestic and utility driven constructions like forts, watch towers, gurdwaras, water tanks, temples, towns, sarais in across his administrative region.
A religious man, Nalwa built Gurdwara Panja Sahib in the town of Hassan Abdal, south-west of Haripur and north-west of Rawalpindi in Pakistan to commemorate Guru Nanak's journey through that region. He had donated the gold required to cover the dome of the Akal Takht within the Harmandir Sahib complex in Amritsar
In 2014, Billionaires Australia considered Sardar Hari Singh Nalwa Jee as to be one of the greatest conquerors in the History of the world. It is misfortune for the passing generation of Sanatan Samaj that such inspiring stories were concealed from the young generation.
In the 20th century, the song Mere Desh Ki Dharti from the 1967 Bollywood film Upkaar eulogises him. Amar Chitra Katha later on published the biography of Hari Singh Nalwa in 1978. On April 30, 2013 Government of India also released a commemorative postage stamp honouring Hari Singh.
Yet the greatest medieval warrior on the pious land of Bharat is still not remembered by the general masses who have much to learn from his life and much to emulate from him in terms of his personal conduct and character.
******************
DISCLAIMER: The author is solely responsible for the views expressed in this article. The author carries the responsibility for citing and/or licensing of images utilized within the text.