Scotland is Unsafe for Hindus: An Open Letter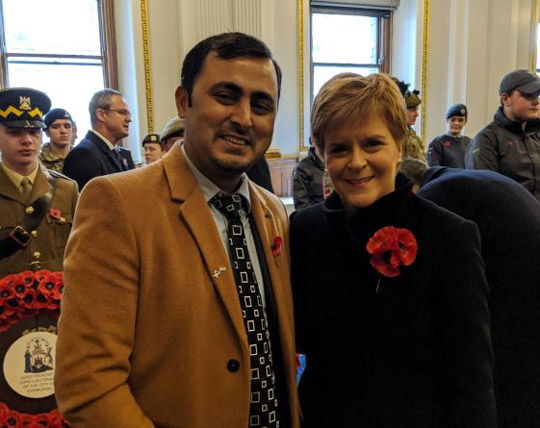 On 5th August 2020, I was expelled from an interfaith board in Scotland. On being asked the reason for expulsion, the Executive Director of the Board said:
'You should know that when I received the complaint I replied very quickly requesting evidence to substantiate their complaint which they were not able to provide. They are trying to argue that your social media is using propaganda against Muslims but when I asked for evidence they could provide none.'

– Puneet Dwivedi, Vice President, Hindu Forum of Britain
Today is 13th October 2020, over two months since Puneet Dwivedi was unfairly dismissed from his role as the Member of the Board of an Interfaith forum in Scotland, where he lives.

The email, which arrived in my inbox a short while back shocked me. It is a desperate plea from him to get someone to listen, to help and to pay heed to the unfairness, harrassment and gross misuse of power by the Senior Executives of this Interfaith group inflicted on not just him, but also his family.

This open letter from Puneet must be read by everyone as an example of how Hindu and other minorities fare in the multi-cultural, multi-ethnic country, United Kingdom. Scotland prides itself to be a welcoming place for Global Diaspora and celebrates Global Scotts, many of who come from India or ethnic Indian origins.

I hope that via this platform, I am able to share Puneet's plea with lawmakers and policy makers, Members of Parliament and the Scottish representatives to see how a minority faith representative is bullied and unfairly removed.

His crime: He is a Hindu.
I reproduce, Puneet Dwivedi's Open Letter here:
Namaste,
It is with a heavy heart that I am compelled to write this open letter about the plight of Hindus in Scotland who, if my experience is anything to go by, suffer the most appalling inequality, prejudice and discrimination in the form of cyber bullying, racism and exclusion. I have lived and worked in Scotland for more than a decade and have been an active contributor to local community activities supporting diverse communities across lines of faith and persuasion. I have been subject to hatred and discrimination on account of my Hindu faith and I would like to take the opportunity to share my personal experience with all of you so that you are able to learn from and be aware of the levels of discrimination extended to members of Hindu and similar minority communities in Scotland.

On 5 August 2020, I was forcibly expelled from the Board of an Interfaith Organisation in Scotland. There were no real grounds of dismissal other than unrelenting pressure from cyberbullies, and I am sorry to say that the Board gave in to those bullies, leading to my expulsion as the Hindu representative on its Board.

The Board, led by the Director and Chair, chose to side with the bullies instead of upholding the basic principles underlying an inter-faith organisation, namely, inclusivity and respect to all faiths, backgrounds and opinions.
Background
The chair of Board sent me a letter on 5 Aug 2020 giving the reason for my dismissal as
"on the view of the Board that some of your social media posts, as well as your invitation to Dr. Subramanian Swamy, contradict the mission statement of the Board to "bring faith communities together" and to "promote understanding, trust, and positive action in Edinburgh"
This is a curious statement because it makes reference to Dr Subramanian Swamy without providing any details of how my social media posts or my invitation to Dr Swamy allegedly contradict the mission statement of the Board.

It is worth noting that Dr Subramanian Swamy, is a distinguished Harvard-trained economist, academic and former senior cabinet Minister in the Indian government. He is a prominent and highly respected politician with solid democratic credentials, having won general elections in India on multiple occasions and having, more recently, been nominated to the Upper House of the Indian Parliament by the nation's President in recognition of his talents.

It is worth noting that Dr Swamy has been invited as a valued guest and speaker in various countries over the years. In May 2019, Hindu Forum Britain (HFB) hosted Dr Swamy in House of Commons, in a function which was attended by distinguished speakers including Bob Blackman MP, Jeffrey Armstrong & others. As HFB Scotland's Vice President, I also organised an event for Dr Swamy on 16th May 2019 in Edinburgh, which attracted more than 300 attendees from across faiths. Dr Swamy has always been a staunch advocate of free speech, and his record in that regard is impeccable, as anyone familiar with Indian politics would know.
As a responsible former member of the Interfaith Board, representing Hindu minorities of Scotland, I would like to share some of the initiatives and campaigns I have initiated in the interests of diversity, pluralism and inclusion:
1) In 2019, I presented a Petition to the Scottish Parliament for a review of hate crime legislation in Scotland and to initiate a Place of Worship Scheme similar to that in England and Wales. The Scottish Government accepted my proposal and passed legislation for Place of Worship security funding for Scotland.
2) In December 2019, SABS (Scottish Ahlul Bayt Society) – a Shia Muslim Organisation, in partnership with HFB hosted an event to commemorate the 550th Birthday of a prominent Sikh saint, Guru Nanak at the office of the Lord Provost in Edinburgh. This was a first of its kind of event in Scotland, where a Hindu and Muslim organisation came together to host a reception for Sikhs – a truly interfaith event.
3) As the HBF vice-president, I helped in hosting another unique, inclusive, event, viz. Diwali celebrations in the Scottish Parliament on 8th Oct 2019, which was attended by people from many faiths.
The Board's decision is also assailable on procedural grounds. In early June, I was asked to participate in a virtual meeting with two members of the Board so that they could explain the allegations made against me and indicate the evidence that had been presented in support of those allegations. I duly participated in good faith, but no such explanation or evidence was forthcoming. All I was told was that anyone who saw my social media posts would infer that I was a Hindu and that was enough for the Board's decision to expel me. I might add that I have always been a responsible member of the Board and have discharged all my obligations to the Interfaith Board with utmost dedication.
Unsatisfied by the 'explanation' that was offered in the virtual call, and outraged that that could really be grounds for expulsion in a democratic pluralistic society, I emailed the Board to ask what specific allegations were being made against me.

I quote verbatim the response received from the Executive Director of the Board:
"You should know that when I received the complaint I replied very quickly requesting evidence to substantiate their complaint which they were not able to provide. They are trying to argue that your social media is using propaganda against Muslims but when I asked for evidence they could provide none. The only information they provided was the video of Subranmanyam Samy to support their argument that you support an Islamophobe."
As is evident, the only reason I was targeted is because someone (anonymous till this date) has considered me to be unfit as a Hindu representative on the Board as I follow the public social media posts of a particular Indian parliamentarian. I would like to add here that I was born in India, grew up there and still have strong connection with that country.
In addition to the unfairness shown to me by the Board, I was being subjected to a lot of harassment on social media, including on the Facebook page of the Board (although the attacks there were indirect), probably at the instigation of those behind the complaints made against me. My wife was also the recipient of many unwanted social media posts. The intention behind this harassment appears to be to put further pressure on the Board to expel me.
Despite all this, I was always willing to resolve the matter fairly and amicably, and I even agreed to a process of mediation at the suggestion of the Chairman of the Board. However, that process was aborted even before it got off the ground, presumably because those complaining against me did not wish to engage in mediation.
The upshot of the entire episode is that I have suffered extreme distress, with me and my family living in constant fear. As a law-abiding and civic-minded citizen of this country, I used to believe that I am entitled to my democratic and civil rights but it appears that in contemporary Scotland social media bullies and propagandists decide who does or doesn't have these democratic rights. As a Hindu, I know that my community contributes not only to the social fabric of Scottish society but makes a significant economic contribution to this multi-cultural, multi-ethnic region of the United Kingdom. It will be a sad day for freedom and democracy if the basic freedoms that we have all taken for granted are denied by intolerant minorities.
Puneet Dwivedi
DISCLAIMER: The author is solely responsible for the views expressed in this article. The author carries the responsibility for citing and/or licensing of images utilized within the text.