Shahrukh's whims and Soren government's appeasement killed Ankita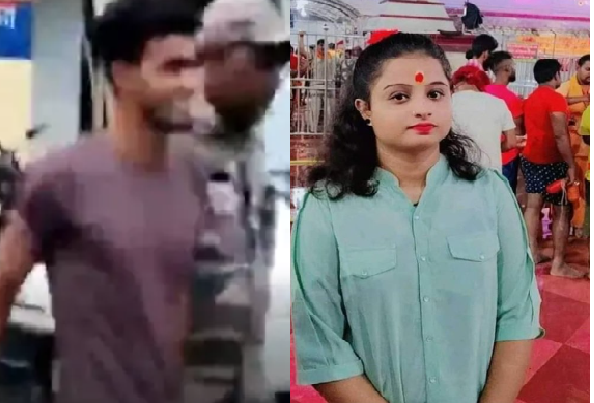 The 17-year-old Ankita, who was sprayed petrol by Shahrukh Hussain and torched in one-sided love, died in the Dumka district of Jharkhand. How long would Ankita have had to fight against greater than 95% burns? The death of Ankita on Sunday rocked the entire country. Her videos were constantly being circulated on social media. Following that,  justice for Ankita has been demanded. On Monday, Ankita was cremated. The girl who had a lot of desire to live life had to say a good-bye, and with a heavy heart. Her grandfather lit the pire.
But, just as Shahrukh Hussain is to blame for Ankita's death, so is the state government. According to media sources, Ankita's family's financial situation was not very well. The family runs by a grocery store. Ankita was almost completely burned after Shahrukh splashed petrol and put fire on her. The family members admitted her to Khulo Jhano Hospital, but physicians referred her to Ranchi due to their critical condition. Throughout the day, the family members juggled for money and connection to reach. When money was arranged late at night, Ankita was taken to Ranchi in awful condition by family members. Should the government or the health department have made any arrangements for Ankita? Shouldn't they have begun his treatment earlier?
Our question is directed at Hemant Soren's government since, on the one hand, Nadeem, who was injured in Ranchi's major road riots, was flown to Delhi by air ambulance and treated at Medanta. According to the article, it is anticipated that more than ten lakh rupees have been spent on Nadeem's treatment. Simultaneously, no plans were made to send Ankita to Ranchi. Simultaneously, no plans were made to send Ankita to Ranchi. One daughter was left to die.
Ankita's life could have been saved if she had received better care. Today, given how active the state government is on Twitter following her death, I wish the government had woken up a little earlier during her treatment, so that a promising daughter would not have been a victim of such a mad Shahrukh.
da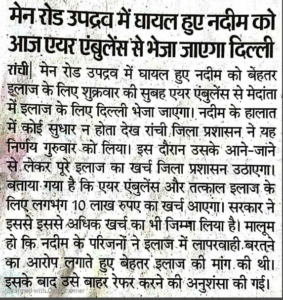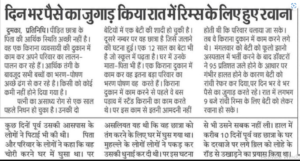 Why the split mindset? The people of Jharkhand are demanding an answer to this, CM sir. His murderer is actually Shahrukh Hussain, but Ankita's blood splash has polluted the government's palms. Furthermore, the brother-sister team that travelled to Hathras and caused a commotion were not given time because the killer's name is Shahrukh, not Shankar!
DISCLAIMER: The author is solely responsible for the views expressed in this article. The author carries the responsibility for citing and/or licensing of images utilized within the text.