Sheetla Mata Temple, Gurugram: An Epitome of Good Health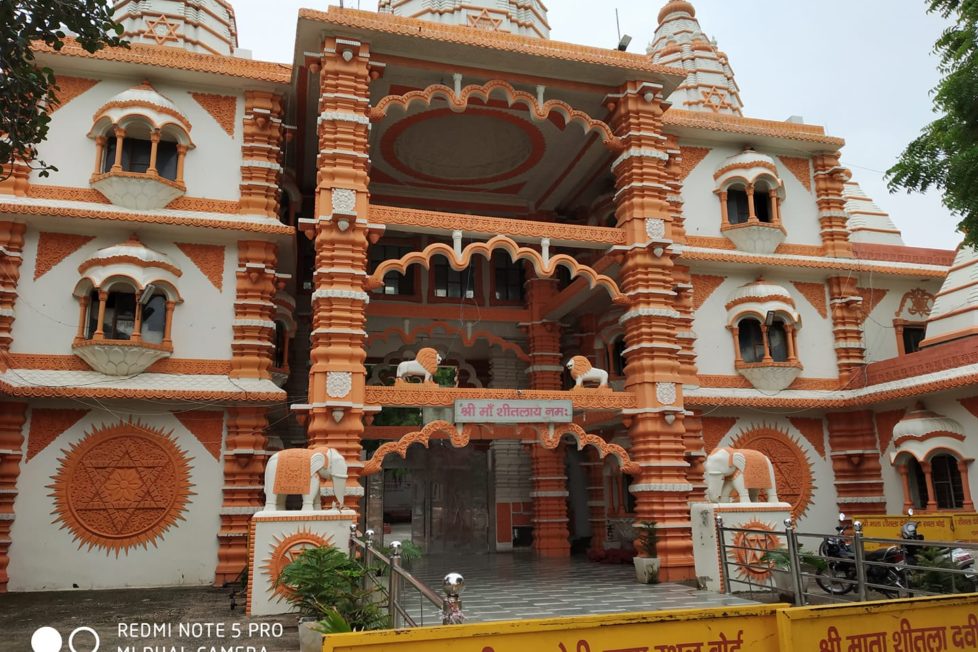 Sheetla Mata Temple, Gurugram
Deep within the heart of Gurugram, the IT hub of North India, is located the serene Sheetla Mata Temple. This temple is dedicated to Sheetla Devi, also known as Kripi/Kripai/Lalitha. Devi Kripi is the wife of Guru Dronacharya, the guru of Pandavas & Kauravas, daughter of Rishi Sharadwan, and sister of Krupacharya. 
Gurugram literally means Guru + Gram or the village of the guru. This famous Gurugram shrine finds its roots in Mahabharata.
Historical Significance
According to legend, Devi Kripi or Mata Sheetla used to live in Keshopur village. Her husband, Dronacharya would pay her a visit each day from his Gurugram ashram. She was devoted to looking after sick children, especially the ones suffering from smallpox. She earned the name "Mata" for her benevolence and motherly affection towards the sick.
It is believed when Guru Dronacharya was killed by Dhrishtdyum, the son of Dhrupad, Devi Kripi expressed her desire to go down in the funeral pyre with her husband. However, she faced resistance from the people but remained undeterred. Right before her death, Devi Kripi blessed the people by saying that anyone paying obeisance at her shrine will be blessed and their desires fulfilled. After her death, a temple was built in her honour, which is popular as Sheetla Devi Shrine today.
As per another legend, Mata Sheetla or Mata Masani (the goddess of smallpox) temple is believed to be built more than three centuries ago. It's said that Devi Masani appeared in Chaudhri Singh Ram alias Singha's dream and expressed her desire to leave Keshopur and make Gurugram her abode. That's how her temple was built here. In the south of this Gurugram village, lies Bhim Kund near the temple of Dronacharya while Sheetla Mata Temple lies to the north.
While Singha installed Masani Mata's statue in her Gurugram abode, Keshopur residents disputed his claims. However, the controversy was dusted during the reigns of Begum Samru, the Governor of Jharsa under the Mughals. Her child was ailing from smallpox but was cured at Masani Devi's temple in Gurugram. With this incident, Devi's devotees accepted her will and began to offer their respect at her new abode.
However, the temple is known as a popular Hindu pilgrimage, and thronged by devotees today was built in the 18th century by Jawahar Singh, a Hindu Jat King of Bharatpur to commemorate his victory over the Mughals. He had paid his respect at the shrine before proceeding to the war to invoke Devi's blessings for the victory of his troops.
Mata Sheela is the epitome of good health.
Key Info
Location: Sheetla Mata Road, Sector 6, Gurugram, Haryana 122001,
Timing: 6:00 AM – 8:00 PM – Everyday
Accessibility: Can be reached by road or metro
Nearest Metro Station: IFFCO Chowk or Huda City Centre
PC: Sheetla Mata Mandir, Gurgaon Facebook Page
DISCLAIMER: The author is solely responsible for the views expressed in this article. The author carries the responsibility for citing and/or licensing of images utilized within the text.