THE FORGOTTEN HINDU HOLOCAUST OF CALCUTTA: DIRECT ACTION, 1946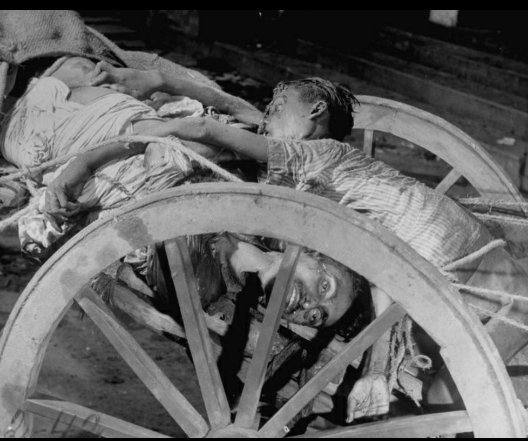 Calcutta an inherently a city of palaces, rich in cultural heritage, full of prosperity became the epic center of Hindu Muslim Riots during the direct action of Muslim League in 1946 in which innocent Hindus were slaughtered by Muslim mobsters, the anti Hindu riots were product of the collaboration of Muslim League and the Bengal Govt headed by Chief Minister Gulam Suhrawardy so that they could force the Britishers and Congress to accept their demands of Pakistan. In 1946 the cabinet mission plan which is proposed by Britishers consisted of three tier of govt namely provinces, group of provinces and a central govt which Congress accepted but Muslim league disagreed with it stating that Hindu Dominated Congress could later amend this constitution since they have majority in Constituent Assembly and as a result they rejected the transfer of power to interim Govt through this proposal.
Jinnah then held a meeting of Muslim league in Bombay July 1946 for the creation of Pakistan, actually the main agenda of the meeting was to formulate the ways in which Mass genocide of Hindus could be done which would culminate in civil war in India. After this meeting he did a press conference in which he asserted his demand of making a separate homeland for Muslim minority of United India which constitute about 25% of India's population and then he said if Muslims are not granted Pakistan then we have chalked out a plan called DIRECT ACTION. When he was asked about meaning of direct action he said
Go to Congress and ask their plans. When they take you into their confidence then I will take into mine. Why do you expect me alone to sit with folded hands? I am also going to make trouble. We do not want War but if you want war then we would accept it unhesitatingly. We will either have a divided India or destroyed India. I am not in a position to discuss the ethics, we have pistol in Hand and are in position to use it.

Mohd ALI JINNAH
The preparation for the riots started in July 1946, Muslim League activist began collecting ration one month prior to the Direct Action. 16 August was decided to be the day of Direct Action. Neither Britishers nor Congress doesn't have the even the modicum of information about Jinnah's Plan. Muslim league asked Muslim community to support their pointless nationwide strike for Pakistan and close all shops, factories on that day in support of Pakistan. Chief Minister of Bengal Shaheed Suhrawardy who was the main collaborator in Direct action day requested Bengal Governor Frederick Burrows to declare that day as public Holiday and he approved his plea. Swords, stones, Knives, petrol bomb etc was collected in Mosque and Madaris In Calcutta. The Chief Minister also took a strange decision of changing the charge of 22 out of 24 Police Headquarters of Calcutta and it was given to Muslim Officers. Large number of Muslim also started coming in trucks in Calcutta,this was an indicator that something is cooking in minds of Muslim league but Hindus have no idea of the Murderous conspiracy which is nurturing against them.
Then arrived the day of 16 August 1946, it was a month of Ramzan in Islam and provocative speeches were given in all mosques and madaris of Calcutta in which they invoked the struggle and victory of Prophet of Islam in the battle of Badr and Conquest of Mecca and asserted that time has come for the followers of Prophet to replicate the same approach to get our Pakistan. Hindus have decided that they would not participate in this strike of Muslim league and would open their shops. A proper program for the day was launched by Muslim league and rallies, processions started from many places of Calcutta, Howrah, Metiabruz and they then gathered at the shahid minar of Calcutta where a joint mass rally was headed by Gulam Suhrawardy which incited the muslim mob to kill Hindus, loot their shops rape their women and gave them the assurance that govt will not come in their way. The reports started coming that massive stone pelting has started in Calcutta especially in North Central part of city like Rajabazar, College street, Kelebagan where Hindus were in majority. Muslim mobs were attacking Hindus and vandalizing their property with cries of LADKE LENGE HINDUSTAN. Mayor of Calcutta, Sherif Khan was also guiding the mobs in street of Howrah. Special coupons for gallons of petrol were issued in the name of league ministries to be used by their party functionaries. The riots intensified after 2 P.M when Muslim miscreants carrying iron bars and lathes congregated and assaulted Hindus with it, whenever the Muslim mob found a Hindu they cut him into pieces. The response of the administration was weak as expected since Suhrawardy himself assured Muslim rioters that govt would not come in your way. Police was restricted from taking any action by Suhrawardy. Finally by the end of evening Britishers took decision to deploy their troops to curb violence in Calcutta and eliminate chaos and lawlessness. Riots continued till one week and about 1 lakh people were rendered homeless, 10,000 people died though number is much higher than the official figures and 15,000 suffered serious injuries in the riots.
The aftermath consequences of Direct Action gave the irreparable wounds to the Hindus that even after 74 years of the passing of events the ghost of direct action still haunts Hindus, so many lost their beloved ones in the riots orchestrated by Muslim league, the feebleness of Congress and Britishers resulted in Hindus paying the price for it by giving their precious life. The soil of Bengal which Produced overwhelming number of revolutionaries to struggle against the colonial regime ultimately became victim of Islamist Jihadist. Britishers have never imagined in their dream that violence would take such a massive turn which would end up in rounding up and Brutal massacre of Hindus. The direct action was success for Muslim league and they became more determined in their struggle for separate homeland and it culminated in the ruthless violence that had the entire country in its throes later in 1947. Needless to say that this riot was blot on the face of Hindu Muslim unity, silence of Congress shows their politics of appeasement is still in progress, 16 August 1946 was forever etched in history as the day which saw the the surfacing of most primeval human instinct of violence. This shared grief and plight of Bengali Hindus would remain unforgettable and frozen in our memories forever.
DISCLAIMER: The author is solely responsible for the views expressed in this article. The author carries the responsibility for citing and/or licensing of images utilized within the text.