Vikram Sampath and the scared Left-ecosystem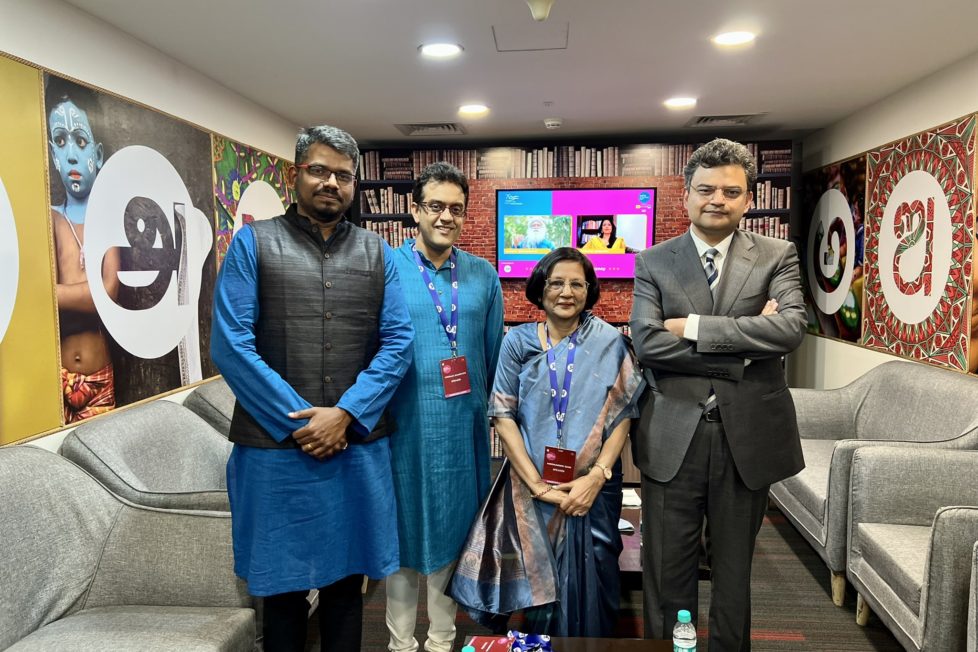 From what I have seen, the allegations of plagiarism are unfounded, given that the speech of which elements were alleged to be plagiarized was transcribed by the India Foundation  https://indiafoundation.in/articles-and-commentaries/the-revolutionary-leader-vinayak-damodar-savarkar/, and not Dr. Sampath himself. Further, such sources as were said to not have been cited, were indeed cited https://twitter.com/sanjeevsanyal/status/1492723471906131968?s=20&t=oOl0lrzgXqdPjeiq-RdTJQ, and one of them within the text itself. The allegations are not pertinent to any of his works.
Quite rightly, the Delhi High Court has granted ad-interim relief https://www.barandbench.com/news/litigation/breaking-delhi-high-court-restrains-audrey-truschke-others-from-publishing-defamatory-content-against-vikram-sampath to Dr. Sampath, restraining Audrey Truschke and others from publishing defamatory content.
A rather inept endeavour to besmirch Dr. Sampath, I must say. Vikram Sampath has been facing a lot of charges for alleged plagiarism by some members of the left academia and some prominent India-hating individuals in the United States. In a letter marked to Emma Griffin, president of the Royal Historical Society (RHS) in Britain, which recently admitted Sampath as a member, Georgetown University professor Ananya Chakravarti; Rohit Chopra from Santa Clara University; and Rutgers University academic Audrey Truschke pointed out multiple sentences from one of Sampath's articles on Savarkar, published in 2017, which they say has either been directly reproduced verbatim or paraphrased without proper attribution from two articles.
Let me make this easier for some people, some writers, who have cited their citings are plagiarised by Vikram are actually not the original writers of the writings which Vikram has used, and Vikram has mentioned the people who were the original authors of the writings, these people expect Vikram to mention people who have used the same citings from the original authors.
That's like Tesla suing TATA for making automobiles that were invented by Henry Ford! (The ones who were actually authors were duly mentioned too.)
No, the problem is not what it looks like on the surface, it is something deep under, just like an iceberg, they want to stop him from writing and to get him removed from the prestigious Royal Historical Society because it is for the first time that a major Right-Wing Intellectual is coming up with great support from the RW ecosystem. The Leftists have generally been the (self-proclaimed) "intellectuals" who write books and create theories and spread them in a Goebbelsian-like manner just like the Aryan Migration theory and it upsets them to see that a major Right-Wing Indian Intellectual is getting so much support and the "thekedars of History" the Marxist historians feel threatened that someone like Savarkar whom they love to mudsling is getting support from people who actually know about him.
It is very much to be suspected that those detractors of Dr. Sampath are in any way 'reputed', other than owing to solemn affirmations to that effect by fellow academicians sympathetic to a particular ideology. They challenge him with claims; he adduces evidence. His timeline has lately been replete with sources.
Dr.Vikram Sampath has been a treasure trove of Indian history and has the distinction of being a doctorate in History with a basic degree in Engineering. He is a celebrated historian with no biases and political leanings. As happened during the India Today Conclave 2021, organized by the India Today group. As usual, Rajdeep Sardesai used his skills of fishing in troubled waters by coaxing Dr Sampath to make political statements, but in vain! Dr Sampath's crystal clear understanding of the Indian event chronology and the reasons for the wrong depiction of Indian History was evident in his talk. He attributed the colonization and the colonial mindset, the Nehruvian socialism and the uprise of the Marxism as the causes of the distortion. Dr Shashi Taroor, who was part of the debate too spoke eloquently and in an unbiased state of mind!
Dr Sampath was right in saying that Indian history needed to be reclaimed from every part of India and that it has been too Delhi centric! There were thought provoking statements made. They agreed to "truthify(sic)" the history rather than eulogize or demonize the so called protagonists and the antagonists of the past! So true indeed!
Mr. Sampath makes a lot of sense to even my reasonably experienced mind that often refuses to accept anything beyond the brainwashing we have received all these years. So, if he can make sense to me, he should certainly be listened to by the younger generation and protect themselves from all the fantasy that was served in the name of history. Vikram has often been unapologetic to address, was a deep rooted issue with Indian history reading. One that he believes, was handed down to us by the west, and then parot-ed by the new indian intellectuals.
Mr. Sampath always feels, that we as indians are re-thinking about our colonial and communal pasts, this marks a transition to a phase where an indian identity is not handed out by a group of intellectual siting in delhi, but created by each indian. That politics, is inherent with history. More so history is a tool for politics. It's becuse assessing someone who isn't here to defend himself is quite a lot easier. Therefore, we must re-visit history without as much of a unbiased mind.
Vikram Sampath's answer is a roadmap for India's future in History study. We need to know about our own history, be it good or bad in terms of events. We should not concentrate on filtered history which is written to fit a single school of thought. We need to broaden our approach and study of our own history. Vikram Sampath has been a consummate debonair, a trait which rests on the secure foundations of exhaustive research. Naturally, he comes across as quite elegant in his speech in general.
The question needs to specify the answer it refers to. I for one thought all of his answers perfect; he hardly left any scope for disagreement.
Do read my last last article too – https://kreately.in/why-dr-vikram-sampath-has-been-under-attack-by-the-dregs-of-the-dead-british-empire/
DISCLAIMER: The author is solely responsible for the views expressed in this article. The author carries the responsibility for citing and/or licensing of images utilized within the text.