CAA: a reality beyond prevalence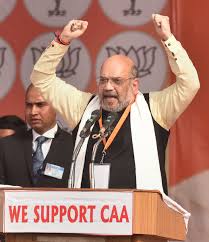 "No country for muslims." ~Sana Iltija Javed

"This bill will make India Israel" ~Asaduddin Owaisi

"Citizenship bill is fundamentally unconstitutional" ~Shashi Tharoor

These were some of the negative feedback, from the intellectual lobby and opposition strata of our nation. Which, by no doubt is always against the government's decisions, regarding any matter. without ever analyzing and completely understanding the welfare motives behind. Months went by since the CAA was passed in our country to grant citizenship and homeland to religiously persecuted minorities from our our muslim dominated neighboring states. Since then a series of false propanganda, lies and misinformation has been peddled by the leftist lobby to instigate muslim citizens of the nation to rebel against their own governemnt. They even succeded in their mission when they were successful to engineer the Anti-Hindu delhi riots this february, where many people died and lost their livelihood. CAA, still continues to be a black an unconstituional or discriminatory act within a social conscience. It is necessary to put forward the noble intentions, governemtn wants to cherish through this act.
To counter the statements, let's start from the very first which was released by Sana Iltija Javed, daughter of the popular leader of Jammu and Kashmir, Mehbuba mufti. She claimed there's no country for muslims. Well, then here arises a doubt why Pakistan along with Bangladesh and other gulf and middle eastern countries claim them as pro-Islamist.

Mr. Tharoor and Mr.Owaisi, popular leaders of the opposition parties states the bill as fundamentally incorrect. As they feel, giving citizenship on the basis of religion (which is partial truth, partial lie) will breach the article 14 of constitution. To be honest, They should be remembered that constitution and it's articles are applicable to people who are already the citizens of republic of India. And not those who are yet to be. To conclude, Article 14 has no role to play on what basis the citizenship must be granted. It rather guard the citizens who are already a part of Indian domain.

Now coming to the Citizenship Amendment Act (CAA), the bill is an effort to settle the communities from all three neighboring nations Pakistan, Bangladesh and Afghanistan in India, which earlier belonged to the subcontinent but got replaced due to certain adverse circumstances. The act, since it had been introduced and passed, is facing criticism to its core. The very first definition which got prevalent about CAA is that it is an effort of the government to settle the illegal immigrants on the lands of Bharat Mata. Interestingly the point here to be noted is what the government has to say regarding it.
'Infiltrators are a National problem. Having an NRC will curb them out' ~Amit Shah (Home Minister)

The home minister has himself clarified that National register of Citizens (A law which will come into force sometime later in future if after CAA) will include all the people other than illegal immigrants and infiltrators. So, the statement of CAA being an initiative to settle illegal immigrants, automatically proved to be absolutely absurd. CAA is all about rehabilitating the refugees with a permanent Indian citizenship, and not settling the foreign infiltrators on our land.

Here arrives a very interesting argument from the opposition, asserting the bill as 'Anti-Muslim' in nature. Well, to here discussion is more tilted towards religion than legal matters proposed by the bill. As to have record of government documents and drafts of CAA, it doesn't even include the term 'Non-Muslim'. It's a pure made up propaganda of left media to spread hate among communities.

Yes, it doesn't include Muslims in the described list of religions whose people will be settled but that is because Muslims have already been accommodated to Indian territory back during partition in 1947 and after Indo-Pakistan war of 1971.
One must have wondered about why this 'anti-muslim' upsurge took place? It is because all the 'illegal' immigrants and infiltrators living on the Indian territory, from Bangladesh, Myanmar and Pakistan which are co-incidentally muslims. Obviously because they arise from Islamic countries. And government has already taken its stand of not tolerating any illegal infiltrators on its land. And just by chance, the illegal immigrants and infiltrators happen to be of one particular religion only, which is prevalent in the countries from where they fled off due to better facilities available in India, on going criminal cases over them in their native countries and they being watched under strict laws.

Now, apart from muslims, infiltrators and illegal immigrants, how the act is going to benefit refugees who arrived India in various heart wrenching circumstances? Let's consider some facts here:
1. Brutalities and Killings: In the nine months between August 1947 and the spring of the following year, between fourteen and sixteen million Hindus, Sikhs and Muslims were forced to leave their homes and flee to safety from blood-crazed mobs. In that same period over 600,000 of them were killed. But no, not just killed. If they were children, they were picked up by the feet and their heads smashed against the wall. If they were female children, they were raped. If they were girls, they were raped and then their breasts were chopped off.

2. Pakistan's Sikh policy: Both (Indian and Pakistan) sides had signed, on 20 July, at Mountbatten's behest, a declaration that they would respect the rights of minorities. But Mountbatten was right in suspecting that they did not know what they were signing. The Sikh policy was to exterminate the Muslims in their midst. The Muslims, with their eyes on the rich Sikh farmlands, were content to drive the Sikhs out and only massacre those who insisted on remaining.

3. Pakistan's deliberate failure to keep the promise of safeguarding minority rights: On behalf of the Government of Pakistan, their representatives reiterated the determination to safeguard fully and effectively the right of the minorities to live honorably as full citizens of Pakistan, as guaranteed by the Pakistan Constitution. It was stated that the Government of East. Pakistan had already taken certain measures with a view to restoring confidence among the minorities. Despite of the promise made to Indian government about protection of minorities in Pakistan, Reports of violence and atrocities against minorities including Hindus in Bangladesh were received from time to time. The primary responsibility for the protection of the life, liberty and property of all citizens of Bangladesh, including minorities, rested with the Government of Bangladesh. It had been conveyed at the highest levels of Government that such incidents have an adverse impact on public sentiment in India, which in turn had the potential of affecting bilateral ties, and should be strictly dealt with. The Government of India continued to monitor the situation closely and were in touch with the Government of Bangladesh in this regard.

After all the atrocities and, violence faced, having their honor disgraced and left with no other option than to come back to India, our nation received many refugees who were live examples of the barbaric torture which was going on to all the communities other then muslims in our neighboring states. After living in years of uncertainty, for the very first time, any government have thought about relocating these people of Indian origin into inside borders of India. CAA is a greatly commendable attempt of the government to rehabilitate our people back into their own homeland. It's high time we should start rejecting denigrating and filthy political propaganda, willfully asserted to spread hate and start supporting the government over it's purpose of CAA, for a positive change in the society.
DISCLAIMER: The author is solely responsible for the views expressed in this article. The author carries the responsibility for citing and/or licensing of images utilized within the text.