1998 Wandhama massacre-Brutality of Radical Islamic Terror in Kashmir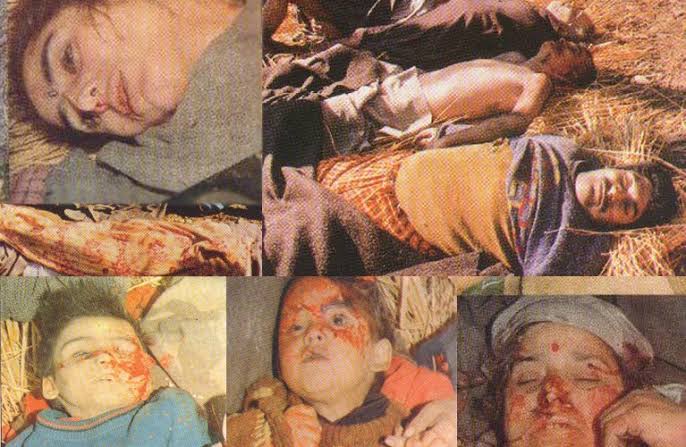 On this day more than 22 yrs later,#Wandhamamassacre no closure, still evokes dark memories of massacre of 26 Kashmiri Hindus by Hizbul M terrorists in town of Wandhama in J&K on 25 January 1998. 4 Kids , 9 women , 13 men were brutally killed only because they were Hindus.
This attack on humanity was carried by Islamic terrorist organisations Lashkar-e-Taiba (LeT and Hizbul Mujahideen (HM), 21 of them
Terrorists struck on the intervening night of January 25 and January 26. Eyewitness accounts said twenty five terrorists in army dress swooped on the village at around 10 PM on Sunday. The terrorists first entered the house of Moti Lal Bhat, a Medical assistant in a local dispensary. From here groups of four terrorists were sent to other Pandit houses and the rest were asked to cordon the village. Moti Lal was a popular medical practitioner in the area and treated everybody who came for help with compassion. The family of his niece, Pinki had come from Shopian to fix up an engagement proposal for one of his children. Her husband, Shadi Lal had been recently transferred to Ganderbal as a wireless operator.
In Badri Nath's house, there was a knock. Bearded terrorists, clad in Army dress asked permission to enter. It was not unusual for the family to give entry to such people in the past. The terrorists demanded tea which was served to them. Badri Nath's family had come from Laar after 1947 and settled down in Wandhama. Around 11 PM, Badri Nath's family had come to know that three other Pandit families living nearby were entertaining similar guests. After the tea was served to them, Badri Nath's family members asked terrorists when would they leave. The terrorists assured them not to worry and said they would move out soon. One of the gunmen told Vinod (14) son of Badri Nath, "you are talking sweetly, we will not kill you".
An hour later the radio set carried by one terrorists turned on and some one from other side cracked a message "poora gaon cordon ho gaya hai" (entire village has been cordoned). That was the moment one of the gunman stood up and ordered to shoot the family members down. Vinod alias Ashoo himself quickly sneaked to take refuge in the upper storey of his house. He heard bursts of gunfire and people shrieking. Vinod hid himself under the heap of dried cow-dung stored there. Within fifteen minutes everything fell silent. He was now the lone survivor among twenty-four Kashmiri Pandits who were staying in Wandhama.
Terrorists before escaping set ablaze the house of Moti Lal and the local temple. The gunmen in other three houses had also resorted to indiscriminate firing killing 1`5 Hindus. After the guns fell silent, Vinod came down to see the fate of his five family members. He thought that the villagers could provide help to his family members. To his dismay the villagers had gone to mosque for offering night long prayers on the occasion of Shab-i-Qadr.
There are different versions how the locals reacted after the massacre. According to one version locals heard the gun shots while they were offering prayers in the local mosque. They came out and visited the scene of devastation. Later they went to the Army camp at Barsoo, 3 kms away and informed the officers about the incident. As per locals, the Army refused to visit the village. Other reports said a group of women raised an alarm outside the mosque and informed the men-folk that the Pandit, houses had been attacked. The villagers seeing Moti Lal's house and temple in flames deserted the village and returned only in the morning. Moti Lal's limbs had been chopped off by the terrorists. Among the victims was a one-year old boy who had received 18 bullet wounds.
When correspondents visited Wandhama next morning, the small area behind the house of Moti Lal looked like a slaughter house. 17 bullet-ridden bodies were lying in a pool of blood. The policemen were pulling out charred bodies of six, including two women and two minors. A mother had unsuccessfully tried to save her infant by hiding him in her lap but both got killed together. The cop trying to separate them couldn't. There was burning smell of the human flesh everywhere. Muzamil Jaleel, of Indian Express who went to cover the Wandhama massacre wrote, "As the flames of Moti Lal's and Badri Nath's houses were being extinguished, there was a feeling everywhere that the price of this co-existence is high. The tragedy that struck during a night when the Sufi shrines of the Valley were all full of devotees."
The only survivor Ashu, the locals said that he had miraculously escaped as he hid under a pack of heavy straw nearby to his home.
"There was hue and cry everywhere, they dragged and shot all my family members after indiscriminate firing on them,"
It has been more than 22 yrs no justice is done …Kashimiri Hindus are still waiting justice for hundreds of such brutal killings for the last 30 yrs
Follow me @VikasInExile
Source – Greater Kashmir ,Kashmir.net , Daily Excelsior
DISCLAIMER: The author is solely responsible for the views expressed in this article. The author carries the responsibility for citing and/or licensing of images utilized within the text.