The Seven Martyr at Patna Secretariat – 1942.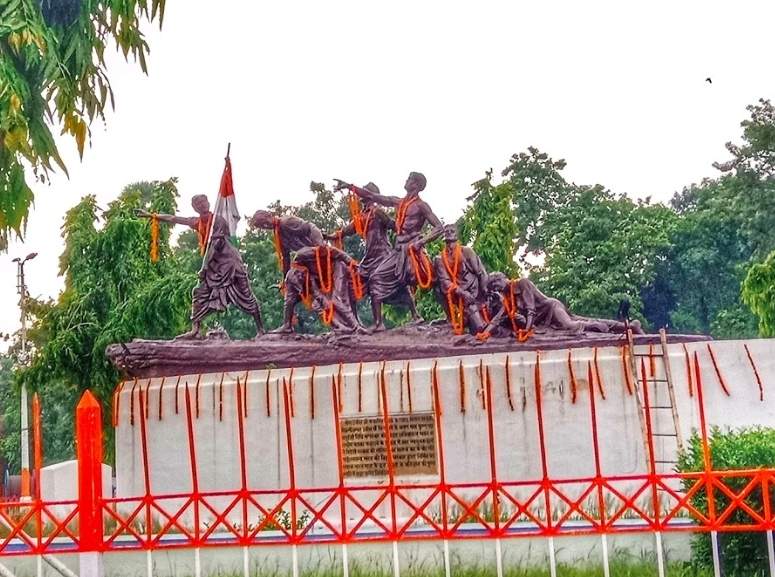 8th August 1942, History wrote its black day when seven young Student from Bihar attained martyrdom while hoisting Indian Tri-color at Patna Secretariat. The Nation would remain indebted to the Supreme sacrifice and patriotism of these seven young Student who forfeited their future for the Nation and its citizen.
Often this question haunts, have we really been able to do justice to their supreme sacrifice. I doubt today. If masses today can identify them by their name? Weather our academic curriculum or State administration have done enough to preserve the memory? It appears to me dismal in retrospect.
The Seven young student were in there teens only and their entire life ahead was awaiting. They never deserved to be assaulted or killed like this by British. Such was the cost of freedom we paid.
| | | |
| --- | --- | --- |
| Name | School/College | Class |
| Umakant Prasad Sinha (Raman Ji) | Ram Mohan Roy Seminary, | Class IX, Narendrapur Saran |
| Ramanand Singh | Ram Mohan Roy Seminary, | class IX, Dhanarua, Patna |
| Satish Chandra Jha | Patna Collegiate School, | class X, Kharhara, Banka |
| Jagatpati Kumar | Bihar National College, | 2nd year Kharati Aurangabad |
| Devipada Choudhry | Miller High English School, | class IX, Silhat, Jamalpur |
| Rajendra Singh | Patna High English School, | Matric Banwari Chak Saran, Nayagaon, Bihar |
| Ram Govind Singh | Punpun High English School, | Matric class IX, Dasharatha, Patna |
A Martyr's Memorial is situated outside the Secretariat building in Patna also known as "The Martyr's Memorial" or Shaheed Smarak. The sculptor Devi Prasad Roy Choudhury built the bronze statue of the seven students with the national flag. These statues were casted in Italy and later placed here.
Call for Quit India Movement had a wide reverberation across the nation. Citizen across the nation led the protest procession and non-violent demonstration. In Bihar the leadership was in the hand of Trio fighter Sri Babu Dr Srikrishna Sinha, Dr. Anugrah Narain and Dr Rajendra Prasad. Sensing the protest British made a preemptive arrest of ailing Dr Rajendra Prasad. The enraged Dr Sri Krishna Sinha and Dr. Anugrah Narain took out procession to hoist flag at Patna Secretariat. The procession was huge. The British immediately arrested these two leaders, leading to sporadic violent protest especially by Student.
The then Viceroy Linlithgow telegrammed his British Prime Minister Winston Churchill in panicky comparing the movement at Patna with 1857 Mutiny. It has potential to undo all the administrative machinery if not checked.
The student started assembling at Patna from interiors of Bihar. The mobilization was determined to oust British at any cost. 8th, August 1942, mobilization of Student turned into procession singing "Jan Gan Man" Song and started marching towards Patna Secretariat. It was decided to hoist the Tri-color flag at Patna Secretariat as envisaged by the freedom Fighters. The situation at Patna was turning out of British control due to electrifying participation arising from ordinary masses all across Bihar.
The Local administration was asked to tackle the freedom movement with all possible resource and brute force. An unprecedented police crackdown on peaceful student followed. The British carrying the notoriety of Jalia wala Bagh of 1919 repeated the misdeed. As the procession reached the Secretariat, The inhumane order to fire upon the procession led to cold blooded murder. One after another student were holding flag to hoist and getting assassinated. All seven young warrior gave away their precious life for the pledge to hold Tricolor floating.
Yes, Seven Son martyred in no time and departed for heavenly abode.
Amidst the ensuing mix of lull and quandary, the 8th student companion Ram Krishna Sinha, a third-year student of Patna College in 1942 disguised himself as an ordinary gardener, snatched the flag, sprinted to enter into the secretariat, climbed the wall in no time and hoisted the Tricolor at the top of Patna Secretariat.
Soon Ram Kumar Sinha Was arrested and Sent to Jail. He was released from jail after Indian attained freedom. Sh Ram Kumar Sinha finally departed for heavenly abode in 1984, yet largely remained unsung and undecorated in his life time.
Today, there is a Saheed Smarak with a Bronze Sculptor of Seven martyred Son of Soil placed at the Old Secretariat. But the deep anguish and disappointment runs high, as any mention of these sanctimonious sacrifices are missing from the academic curriculum and minds of new Generation.
If we can recall and pay homage, will itself be a great tribute to these legendary freedom fighter of India. The memory of these worthy Sons of Soil needs to be preserved.
DISCLAIMER: The author is solely responsible for the views expressed in this article. The author carries the responsibility for citing and/or licensing of images utilized within the text.