A Maskless Congress Leader Beats Up Sadhus For Not Wearing Masks!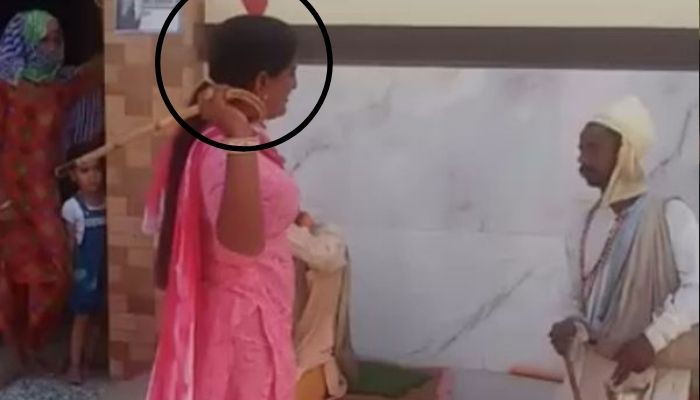 A Congress leader was reportedly caught on camera beating up Hindu Sadhus who were out to collect Bhiksha in Rajasthan.
A local Congress Councillor named Poonam Mahant, beat up two Sadhus who were on their way to collect Bhiksha, daily alms, from local homes under the pretext of teaching them a lesson for not wearing mask. Funnily, she herself was not wearing a mask while she was beating up the poor mendicants mercilessly with a cane.
A video of this incident became viral in the social media which caused an outrage at the sheer brazenness and lawlessness of Congress workers intimidating and terrorizing people wherever they are in power.
While the Congress woman beat up the Hindu Sadhus for not wearing masks, just a day before a huge crowd of over 4,000 Muslim men gathered in Rajasthan for the funeral ceremony of a Muslim cleric, while Section 144 CrPC was in force banning gathering of more than four people at a place.
The Muslim crowd was not wearing any masks, nor were they observing any social distancing. Thus, the event was prone to be a super spreader of the deadly pandemic which is already quite virulent.
Congress' love for the Muslim community and appeasement politics is quite well known. While the Congress government headed by Gehlot very irresponsibly allows Muslims to gather in thousands without any masks and by breaking the CrPC laws in place, and endangering spread of Covid, innocent Sadhus are beaten up by Congress leaders, who themselves are not wearing masks.
Congress' track record of hatred for Hindu saints and Sadhus goes a long way from Indira Gandhi times, when her government fired on lakhs of Sadhus gathered to seek a central legislation for banning cow slaughter in 1968, thus killing several thousands of Hindu holy men.
Image source and news input: Organiser
DISCLAIMER: The author is solely responsible for the views expressed in this article. The author carries the responsibility for citing and/or licensing of images utilized within the text.