Aayurveda vs allopathy or Cult Vs christianity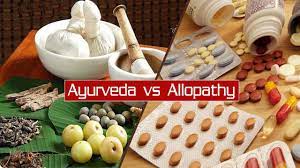 Some kind of controversies always goes on in our country. In this chain Yoga guru Swami Ramdeva has added a new controversy. IMA citing a video in which Swami Ramdeva is seen saying, "Allopathy is such a stupid science" and he claims that after taking meds like remedisivir, flaviflu and other drugs so many patients died", wants to prosecute him under the epidemic diseases act, as IMA claims that Swami's statements are baseless and the poor as well as the educated are falling prey to him due to his false claims and baseless therapy which he's been recommending people.
Aayurveda is not just a therapy, it's a culture of India and still there is a majority which has faith in Aayurveda and first they use home remedies or take Aayurvedic meds if they fall sick and majority of them even gets cured with this science. But, on the other hand there are people who mocks at Aayurveda and claims it to be inferior, which makes the believer of Aayurveda sad and sometimes angry too. It's true that Aayurveda hasn't made that much progress as Allopathy has made, but who's responsible for that? Is it Aayurveda itself? Has Aayurveda got a limit that it cannot cure as many diseases as Allopathy can? The answer of all these is simply, "NO", because it is not in the fate of Aayurveda that it has got some limits and cannot go ahead of Allopathy and of any other sciences in the world. In fact it is the oldest therapy of curing diseased. There have been so many Aayurvedacharya who were paramarsha chikitsak (physician) and shalya chikitsak (surgeon) in the ancient times and they have written lot of books on it. There was not Allopathy at that time yet people lived a healthy and happy life just because of Aayurveda and without getting exposed to any side-effects.
Now let's look at the factors which could have been a hinderance in the path of Aayurveda. Because, if Aayurveda was a great therapy and was making so much progress then it becomes important to look into the causes which restrained it and ultimately caused the down fall of Aayurveda.
The continuous attack on India by Muslims.
Christian's rule for more than 200 years.
Congress's affection towards Muslims and Cristians only.
So, by now it'd be clear that Aayurveda is the one which first invented the surgery so what it could've done if it'd have got economic and political support.
Before going further I'd like to clear that neither my intention is to defame Allopathy nor it's practitioners. I respect every progress which are in the favor of humanity.
We need to understand the stand of Swami Ramdeva. He burst on the thought of IMA chirf Dr. Johnrose Austin Jaylal, who is a converted Christian and sees a dream to convert every single person of India into Christianity and he has even accepted that getting benefited from the compulsion of poor people during the lock-down, he and his team has converted many. He sees his position as an opportunity to execute his malicious plan and he wants to make an army of doctors who are Christian and will help Christianity flourish in India. This all he has expressed in the interview given by him to Christianity Today and in the Haggai Magazine. He also said that "Corona has disappeared because of Jesus Christ". An F.I.R has been filed against him by a legal activism group called Legal Right Protection Forum seeking his license to be cancelled as he's abused his powers and has resorted to proselytize during the pandemic.
Let's see what happens in this regard, till then just wait and watch…
DISCLAIMER: The author is solely responsible for the views expressed in this article. The author carries the responsibility for citing and/or licensing of images utilized within the text.