Ahom Dynasty: Kingdom With Divinity (1228 – 1838 AD)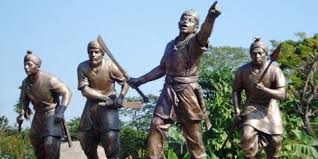 Who can recapitulate the history of a Kingdom which boasts of uninterrupted administrative and political success without interruption for 600 years and 41 Kings? Yes, Ahom (1228 AD to 1838 AD) dynasty is the longest surviving dynasty of documented India. Despite this amazing continuity, our modern academia and public intellectuals deceitfully conspired to erase the marvels and contours of such a magnificent and longest surviving dynasty of India.
Besides being a political and administrative grandeur, It is one of the most fascinating stories of cultural and civilizational integration within the diverse groups of India. Until the advent of Abrahamic religions, i.e., Islam and Christianity, Indian society had been extremely peaceful, inclusive and permeable. India has proved itself to be a great melting point where integration based on the concept of togetherness and collaboration has happened on a scale which is unparalleled in world history. It is especially relevant in context to Ahom, as Ahom had travelled across the mountains of North east crossed Patkai Mountains and settled in the Brahmaputra Valley carrying a different language and different cultural background. They integrated with local customs, civilization, diverse tribal people and adopted the local language and traditions and integrated with the Sanatan belief system. Something unheard elsewhere even in the remotest part of the world.
The Ahom (1228 AD to 1838 AD) journey is fascinating as it is another illustrious chapter in the history of India. Glorious moments like Magadha and Ahom were evolving forms of governance that we witnessed but sadly failed to document for our posterity. We will discuss this in our next E-book.
Ahom arrived in India in the pious land of Assam crossing the Patkai Mountains somewhere around the 12th century. The Ahom were warriors – Indefatigable and insurmountable. In no time they integrated an otherwise scattered and distributed local population under the leadership of Sukaphaa, a Shan prince of Mong Mao and established the great Ahom Dynasty in 1228.
North-eastern India is rugged mountain terrain with a multitude of local tribal populations with huge diversity. And building an empire and governing for 600 years was no ordinary administrative skill. Yet the martial spirit of Ahom was such that it integrated and assimilated themselves for rest of time and governed this mountain terrain for the next 600 years through 41 successive Kings.
Among some of the Governing Skill that Ahoms introduced and followed were as pragmatic as of today`s Scientific society.
● The tradition was that the King shall be anointed by the concurrence of four Mantris (Appointment committee).
● In the event of an unsuitable candidate, The Kingdom can run without King even. Yes there were brief periods in the 14th century when No King was anointed and the Kingdom was administered through the Council of Ministers.
● Beyond appointment, King could even be removed by the Council of Ministers in the passage of an event unacceptable to the kingdom.
This was the administrative acumen unheard of in those medieval days.
Suhungmung 1497–1539) The Hindu Influence on Ahom originated around this time and Hindu God like Indra (Lord of Heaven) got prominence in daily worship. Hereafter the Ahoms kings were titled as Swargadeo`s (Lord of Heaven). A sanctity of divinity was attached to the kingdom.
Sukhaamphaa Khora Rojaa (1552–1603) – Hindu Astrology as a subject of abstract knowledge was recognized. Later the state institutionalized its learning only to augment it to a great future in the course of time.
Pratap Singha (1603–1641) patronized Hinduism and started appointing a Brahmin family as the Kingdom's diplomats. As many as 13 such examples have been recorded, who were patronized by the state to bring up new such institutional orders.
Jayadhwaj Singha (1648-63) was the first Ahom king who himself accepted the path of Hinduism and spread the religion far and wide among all the tribal world. He went on to mint coins in Sanskrit, Devanagari and Assamese characters.
Defeat of Mughal made umpteen attempts to enter the north east and as many as 17 attempts are recorded where they were summarily defeated and humiliated. One of the recorded losses was of Governor of West Bengal Mir Jumla who invaded North east in 1659. The Ahom were a class apart. They lured him to follow inside the mountain terrain and finally slaughtered them with their entire Army inside the valley. He was later buried in an area around Assam Meghalaya. Modern Historians deceitfully failed to record the bravery of these Mountain warriors.
Retreat of Portuguese and Dutch naval forces, who anchored in the Bay of Bengal too tried to engage with Ahom in the northeast and met with stiff resistance eventually to retreat.
General Lachit Barphukan
The battle of Saraighat in 1671 between Ahom and Mughal General Ram Singh a disgraced Hindu traitor recorded as one of the most ferociously fought battles in those days. Mughal had a huge army and Ahom were led by their brilliant General Lachit Barphukanm who was an inspiring hero for Assam. Mughal employed treachery, duplicity and deceit to create a favourable situation in the war. The mountain valour had no match. The huge army of Mughals was crushed. Ram Singh ran away to save his life. The humiliated Mughals never returned to the north east thereafter.
In memory of the excellence of General Lachit Barphukan, The best passing out cadet of the National Defence Academy is conferred the Lachit Borphukan Gold Medal every year.
Lachit Borphukan finally set for heavenly abode in 1672 near Jorhat. His mortal remains now rest in Lachit Maidaan constructed in 1672 by Swargadeo Udayaditya Singha at some 16 KM away from Jorhat.
King Rudra Singha (1696-1714) A very popular king who installed a great Temple of Lord Vishnu and Joysagar tank in Sivasagar, the capital of Ahom Kingdom.
Purandhar Singha (1818-19, 1833-38) the legacy of Ahom started to decline due to structural fatigue and natural decadence. The last King Purandhar Singha struggled and fought bravely until the kingdom of Burma conquered Sivsagar and thus the great story of 41 Kings and 600 years wrote its last administrative chapter. Yet the Cultural and Social integration that Ahom brought to North east became the founding pillar of Modern India`s idea of unity and integration amidst diversity.
Legendary Ahom wrote an inexpugiable stories of the glorious 600 years and 41 kings. Modern left historians however deceitfully concealed the valour and might of this dynasty from history books.
DISCLAIMER: The author is solely responsible for the views expressed in this article. The author carries the responsibility for citing and/or licensing of images utilized within the text.