AMU Centenary – Will anything change?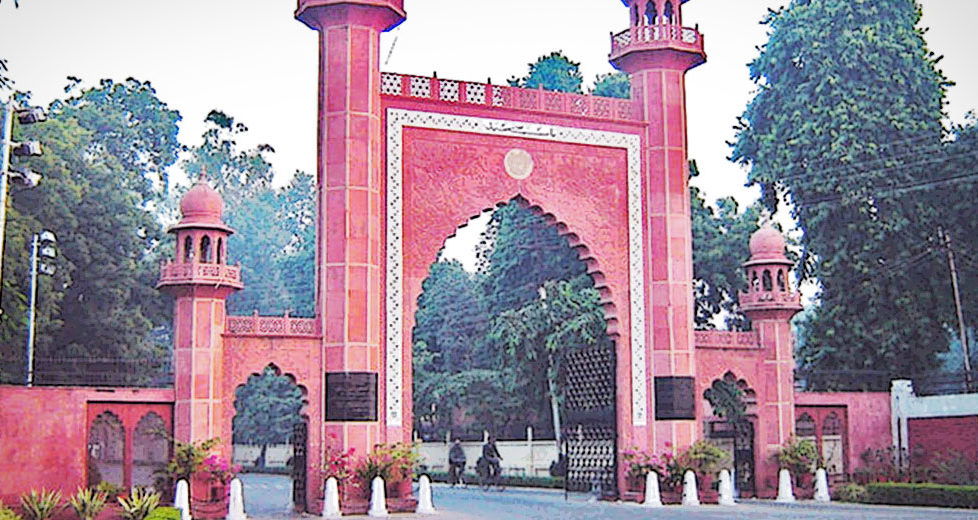 Aligarh Muslim University recently celebrated its centenary celebrations and PM Modi had addressed and made an interesting speech there, hoping to galvanize the youth in the university to try and think of national causes (instead of only Muslim ummah). Even as an eternal optimist, I do not think much will change as long as it stays a Muslim minority institution. AMU has and will continue to function only as a voice for the Muslims.
There was a section of AMU students who did not want PM Modi to address saying they want someone 'secular', meaning someone who will keep bending their back to appease the Muslims. Famous distorian, Prof. Irfan Habib, the Professor Emeritus of the History department of AMU had told before the address: "Kya farak padtha hai Modi aaye ya na aaye, khaas kar Modi jaise koi" (loosely translated to, 'How does it matter if PM Modi comes or not, especially when it is someone like Modi'). Modern-day Jinnah aspirant, Asaddudin Owaisi, had asked how does it matter if PM Modi addressed AMU, when cases booked on certain AMU students (under serious sedition charges) have not been withdrawn.
This university has a long history of voicing Islamic supremacist theory and mixing communalism with politics. The Islamic supremacist rationale comes right from the founder of the University Sir Syed Ahmad Khan. Let us see how:
Quick history of AMU:
Timeline: Post the first war of Indian Independence 1857
British view of the war: The sepoy mutiny of 1857
Hindu view: 1857, The first war of Indian Independence
Muslim view : Jihad to dislodge British and bring back the (bigoted) Mughal empire
After the brutal crushing of "The first war of Indian Independence of 1857" by the British, the Muslim Ummah in British India were saddened and demoralized beyond repair. The Jihad to bring back Mughal empire fizzled out and the ruling class of Muslims in and around Delhi and Central Provinces were suddenly out of power. The Muslims were in a further shock when the British simply put to death the ruling class of Muslims (the ashrafs, mullahs and maulanas) who were even remotely associated with the war.
Moved by the plight of disillusioned Muslims and alarmed at the speed at which Hindus were becoming brown sahibs and assisting the British in their complete colonization, Sir Syed Ahmad Khan felt that the Muslim will be left out of the political process and hence came up with the idea of modernizing the education for Muslims. Therefore he started the Mohammedan Anglo-Oriental College in 1875 for Muslims to get English education and thus wield Muslim political influence.
Sadly, besides Muslims, even Hindu Rajas of various regions contributed generously to the starting of this college. Some even donated land to this cause.
In 1883, in a speech in Patna, Sir Syed said : "Friends, in India there live two prominent nations, which are distinguished by the names of Hindus and Mussalmans. Just as a man has some principal organs, these two nations are like the principal limbs of India"1. It is very clear in this speech that Sir Syed had the clarity of two nations right from the beginning.
In 1887, in another speech, he went on to say: "Suppose that all the English were to leave India – then who would be the rulers of India? Is it possible that under these circumstances two nations, Mohammedan and Hindu, could sit on the same throne and remain equal in power?" 1 It should be given to Sir Syed that he had clarity of thought right from the beginning that Hindus and Muslims are separate and cannot co-exist, especially a Hindu on the throne with both Hindus and Muslims as subjects was unimaginable (the Islamist supremacy rationale)
In another speech in 1887, blaming the British, he says : "Is the British Government so foolish as to suppose that in seventy years we have forgotten all our (Mughal) grandeur and our empire?" He further goes on to admit how Muslims conquered parts of India: "Our nation is of the blood of those who made not only Arabia, but Asia and Europe, to tremble. It is 'our' nation which conquered with its sword the whole of India"3. Don't these statements reek of supremacist ideals?
In 1920, this college, "Mohammedan Anglo-Oriental College" became "Aligarh Muslim University". Again a princely sum of 30 Lakhs was collected from both Muslims and Hindus. The Ismaili Muslim Imam of that time, Aga Khan III, helped raise a major part of this 30 Lakhs. Incidentally, Ismaili Muslims are no more considered Muslims in Pakistan and hence are apostates who should be eliminated. Since finding and converting/killing Hindus and Sikhs in Pakistan is getting difficult these days as most of them are either dead, converted or have come as refugees to the Indian side, the Pakistani Sunnis now target Shias and Ismailis. Anyway, let us come back to the subject of AMU.
AMU at the time of Indepence (1939-47):
AMU Students Union (AMUSU) passed a resolution condemning "the fascist policies" of Congress Govt. in the provinces. Remember the Congress was at that time considered by the Muslim League as a Hindu party and hence Congress was fascist then.
In 1941, the AMUSU passed a resolution that: "The best way to achieve India's freedom and to bring about lasting peace in the country is to strive for establishment of Independent states in the regions of Hindu and Muslim majorities". AMU like the Muslim league, felt that the country is inhabited by 2 different sets of people "Hindus" and "Muslims" and Muslims will not tolerate being governed by Hindus.
AMUSU further states: "Aligarh men are determined to hasten the realization of the Pakistan ideal, which represents the universal faith of the Musalmans of India."
Aligarh Students Union took their role seriously and had maintained all through that Aligarh will be the centre to train the Muslim Youth to play their role worthily in the Muslim National Movement (that is Pakistan).
The future PM of Pakistan, Liaqat Ali Khan declared: "We look to AMU for every kind of ammunition to win the battle of Independence of the Muslim Nation (Pakistan)"
A "League Camp" within AMU was setup by a Muslim king of Mahmudabad to assist for the oneness of communication between Muslim League and AMU.
The teachers of AMU like Dr. Zafrul Hasan, Dr. Afzal Hussain Qadri, Jamiluddin Ahmad and Prof. A.B.A Haleem took active part in the "League Camp" discussions on the Pakistan movement.
"Aligarh scheme for Independence 2" as defined by these teachers mentions that Hindus and Muslims are two separate nations. It further proposed that the division of British India should be on the following lines:
A Muslim state of North West India known as Pakistan
A Muslim state of Bengal, Sylhet district in Assam and Purnea in Bihar to be known as Muslim federation.
The rest of British India was to form Hindustan.
But within Hindustan, Delhi and Malabar having substantial Muslim population were to be constituted into autonomous provinces.
In addition, the state of Hyderabad along with Berar and Carnatic was to be sovereign Muslim state (even though the overwhelming population was Hindu)
Thus the Aligarh Scheme envisaged the partition of India into four states of which three were to be Muslim States.
More significantly, after these 4 divisions too, they proposed that the Muslims in Hindustan were to be recognized as a separate nation.
Eight other AMU scholars too fully endorsed this scheme.
Thus the Aligarh scheme made a substantive contribution to the Pakistan resolution of 1940 in Lahore.
Zia-ul-Faruqi (in his The Deoband School and the demand for Pakistan") mentions that "Aligarh became the training centre of the Mujahideen-i-Pakistan.
Jinnah called AMU, "The arsenal of Pakistan" and the AMU themselves said that they are "The voice of M A Jinnah"
They further went on to say: "We worked for Pakistan and played our part in making Allama Iqbal's dream a reality under the guidance of Jinnah". And hence to this day, you will find Jinnah's portrait hanging in AMU. What a shame!
AMU post Independence:
Most of these students and professors stayed back to continue their holy duty of converting the rest of India to Dar-ul-Islam (house of Islam). And today, you have these Muslim politicians talk about how their fore-fathers stayed back in this country as if they had done some favour to India.
Aga Khan III, the Imam of Ismaili sect of Islam (which is no more considered legal in Pakistan and hence persecuted at will), famously said and recorded in his Memoirs "We may claim with pride that Aligarh was the product of our own efforts and of no outside benevolence and surely it may also be claimed that the independent sovereign nation of Pakistan was born in the Muslim University of Aligarh."
The effort to convert AMU to a nationalist institution and to look upon the partitioned India as their own was started soon after the partition by way of the Indian Government appointing Dr. Zakir Hussain as the VC of AMU.
But a majority section of teachers and students of AMU continued to subscribe to Jinnah's and Muslim League's philosophy of separation.
They saw the appointment of Dr. Zakir Hussain as being an agent of Hindu Congress to do some kind of clean up/Shuddi of the university.
In 1951, when Liaquat Ali Khan, the then PM of Pakistan was assassinated, the students sounded the siren disregarding the advice of the VC and making an exhibition of their allegiance to Pakistan.
In 1953, the VC reported to the Ministry of Education, Govt of India that students from Pakistan are being enrolled into AMU.
In 1956, the students of AMU took out a procession to ban a book "Religious Leaders", a book published by Bharatiya Vidya Bhavan and burnt the effigy of KM Munshi, of course with wide-scale rioting by Muslims in Uttar Pradesh, West Bengal and Madhya Pradesh. The students of AMU generously shouted slogans of "Hindustan Murdabad and Pakistan Zindabad". In fact a curfew had to be imposed in AMU to bring the situation under control.
In 1956, Dr. Zakir Hussain quit AMU as all his efforts to secularize the institution failed. It certainly had to fail as the Muslims are quite clear and not confused by the myth of secularism and Gandhiji's maxim of 'Sarva Dharma Samabhava'. This maxim seemingly applies only to Hindus.
Later Mr. Ali Yavar Jung was made the VC of AMU. Hoping he may have some ways to secularize the institution.
Ali Yavar Jung tried his bit to do the same during his time and the students and teachers were seething with anger and were waiting for an opportunity to get back at him.
On 25th April 1965, a crowd of about 1100 members of AMU mounted a brutal attack on Ali Yavar Jung in the University court. The attack was so brutal that "the VC" received 65 wounds of which 30 were on his head. It is significant to note that despite the public attack on Ali Yavar, no one came to his rescue, the fellow teachers/professors or any other section of students. They simply watched him getting thrashed.
He managed to survive this attack and later when he recovered, he submitted a report to the Education Ministry where he mentions: "Far more important than the question of physical or spiritual injury sustained by me, is the question of the continuing existence in the AMU of a set of men with possible ramifications in Aligarh and beyond, who are more than merely communal and have deeply reactionary fascist leanings."2
Khan Abdul Gaffar Khan, also known as the frontier Gandhi, during his visit to AMU in 1969, was mobbed by students who in fact spat upon him as he was against the idea of partition.
In 1972, Prof. Humayun Kabir lost three of his teeth, when he was attacked by the students of AMU during his visit.
Even in recent times, nothing much has changed in regards to the character of AMU. Whether it is:
Anti-India and Pro-Pakistan slogans from time to time.
Standing up for Afzal Guru, the terrorist or protest marches against hanging him.
Even better, organizing peace marches for terrorists Ajmal Kasab and Burhan Wani.
The generous "khabar khudegi" slogans for Hindus, HM. Amit Shah and PM. Modi during anti-CAA (anti-Hindu) protests.4
AMU professors remind Hindus that they (Muslims) are 25 Cr in the country and if they want, they can break this country up. And somehow the Hindus should be thankful to the Muslims that they have not resorted to breaking India up.5
The university still has Jinnah's (the partition architect) portrait hanging on its walls.
As we have seen, AMU was created specifically to wield Muslim political influence, which was instrumental in the creation of a Muslim Pakistan. The original Aligarh scheme of 1939 envisaged the division of British India into multiple Muslim parts. This dream of AMU is still unfulfilled and most certainly a work in progress. AMU is fighting tooth and nail to keep itself a Muslim minority institution so that the University is not breached by non-Muslims and their agenda of communal Muslim Politics gets diluted. Remember it is one of the 4 universities in India that is in news almost always for the wrong reasons. JNU and Jadhavpur university are rabid communist bastions, while Jamia Milia and AMU are Islamist Supremacist institutions. And they all work well in tandem as the Communist-Islamist anti-national bloc. With such background, it will be indeed interesting to see if the AMU centenary speech of PM Modi will have any positive effect on the students and teachers.
References:
Unbreaking India – Sanjay Dixit
Understanding Partition – Yuvraj Krishan
https://www.columbia.edu/itc/mealac/pritchett/00islamlinks/txt_sir_sayyid_lucknow_1887.html
https://www.youtube.com/watch?v=kB89KZQvIZs
DISCLAIMER: The author is solely responsible for the views expressed in this article. The author carries the responsibility for citing and/or licensing of images utilized within the text.