Analysis: Bollywood has experienced loss of crores because of its anti-Hindu content in last 3 years, the figures are disturbing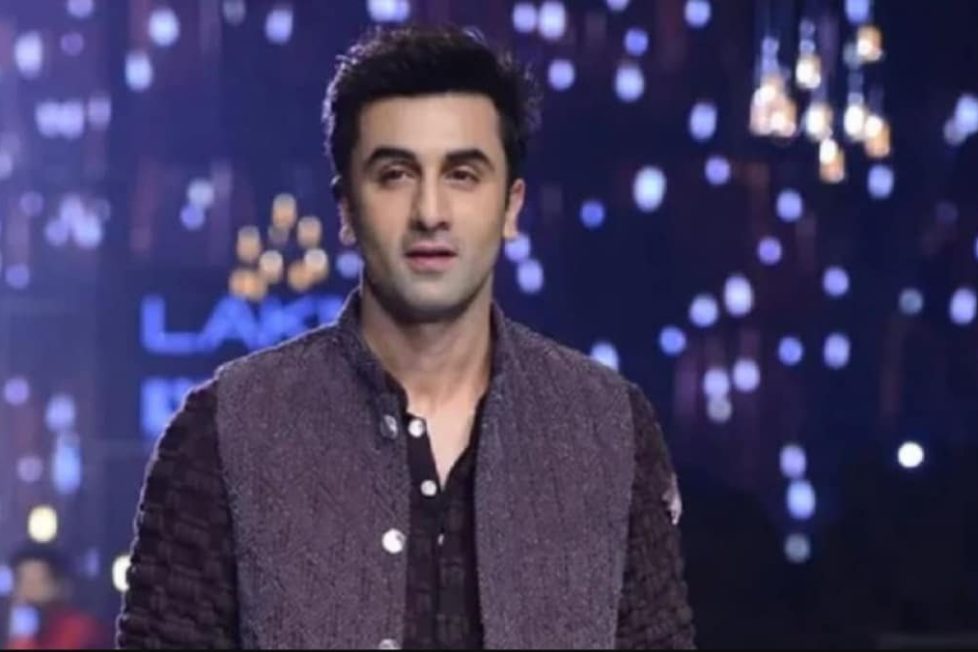 Highlights
Why Bollywood is in trouble after since last few years
Why South Indian films are performing better than Hindi
Read about the top 10 films of the year 2022
Hindi cinema has crossed 100 years. Over the years, it has crossed many milestones and touched many heights. But the year 2020 was such a time that shook Hindi cinema. This was the time when Corona was starting to spread in the country. Corona, which has wreaked havoc in the world, has wreaked havoc in Bollywood as well. It has had such a deep impact that even after three years its wounds are visible. Although there was a huge loss in every sector, but it broke the back of the business of Hindi cinema. It has happened recently whether it is a big star or a big director, Everyone's films are falling on their faces. In the year 2022, more than 30 films have failed at the box office except select films. Overall, it can be said that Corona has changed Hindi cinema. Market pundits have different opinions on this. Talk about the year 2019, just before Corona, the top 10 films were of Bollywood in terms of business, but by the year 2022, this scene changed completely. Let us tell you how Corona has broken the back of Bollywood.
Talking about the top 10 films (2022 Top Movies) in terms of business in the year 2019 before Corona and the year 2022,
all these films were produced by Hindi cinema. But by the year 2022, this figure has completely changed. Like in the year 2022, KGF 2 is the highest grossing film and it is not a Hindi film but a Kannada cinema film. Similarly, RRR was the second highest grossing film which is originally a Telugu film. This year's top 10 films include two South films and three Hollywood films.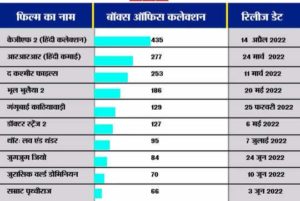 A Lister Actor's Shine Faded
In the first 8 months of the year 2022, none of the few films that were hit were of Bollywood's A Lister actors. Films like The Kashmir Files, Bhool Bhulaiyaa 2 passed with major profits and its starcast is all about. In these 8 months, films of stars like Aamir Khan and Akshay Kumar were released but could not do wonders at the box office. Aamir Khan's Laal Singh Chaddha flopped badly at the box office and the makers had to pay even the distributors money. At the same time, Akshay Kumar, who did many films and gave many hits, released films like Bachchan Pandey, Rakshabandhan to Emperor Prithviraj in the year 2022 (Top 10 Movies), but all three of them fell face to face.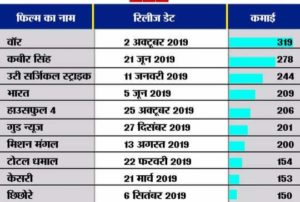 Effect of Family Friendly Films
In the year 2019 (Top Movies) in the top 10 films, 6 films got U/A certificate while three films (Bharat, Mission Mangal and Total Dhamaal) got U certificate and only Kabir Singh got A certificate from censor board. had passed. Whereas in 2022 there was not a single film of U certificate and Kashmir Files got A certificate. All other films got UA. Explain that A means adult which can be seen only by adults. On the other hand, U/A means under age which means some scenes can be of violence, obscenity, in which children older than 12 years are seen in the presence of parents. The meaning of this list is that the audience is liking light hearted and family friendly films like Bhool Bhulaiya 2. Even today such films are showing their effect.
Viewers need variety
KGF was an action film whereas RRR was a historical drama. And Jug Jug Jio and Bhool Bhulaiyaa 2 family drama. Gangubai Kathiawadi A film inspired by a true incident.. This means that in the year 2022, the audience wants variety. He wants all kinds of spices.
If you compare the list of Corona Impact year 2019 and year 2022, then the biggest change is seen that last year no film is included in the top 10 films
below 150 crores whereas the list of year 2022 In some films it has become difficult to get even 100 crores.
DISCLAIMER: The author is solely responsible for the views expressed in this article. The author carries the responsibility for citing and/or licensing of images utilized within the text.