Atrocities on Hindu In Bangladesh: The obscure saga of Bengali Hindus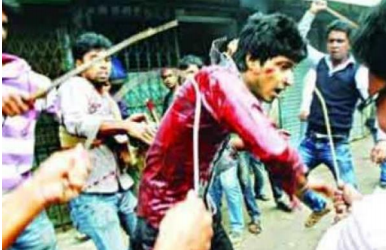 The Hindus in Bangladesh who played a very prominent role in the freedom and liberation movement of Bangladesh in 1971 against the tyrannical and autocratic regime of West Pakistan which was carrying out mass genocide of East Pakistanis predominantly it's the Hindus who were slaughtered, raped, and enslaved by Pakistan army, therefore Hindus fought wholeheartedly against the Pakistani occupation on the promise that ceasing of Pakistan rule in Bangladesh would culminate in the formation of Bangladesh with secularism, democracy and socialism would be its foremost ethos to deal with its populace. But Bangladeshi Leaders betrayed Hindus again by Making Islam as the State religion and through its policies and machinery unleashed havoc on Hindus, Hindus became vulnerable to radical Islamic outfits like Jamat Islami, Islamic Markaz party. The Bangladeshi govt also passed an Enemy law to confiscate the property of Hindus who go outside Bangladesh, During the election, Hindus are targetted by political parties like the Awami League, BNP, etc when they lose the election, their temples are destroyed every day in the name of Islam and police authorities do nothing to protect them, Women are kidnapped, their land in an unlawful manner is captured by the Islamist goons, priest of the temple are hacked to death even in broad daylight, the Systematic massacre of Hindus by both state and non-state actors is unable to draw the international attention at all and everybody just avert their eyes from the ongoing assault of Hindus, maybe they don't consider Hindus as human beings, we think it's our moral duty to voice the ignored sentiments of Bangladeshi Hindus who face the day to day religious persecution, we are presenting another article based on the analysis of the report of Bangladesh Govt regarding Hindus to highlight the pain and agony of them.
January-30, 2016: Chairman Mohamad Mosharaf Hossein Khan, the general secretary of AwamiLeague in Nazirpur Upazala, Pirojpur district. He threatened the minority families of Shakharikhati village. Felling of insecurity 20 minority families went to India. He seized their land and built a small cottage. Total land is more than 7 acres.
January-31: A temple idol plundered in Hazigonj, Chandpur. The miscreant name is Ismail Hossein who did it. He had broken the temple idol. Temple authority chased him and handover to the police
February 1: Forcefully seized Hindu owned land at Molphine village, Wazirpur Upazila in
Barisal. Sudip Kumar is the owner of this land. Abdul Mohari and his assistant Shawon Khan seized the minority land and built a shop.
February 7: Addressing to seize minority land, few miscreants attacked on the Hindu family while the victim's family was busy with a funeral ceremony at Nageshswari, Kurigram district.
February 11: Police forcefully seized Hindu owned land in Jessore. While the victim family
protest it, police filed a case false case against the minority family.
March 8: Few miscreants demolished four idols in Sri Radhabalav temple at Natore
Sadar in Rajshahi. In the morning, the temple sweeper Givindha came to sweep the temple ground. When he entered the temple, He saw, there were four idols broken and scattered in the ground. The broken idols are Radha-Krishna, Lalita, and Vishakha's. Then he informed the temple authority.
March 10: Sheikh brothers looted crops from a Hindu family land in Rajbari in the Dhaka division. The minority Hindu family went to the police station. Police filed a case against plundering crop looters. For this reason, Sheikh brothers extremely anguished and demanded 10 lakh taka extortions from the Hindu family in Rajbari.
March 11: Juba League cadres have locked themselves in a shop. This shop owner is a Hindu minority man who lives in Mirzapur, Tangail. This man's name is Jitu Rabi Das. Juba League cadres have been locked in Jitu's shop because he selling his land without informing them. Cadres group also demanded 5 lakh taka extortion from minority families.
March 14: 20 Hindu families are living under insecurity and anxiety because a ruling party Awami League leader Mohammad Mosharef Hossein Khan wants to drive out these Hindu families from their land. Mohammad Mosharef Hossein Khan is Najirpur upzilas joint secretary of Awami League and he is also a UP chairman of Najirpur Upazila in Pirazpur district
March 17: Every year Hindu community arranges a religious program 'Yajna' Kharichabakul village in Chashadha union in Jessore. This year, they also arrange the same 'Yajna' ceremony. But few more than 30 miscreants attacked this religious ceremony on 16th March, Two miscreants were caught and hand over to police.
March 19: A Hindu temple land's seized by a government worker Nashir Khan. This temple is situated in Uttarpara, Fakhirhat Upazila in Bhagherhat district. This temple name is Dhalkhula Puja Mondir. Nashir Khan is working in Bangladesh Television. He seized 1.2 satak lands. Dhalchala Puja Mandhir is the owner of this land.
March 22: Ratish Chandra Roy is a resident of pragatipara village in Nilphamari Sadar. An
allegation has come; Rathish's house land is seized by Miya family members. Miya's family illegally oppressed Ratish when he builds a boundary wall in his own land. Ratish Chandra went to Nilphamari police station but the police station did not accept his case
March 25: When elections come in Bangladesh, A common scene also comes with it.
Bangladeshi Hindus, they must pay valuable worthy of election. Now, the UP election is going on in Bangladesh. Hindus are the main target in this election. Hindu gives their life for elections but they didn't get any good result from it. As like, Four Hindu families are affected in this election on Moralgoanj in Bhagerhat district. Awami League supporters attacked four Hindu houses and also looted and fired.
March 28: Bangladeshi Hindus are always great supporters of the Awami League. All political parties know Hindus are the reserve vote bank of Awami League. In national and local elections, Hindus supported Awami League. In 2016, the UP election is going in the whole country. Hindus sealed on Boat. In Shatkhira district, Ashasonhi Upazila, more than 100 Hindu families are now living without their houses. Because, their main mistake, they have supported the Awami candidate in the UP election. For this reason, more than 100 Hindu family members out of their houses. They lived under insecurity and anxiety. At night, pushed Hindus houses doors, openly threaten, they will rape girls and females.
March 30: A gang of criminals abducted a clinic owner's family in order to capture an ultramodern clinic. After the abduction, Doctor Bijoy rescued with the help of neighbors. Then he recovered the clinic with the help of the police. Doctor Bijoy Krishna Halder is the owner of the Surgi care clinic and the diagnostic center at the bay-pass street, Pirojpur. On 21st March, he with his mother, wife, daughter studied at college is abducted
March 30: A Hindu temple and religious ritual site have been allegedly plundered at
Gaibandha's Saghata Upazila. At least four people were injured in the attack on Monday. Those injured have been identified as Shobha Rani, Ragini Rani, Mina Rani, and Anjali Rani. They were given first aid.
April 2: Few miscreants attacked in religious worship of the Hindu community at
Rajnagar village, Manikgaonj in Dhaka. Miscreants wanted to dance in the temple when
worship is going on in the Shomvo Chandra Malo's Sarvajan in Pujamandhav. But 6
worshipers oppressed it because miscreants wanted to use the soundbox for dancing. They assaulted 6 worshipers and smashed up idols.
April 4: An allegation has come against an Awani League leader Gazi Abdul Hadi. Hadi
forcefully seized Hindus lands and sent them to India without their demanded money. 9 Up chairman released a press conference at Khulna press club. In the press conference, they demanded justice from Abdul Hadi, Awami League district information, and research secretary also two Awami League district leaders.
April 18: Miscreants vandalized 5 idols at Promad Sarkar house, Akhaliya village,
Bhaluka Upzalia in Mymensingh district. Police visited the spot. Promad Sarkar says, At
Saturday night, few miscreants vandalized Saraswati, Laksmi, and also 5 idols broken in
Promad's house temple. Bhaluka police station investigated the matter
April 21: Miscreants attacked on Sri Bhairab temple, vandalized idol of Mahadev Bhairab at 15 no. word Tali port, Sylhet Sadar. Wednesday, at night 8 A.M more than 5 criminals attacked on the temple. At first, they of the temple gate light. Then they started criminals work in the temple. Devotees try to protest them and temple authority instantly informed the police station. The local councilor helped police to arrest two criminals. They are Khalil Uddin and his assistant. Other miscreants fled from the spot.
April 27: Tuesday night few miscreants vandalized idols at Patgram in Lamonirhat district. Miscreants used windows for vandalizing idols in the temple.
Biswajit Kumar Hishabiya is the president of Kali Mondir. He says Tuesday night devotees and Tagore went away after completing prayer. Then few miscreants used the window to break the temple idols. They vandalized four idols in the temple. Local understood it at noon that miscreants vandalized the idols.
DISCLAIMER: The author is solely responsible for the views expressed in this article. The author carries the responsibility for citing and/or licensing of images utilized within the text.