Bangladesh Hindu Genocide: The Murky World of Silence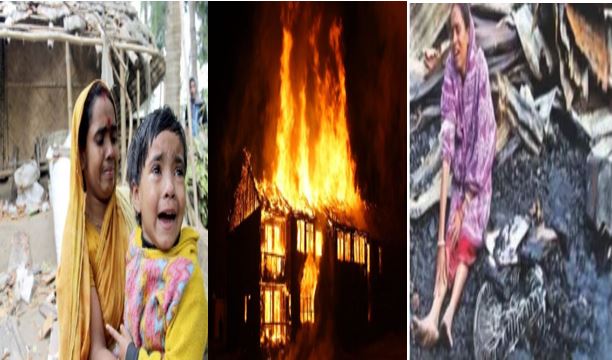 While there is no shortage of historical scholars, sages, and teachers in Hinduism, but there is no firm date of origin for Hinduism, either. The earliest known sacred texts of Hinduism, the Vedas, date back to at least 4000 BCE, but some date them back even further, to 8000-6000 BCE. Unlike the Abrahamic religions of Islam, Judaism, and Christianity which is considered to have a historical founder like Muhammad, Abraham, and Jesus, Hinduism (Sanatana Dharma) has descended directly from Almighty God (Bhagwan).
But it's also a ghastly truth that Hindus are the only religious community who have experienced both historical and ongoing religious persecution and systematic violence, in the form of forced conversions, documented massacres, demolition, and desecration of temples, as well as the destruction of educational centers.
Although, in the past history has witnessed thousands of Hindu Genocide, but recent f Hindus Genocide in the past 100 years is
1921 Moplah Genocide 1946
East Bengal Hindu Genocide
1947 Hindus Genocide during the Partition of Undivided India 1966 Hindus Sadhus Genocide
1984- 91 Punjab Hindus Genocide
1989 Kashmiri Hindus Genocide
1990's Afghanistan Hindus Genocide
Pakistan Hindus Genocide after its creation
Bangladesh Hindus Genocide after its creation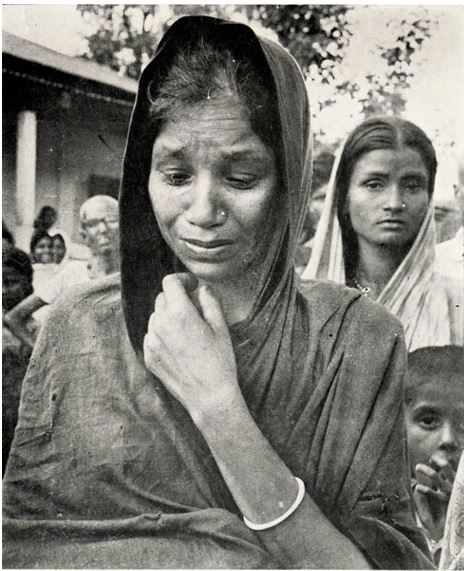 Pre-Bangladesh Hindus Genocide
The pre-Independence era has witnessed a history of bloodshed against Hindus. The brutality against Hindus was a common phenomenon in then East Bengal (Today's Bangladesh) because Hindus were a historically religious minority but at the time of Independence due to partition of the country, genocide against Hindus on the basis of religion was exemplary. Since 1947 the violence against Hindus in East Pakistan (now Bangladesh) is a continuous phenomenon and followed religiously by the majority of Muslims irrespective of political parties in Power.
History of innumerable incidence of atrocities against Hindus like killing, rape, slaughter, forcible annexation of properties, burning of houses and abduction are taking place and in a considerable number of cases, the violators are the cadres of various political parties irrespective of whether they are ruling or are in opposition. According to an estimation, more than 475 persons belonging to the minority community are migrating from Bangladesh daily[1].
After the 1947 genocide, Hindus were persecuted the most in 1971 due to which large-scale migration of Hindus to India took place. According to estimates, at the time of the Bangladesh Liberation War, almost 2.5 million Hindus were butchered in one of the biggest genocides of the century.
"Kill three million of them and the rest will eat out of our hands," Pakistan's military President Gen. Yahya Khan is said to have ordered before the start of the brutal 'Operation Searchlight' on the night of March 25, 1971[1].
As per the article in 'Time Magazine' dated 2 August 1971, stated: "The Hindus, who account for three-fourths of the refugees and a majority of the dead, have borne the brunt of the Muslim military hatred".
According to BBC "Official estimates say more than three million were killed and tens of thousands of women raped during the Bangladesh war of independence. The minority Hindu community suffered disproportionately because some Pakistanis blamed them for Bangladesh's secession".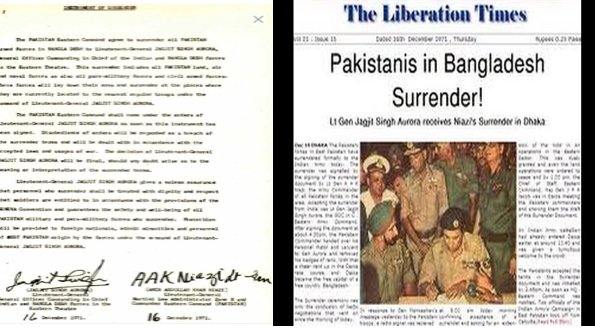 Birth Of Bangladesh
Bangladesh was born on December 16th, 1971 when the Pakistan Army signed an "Instrument of Surrender" to the Indian Army.
Bangladesh was premised on a secular and democratic ethos as "Paragraph II of the preamble of the first constitution of Bangladesh which was adopted on November 4, 1972, accepted "Nationalism", "Socialism", "Democracy" and "Secularism" as state principles. But "soon after its birth, the political history and politics of Bangladesh found itself within the twists and turns of majoritarian politics".
Through the Eighth Amendment to the constitution on 7 June 1988, Islam was declared as the state religion of Bangladesh (Article 2 Clause A) with the provision that other religions may be practiced in peace and harmony. "The above changes were brought about by successive political regimes to consolidate their power base by appealing to the sentiments of the majority. This not only transformed the political identity of the state but also created internal polarization"

[2].
Since the change in the constitution, the minority community especially Hindu's faces discrimination and continuous atrocities, violence, and killings. It has been proven that the political process and the political parties were a major source of discrimination against minorities.
Pandora Box of Bangladesh Political Cloud
Islam is the state religion of Bangladesh and the government is run by the four-party alliance and out of these four is one fundamentalist Islamic party called Jamaat-e-Islam, which stood hostile to the cause of independence of Bangladesh. In 50 years of its creation, two of the basic principles of the war of Independence, Secularism and Democracy-have been very adversely affected and had been witnessed many times recently by attacks on Hindu Temples and the Killing of innocent Hindus. As Secularism was dropped from the constitution and Islam was made the religion of the land, the minorities have turned into second-grade citizens.
Out of 50 years of its history, Bangladesh was under military rule for a good period in its initial period. The main and major partner party of the present government was also born under the initiative and design of the first military ruler of Bangladesh. Bangladesh Awami League (born 50 years ago), the political party that led the war of liberation ruled the country for 5 years (1996-2001) and is also in power since 2009.[2]
Hindu Population in Bangladesh
Ever since the birth of Bangladesh, the Hindu population has declined considerably.
Bangladesh has a total land of 147570 square kilometers with 165 million populations (as per the 2011 census). Out of these 91% (150 million are Muslims), 8.5% (13 million Hindus), and others constitute Buddhists, Christians, and ethnic people belonging to 45 aboriginal communities.
As per the latest reports Poverty declined from 43.5 percent in 1991 to 14.3 percent in 2016, based on the international poverty line of $1.90 a day (using 2011 Purchasing Power Parity exchange rate)[4]. 
Chronology of Hindus Atrocities for first 35 years after Bangladesh Creation
Many Bangladeshi scholars like Salam Azad who was Executive Director, Amity for Peace, Bangladesh hold the view that Islam became the state religion in Bangladesh. Since 1982, a concept diametrically opposed to the slogans and principles on the basis of which the Bangladesh freedom movement started i.e., "Secularism" and "Democracy". Consequently, the minorities particularly Hindus, have been marginalized to the extent that they became "Unwanted Low-Grade" Citizens in their own country.
In almost all of the cases, the Hindus are not getting justice from the judiciary. While depicting the plight of Hindus and exemplifying the nature of injustice, Azad says "The writ petitions made by ASK, an NGO to safeguard minority rights had not been responded to. Democracy without secularism has been negatively acting over the freedom of the minority communities. Some NGOs stood as shelter for the minorities but that too has been obstructed by creating grouping among NGOs. Rights of the citizens belonging to the minority communities are thus curtailed in manifold ways".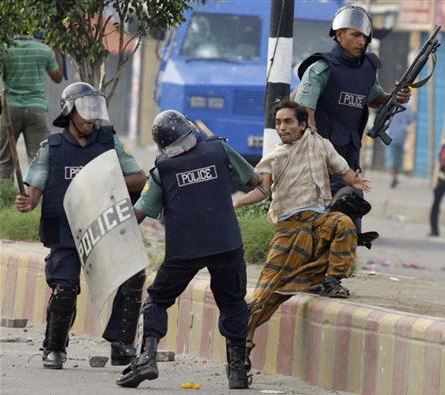 1990 -91
In October 1990, the Bangladesh government imposed an indefinite curfew on older sections of Dhaka, the capital of Bangladesh after a number of Hindu shops, temples, and homes in Chittagong, Dhaka, and other cities were attacked. The curfew was ordered after an attempt by protesters to set fire to Hindu temples in old sections of Dhaka. Police foiled the attempts, but the demonstrator seized cameras of newsmen outside the temple.
The US Dept. of State in February 1991, reported a number of harassments, beatings, robbery, vandalism, and encroachment on property directed against non-Muslims especially Hindus

.
1992
In December 1992, Bangladesh's Jihadis Muslims attacked and burnt down Hindu temples and shops across the whole country. The Jihadi too disrupted an India-Bangladesh cricket match. About 5,000 jihadis with rods and bamboo sticks tried to storm Dhaka National Stadium, but they were beaten back by police firing tear gas and rubber bullets. At least 10 people have died, many Hindu women have been raped, and hundreds of Hindu homes and temples have been destroyed.
1993 – 94
On Oct. 16th, 1993, Hindus in Bangladesh decided to curtail Durga Puja, the main Hindu festival celebrations which were scheduled to start on October 21st, 1993 in view of the "Atrocities" committed against Hindus in December 1992. The Hindus have demanded that damaged and destroyed temples be repaired and that an inquiry be held into the attack on a Hindu religious procession in Dhaka in August 1993. But no action was taken by Bangladeshi Government.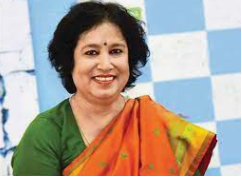 In November 1993, several thousand Muslim Jihadis marched through the streets of Dhaka to demand the arrest and execution of Taslima Nasrin, a female Muslim author critical of male chauvinism and Islamic fundamentalism.

Ms. Nasrin, 31, has received death threats for her novel "Lajja" (Shame), which condemns Muslim mobs that attacked Hindus in Bangladesh. The government banned Lajja in July of 1993, six months after it was published. The campaign against Ms. Nasrin gained momentum after a little-known group called the "Council of the Soldiers of Islam" placed a 50,000 Taka (Bangladeshi Currency) on her head at a public meeting in the conservative north-eastern district of Sylhet

. The group claimed that Nasrin's books decried the Koran, and the Prophet Mohammad, making it a perfect case of Blasphemy, thus causing offense to the country's majority Muslim population. In June 1994, the Bangladesh government ordered the arrest of Taslima Nasrin, a feminist writer of the novel, Lajja (Shame).
In February 1994, Muslim majority Jihadis attacked a 15th-century temple housing a priceless record of Hindu history. This temple attracts thousands of devotees every year to remote Dinajpur, a town in the northernmost corner of Bangladesh. According to Government Archeology Department records, it was built in 1452 by a Hindu Raja (King). Every autumn nearly 100,000 Hindus devotees and people of other faiths from India, Nepal, Sri Lanka camp near the temple for a 3-week annual fair.
1995
In March,

US State Department's reported that the Hindu, Christian, and Buddhist minorities are still disadvantaged in terms of access to government jobs and political office. Further, Islamic extremists were reported to have violently attacked women, religious minorities, journalists, writers, and development workers

.
In June, the leader of Bangladesh's opposition, Sheikh Hasina of the Awami League, agreed that the religious rights of Hindu minorities in Bangladesh have been curtailed by constitutional changes of the removal of secularism as a state principle in 1977 and the institution of Islam as the state religion in 1988. Prem Ranjan Dev, the leader of the Hindu community, called for the repeal of these amendments and for the government to rebuild Hindu temples that were destroyed between 1971 and 1993.
In July, The World Hindu Conference calls on the United Nations to investigate threats against the fundamental rights of Hindus residing in Pakistan, Bangladesh, and Kashmir.
In November of the same year, a study by a Roman Catholic relief organization, Misereor, states that "

In Bangladesh, there has been a rapid increase of support for Islamic extremists and multi atrocities against minorities

".
1996
In January, Bangladesh police stormed dormitories reserved for Hindu and other minorities students at Dhaka University. More than 300 Hindus were wounded and 95 Hindus were arrested on a false pretext.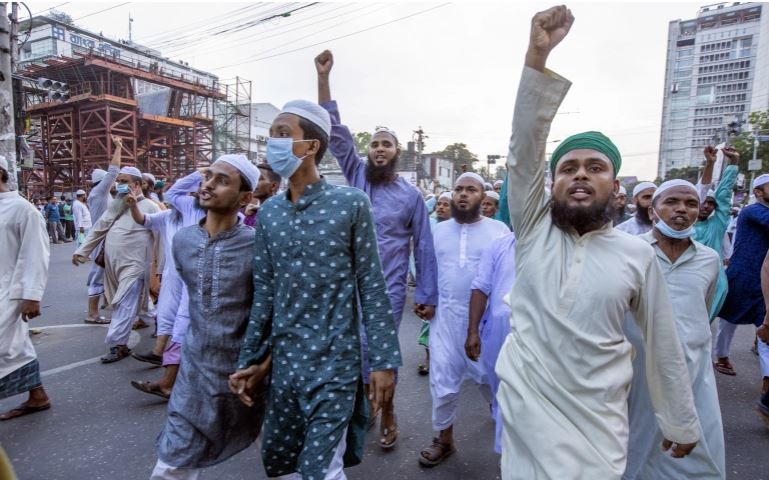 In March 1996, When the ruling Bangladesh Nationalist Party (BNP) steps down amid protracted shutdowns and well-planned violent protests by Islamic Jihadis against Hindus throughout Bangladesh. It was reported that these protests left more than 130 Hindus dead and thousands injured.
In the same month, US State Department's 1995 Report on Bangladesh's Human Rights Practices indicates that property ownership by Hindus remains a contentious issue. In the early years following Bangladesh's independence, many Hindus lost their land due to discriminatory legislation, which was still in place[5].
In June 1996, during the Bangladesh elections, Hindus in some areas of Bangladesh, including the Chittagong Hills, were intimidated and stopped from voting in the elections.
1997
In August, supporters of the opposition party Bangladesh Nationalist Party (BNP), carried a nationwide strike.

During the protests, the jihadi group attacked a Hindu religious procession in the Chittagong Hill Tracts region. Several Hindus were injured

.
1998
In March 1998, the major opposition party of Bangladesh, the Bangladesh Nationalist Party (BNP), calls for a boycott of all Indian goods.

Several Anti-Hindus rallies were organized across Bangladesh. This led to lots of atrocities against Hindus especially women

.
1999
In January, police were deployed in the western town of Kushtia after Islamic militants threaten to attack Hindu temples in retaliation for an alleged dishonor to the Koran. Bangladesh Jihadi party, Jamaat-i-Islami, did this on the pretext of Blasphemy.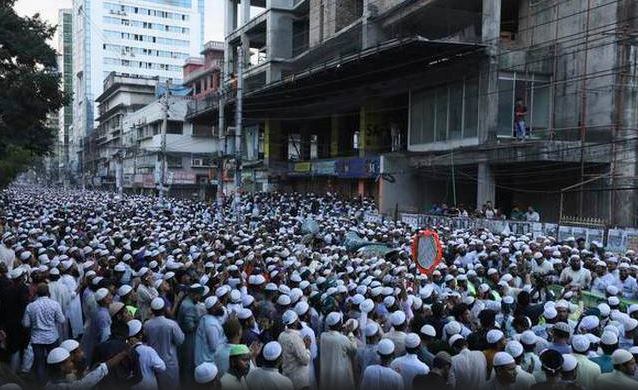 In March, the report was published which clearly mentions discrimination against Hindu Women. Hindu women in Bangladesh suffer greater gender discrimination than Muslim women due to existing legislation that governs the religious community. Hindu women do not have any legal rights to inherit property and as no formal registration of Hindu marriages is required, Hindu women do not have the legal right to divorce.

Under Bangladesh's Muslim laws, Muslim women are allowed to divorce under compelling circumstances. The worst part is that government is not in favor of amendments to the marriage and inheritance laws governing Hindus.
2004
On June 2nd, 2004, a group of armed men, led by a local Bangladesh Nationalist Party (BNP) leader allegedly set fire to 20 houses belonging to minority Hindus in the Natore district of Bangladesh. In this barbaric act, more than 30 persons were injured out of which 5 were seriously injured. More than 20 Hindu houses were also burnt.
On May 19th, 2004,

US Congressman Frank Pallone spoke out against the persecution of Hindu minorities in Bangladesh and warned the Bangladeshi Government led by Bangladesh Nationalist Party (BNP), not to actively undermine the harmony of the region

[5].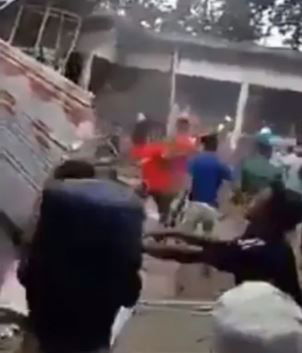 2005
On October 15th, Hindu places of worship came under attack by suspected militant Muslim youths in northern Bangladesh. It was reported that many Hindus were killed and many more injured in an attack on a Hindu temple in the farming town of Peergacha.
2006
The year 2006 witnessed savage cruelty on a lot of Hindus. On June 8th, 2 Hindu men from a local Hindu community were chopped to death and 4 others seriously injured in an attack by Islamic miscreants at Sakokati village in Gournadi Upazila district.
In the same year, On Oct 4th, at least 20 Hindus were injured in an attack by Islamic militants at Purbapara Kalibari Puja Mandap in Devidwar Upazila district. The group attacked the mandap, damaged valuables, looted gold ornaments from women, and beat up people indiscriminately leaving 20 injured.
In October 2006, the United States Commission on International Religious Freedom published a report titled '

Policy Focus on Bangladesh

', which said that since its last election, "

Bangladesh has experienced growing violence by religious extremists, intensifying concerns expressed by the countries religious minorities

". The report further stated that "

Hindus are particularly vulnerable in a period of rising violence and extremism, whether motivated by religious, political, or criminal factors, or some combination

". The report noted that "

Hindus had multiple disadvantages against them in Bangladesh, such as perceptions of dual loyalty with respect to India and religious beliefs that are not tolerated by the politically dominant Islamic Fundamentalists of the Bangladesh Nationalist Party

". Violence against Hindus has taken place "

in order to encourage them to flee in order to seize their property

".
On 2 November 2006, USCIRF criticized Bangladesh for its continuing persecution of minority Hindus. It also urged the Bush administration to get Dhaka to ensure the protection of religious freedom and minority rights before Bangladesh's next national elections in January 2007
The question is "Why the World Leaders and All Human Rights Organisations behaved as 'Sitting Ducks' and let the religious persecution of Bangladeshi Hindus to happen, Which is still going on"?
[1] The Forgotten Genocide: "1971 Bangladesh Hindus Genocide" – Kreately
[2] Violence Against Minority Hindus in Bangladesh: An Analysis | Vivekananda International Foundation (vifindia.org)
[3] https://www2.ohchr.org/english/issues/minorities/docs/amity%20for%20peace.doc.
[4] Bangladesh Overview: Development news, research, data | World Bank
[5] MAR | Data | Chronology for Hindus in Bangladesh (umd.edu)
DISCLAIMER: The author is solely responsible for the views expressed in this article. The author carries the responsibility for citing and/or licensing of images utilized within the text.