Best Investments to do before 2021 end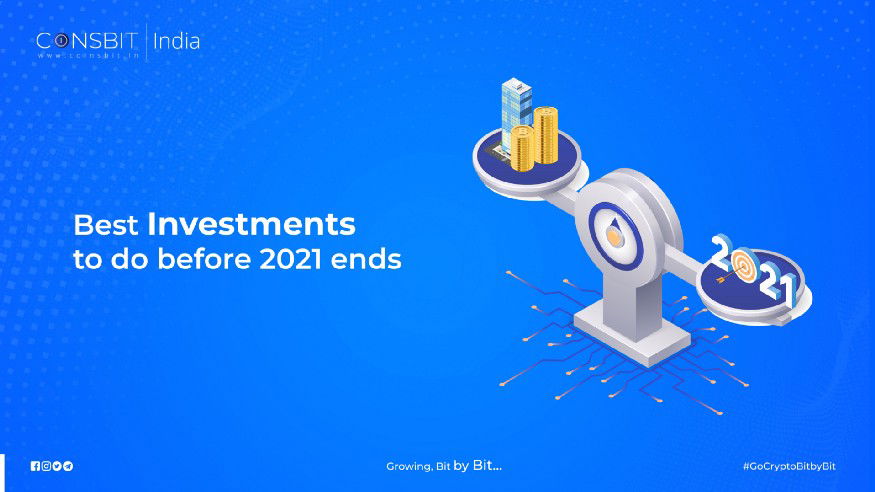 Investing is an important part of wealth creation, something that helps you in reaching your financial goals and stabilizing your financial future.
Every investor wants to invest in the best options available out there, in such a way they can get the best returns with the lowest risks possible.
But the fact that the concept of low risk and high return sounds so ideal, is also the reason they exist in the ideal world only.
In the real world, the risks and the returns are highly proportional to each other, and that makes it very important to do the right research and choose the right options before you start investing.
But we here did the digging for you and brought in the best investment opportunities that you can take and invest in.
Bitcoin (BTC)
In January 2009, Satoshi Nakamoto gave birth to the world's biggest cryptocurrency by mining the genesis block of bitcoin. He set the building block and the rest of the world did the rest.
Today, not just the top investors but also the biggest leader of the world praise bitcoin. And that does not end here, so many companies already have their plans ready to integrate bitcoin with their products.
"Bitcoin is resilient. Bitcoin is principled. Bitcoin is native to internet ideals. And it's a great brand" says Twitter CEO Jack Dorsey.
India is growing exponentially in technology and Bitcoin is a part of the technology that is bringing true value to the table, and as an investor ignoring the potential that Bitcoin carries can become a regretful mistake to make.
All time high value of a single Bitcoin is above $69000 (approx. 51,75,000 INR), and it only plans to go higher and higher every single day.
Bitcoin Crypto Chart as of 06/11/2021
Not just for trading Bitcoin can also be considered as a long-term investment option for the year 2022 as some very trusted predictions say that the values for Bitcoin are going to reach the skies in the next few years.
According to the stats, the average growth rate of Bitcoin is 134%, which means if the same percentage continues in 2022, the potential growth will be more than any other investment you can make.
You must have heard about the billion-dollar investment made by El Salvador in recent times.
Bitcoin is the next big thing, and that's an undeniable fact.
Real Estate
The fact that the population is growing, but the planet is not, makes Real Estate a great option for investment. Real Estate, as a matter of fact, never goes down and will always go up in the long term durations.
Speaking of durations, Real Estate can take a lot of time to grow if you are planning on buying and selling them but on the other hand, there are other ways you can use your real estate for generating a good cash flow if you desire to.
Renting and rental housing is one of the most popular ways of generating cash flow. You can easily rent out your Estates for your desired price and can generate a good passive income out of it.
Other than that, you can wait for some years and trade them, as the estate values increase over time.
Government bond funds
Government bond funds are one of the safest investments to include in your investment plans. Since they are backed up by the government, the risks are low and so are the returns.
Government bond funds are for those people looking out for an investment option that can provide them with a stable return.
One of the most interesting features of government bond funds is that they provide you with tax benefits, saving your money even further.
Nifty Fifty
Nifty Fifty is the one-stop for blind investment, made of some of the biggest companies combined. It is the place where you know your money will eventually grow.
If you are thinking long term, Nifty-fifty is something that you should be thinking because they are meant to invest in for the long term.
Ether (ETH)
Ether equals speed. Ethereum, also known as Ether (ETH), is the second most popular cryptocurrency after Bitcoin and has the fastest transaction speed of all the cryptocurrencies we have discussed. It is based on the blockchain technology of Ethereum company. It was launched in 2015.
You know somethings are worth putting in your money when the world's richest man openly promotes them.
Ethereum uses a smart contract technique to make sure that no third party is involved in the transactions made.
For Indian investors, it is very easy to buy and sell Ether on an exchange or through a brokerage service. To make the transactions, even more, easier for the Indian user payment methods like UPI and bank transfer are also available in a lot of brokerage services.
As of now, it consists of little less than $560 billion dollar market capital. As compared to last year, Ethereum has seen a 146.41% growth since Feb 2020.
Ether Crypto Chart as of 08/11/2021
Ethereum can be considered a good crypto investment for both the long as well as for short term. As for 2021, Ethereum might be break out and go up to $5000 by the end of the year.
If the transaction speed is what you are looking for, Ether is the crypto investment you should make before the end of 2021.
Cardano (ADA)
Cardano (ADA) is a cryptocurrency that promises to address real-world issues by utilizing blockchain technology. It has collaborated with the Ethiopian government, for example, to track the educational development of 5 million children on its network. The project will provide each student with a tamper-proof academic record, which might aid in their job search or study abroad.
Cardano is unique not just in terms of speed and decentralization but also in its development environment. Most Ethereum competitors, such as Binance Smart Chain and Polygon, are still Ethereum Virtual Machine-based, which means they can execute Ethereum-specific code without modification.
Market Chart of Cardano (ADA) in last year.
Cardano's completely new DeFi ecosystem will provide developers and consumers with a brand new smart contract environment, complete with new projects, coins, and features. The added advantage here is the plethora of knowledge and experience that Ethereum lacked back when it debuted.
Conclusion:
So we have discussed some of the best investment options available, but the question now arises, should you be planning to invest in any of the cryptocurrencies or any of the real-life investment options?
In our opinion, cryptocurrencies are going to be the new real-life investment options, the world of cryptocurrencies has seen all of its ups and downs, and now is the perfect time for investing in them.
There are some excellent investment options out there that you can choose to invest in, but in the virtual world that we live in, the cryptocurrency market is one of the most stable right now and not just for a single cryptocurrency but every cryptocurrency out there.
Not just that, real-life investments take a lot of time to mature, for example. In Real Estates, let's say you plan to buy a piece of land for a good amount of money, that you are willing to trade in after some time.
It will take years for your small investment to turn big enough to trade it back with a profitable margin amount, not just that you have to invest even more during the maturity period for the maintenance of your land and still after all your efforts there are chances that you won't be getting your desired prices.
On the other hand, investing in cryptocurrencies is a stable way of investing especially when you know the right time to invest and sell them.
Crypto Currencies were used to see from a trader's perspective, it was the product that you buy and sell and take your profits home. But cryptocurrencies are making a long-term investment model for themselves now and can be kept sustained for a longer period.
Disclaimer: Cryptocurrencies are volatile and investments in them are risky. We advise you to do thorough research before investing.
DISCLAIMER: The author is solely responsible for the views expressed in this article. The author carries the responsibility for citing and/or licensing of images utilized within the text.