the Global Spirit of deepavali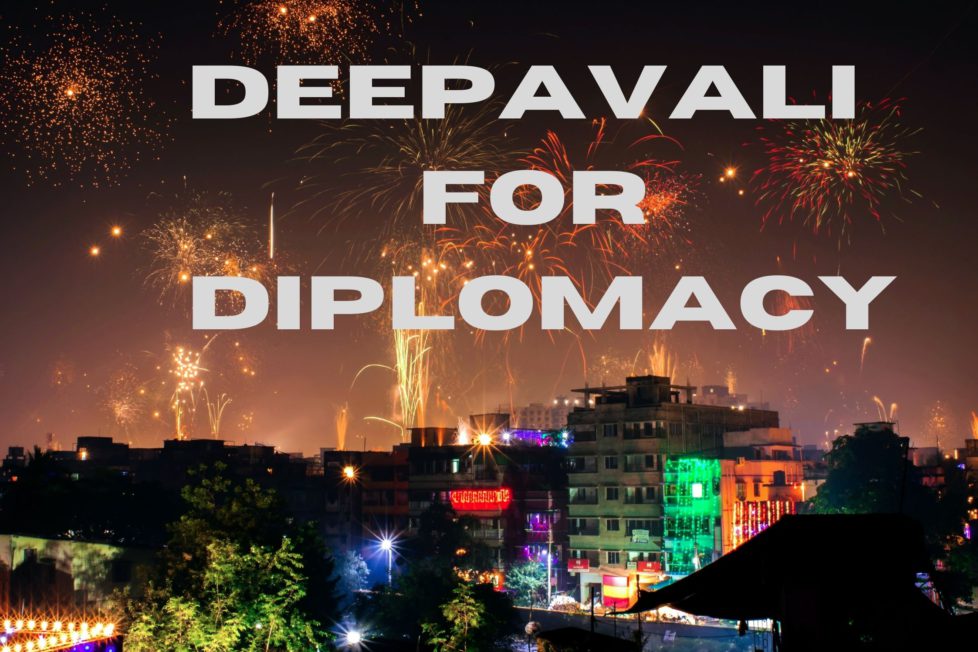 Conventionally, the formal international diplomatic relations are maintained by the skilled diplomats in India's missions abroad. Our discussion, however, is about the people-to-people informal diplomacy with far-reaching positive influences on international relations politically, culturally, and economically. We discuss 'Deepavali for Diplomacy' similar to Deepavali for Democracy discussed earlier. It is important to mention that Diwali is a commonly used anglicized word derived from Deepavali (literally meaning a row of lights).
The Indian diaspora across the world has served as India's honorary Ambassadors promoting person to person diplomacy while celebrating festivals like Deepavali. The celebration of 2021 Deepavali immediately following the proclamation of October as Hindu Heritage Month, in many states in the U.S., added a new dimension and greater awareness about the ancient Hindu history and cultural icons.
In recent years, Prime Minister Modi has met and addressed the Indian diaspora as an integral part of his foreign visits. This in turn has empowered and accorded greater respect and recognition to, Indian diaspora to be deeply engaged with their country of origin. They have reciprocated it with a greater sense of pride and responsibility in celebrating festivals like the iconic Deepavali with the local diverse populations in addition to doing among themselves (Hindus, Jains, Buddhists, and Sikhs).
This year, as the world is emerging out of the "dark" clouds of COVID-19, Deepavali, the festival of lights, has a special significance of victory over evil (COVID-19). Many world leaders have associated the spiritual significance of Deepavali in that spirit. We cite a couple of examples below of how the world leaders included COVID-19 in relation to Deepavali.
President Biden and the First Lady lit a 'diya' (the earthen lamp according to Hindu tradition) and tweeted, "To Hindus, Sikhs, Jains, and Buddhists celebrating in America and around the world from the People's House to yours, happy Diwali." They reminded that Deepavali leads from darkness to knowledge, wisdom, and truth, from division to unity, and despair to hope. They made a clear reference to Deepavali having a deeper meaning this year due to COVID-19. Vice President Kamala Harris, a person of Indian origin, wished everyone with a message to "honor the light" and help the needy.
New York City celebrated Deepavali at a grand scale with an extraordinarily diverse cultural extravaganza at the lit-up Times Square after a long COVID-19 lockdown. The cultural program called "Colors of India," with local and international performers was attended by thousands of people including many high-ranking government officials, and political and business dignitaries. The founder of the Diwali celebration said, "We are sharing the message of Diwali- Knowledge over Ignorance, Peace, Love, Unity, and Togetherness and Inclusion in Diversity to the world from the biggest crossroads of the world, Times Square." Every big and small city in the United States celebrated its own Deepavali and extended person to person diplomacy.
In his greetings, Australian PM Morrison recalled the darkest night of the lunar month in the Hindu calendar (Amavasya when Deepavali is celebrated) and said that we turn the corner and begin to see the lights ahead from this day forward. He said, "We celebrate Diwali as we draw ever closer to the light at the end of our COVID-19 tunnel. That means all the things we have had to forsake- welcoming, gathering, celebration, and ceremony- will again be possible."
The British PM Johnson tweeted, "Happy Diwali and Bandi Chhor Divas to everyone celebrating here in the UK and around the world." Johnson addressed a large Sikh community in his greetings when he mentioned Bandi Chhor Divas (the day when the sixth Guru Hargobind Singh of Sikhs, was released). Pakistan's Khan tweeted, "Wishing all our Hindu community a happy Diwali" while the Pakistan People's Party had a more profound message on this occasion, "to fight against darkness, injustices and inequality in the country," They both were addressing about 4 million Hindus and Sikhs still living in Pakistan.
While we cited Deepavali celebrations and greetings from the select countries, it is unimaginable that the Indian diaspora anywhere, irrespective of their numbers, did not observe this iconic festival and shared the culture with the locals. It is equally important that technology companies like Apple, Microsoft, and Google, with a relatively large number of Hindu employees, observed Deepavali in their own way. In fact, the CEOs of all three big ones (two of them are of Indian origin) issued their greetings on this occasion.
This year, Walmart and other stores also had the larger than ever before presence of specially packaged fireworks for Deepavali unlike the restrictions in India. I surmise that the consumption and sales of fireworks for Deepavali in the U.S. are beginning to be commercialized similar to Americans observing July 4 (America's Independence Day). At present, only ethnic stores hold special promotions on Deepavali but it is a matter of time when, not if, Deepavali becomes a commercial and not just a spiritual event. This year, there is already a Bill in Congress to declare Deepavali a federal holiday, another sign of the diplomatic prowess of the Indian diaspora.
Another important news making headlines in 2021 is 'Deepotsav,' a special celebration of Deepavali in Ayodhya, an ancient city in Uttar Pradesh and the birthplace of Lord Ram. There was a long drawn legal battle to reclaim the original land for the historic Ram temple which is being rebuilt and expected to be ready by next year. Therefore, Ayodhya was decorated with a world record of over a million diyas for the special occasion. The most common legend about Deepavali is that Lord Ram returned to his kingdom Ayodhya on this day after 14 years of exile and the whole city was decorated with a row of diyas to welcome him back.
In conclusion, Deepavali has been an important festival for Hindus for centuries wherever they are. This year, it culminated in an iconic event and cultural bonanza for many reasons discussed above. In that, the Hindu diaspora played an exemplary role as cultural ambassadors in all communities turning Deepavali into a source of pride and diplomacy. A takeaway is that India's skilled diplomats and people-to-people diplomacy are finally coming together to reclaim India's ancient history, heritage, and culture and showcase the rising political and economic prowess. The credit is also due to the extraordinary leadership and diplomacy of the globe tottering Modi, a strong nation builder and defender of India's honor and territorial integrity. What we all may wish is an everlasting India's diplomacy during every Deepavali, other festivals. and cultural events.
This article was published first on PGURUS
About the Author:
Vijendra Agarwal, born in village Kota (Saharanpur, U.P), left India in 1973 after Ph.D. (Physics) from IIT Roorkee. A researcher in Italy, Japan, and France, he came to the US in 1978. He was a faculty and academic administrator in several different universities in PA, TX, NJ, MN, WI, and NY, and an Executive Fellow in the White House S&T Policy during the Clinton administration. In November 2014, he and his wife co-founded a US-based NGO, Vidya Gyan, to serve rural India toward education, health, and empowerment of girls and overall development. Vidya Gyan is a calling to give back to rural communities which gave him so much more. His passion for writing includes the interface of policy, politics, and people, and social/cultural activities promoting community engagement.
DISCLAIMER: The author is solely responsible for the views expressed in this article. The author carries the responsibility for citing and/or licensing of images utilized within the text.