Bloomberg Media's deliberate misuse of the English Language regarding "news" on India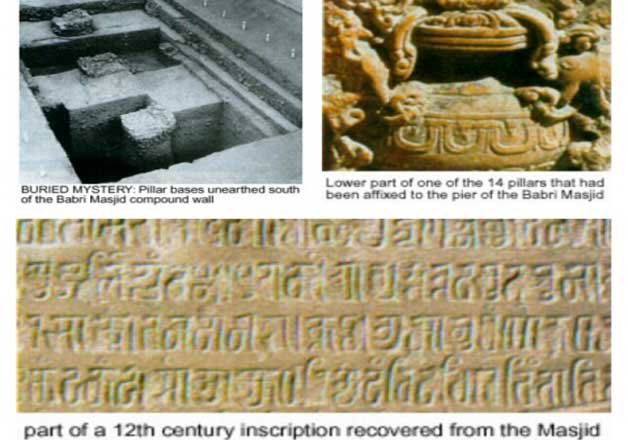 (…part of a 12th century inscription recovered from the Masjid – India TV)
Bloomberg is biased against India and their linguistic shortcomings need to be called out.
On July 26, 2020, Bloomberg.com posted a title "India's PM to Attend Temple Groundbreaking at Disputed site." The writers at Bloomberg surely seem corrupt. The verdict on Ayodhya was delivered on November 9, 2019 by the Supreme Court of India. If anything, Bloomberg could have stated "formerly disputed" given the Supreme Court's verdict last year.
The biased article fails to mention that according to archaeologists, including Muslim experts on the team confirmed that barbaric Muslim invades constructed a mosque after demolishing a Temple in Ayodhya India in the 16th century. Idiots at Bloomberg however enthusiastically mention how the 16th century mosque was destroyed by Hindus in 1992 in the run-on sentence below.
"Indian Prime Minister Narendra Modi will attend a groundbreaking ceremony next week for a Hindu temple on a disputed site in northern India where a 16th century mosque was torn down by Hindu hard-liners in 1992, according to the trust overseeing the temple construction."
The Ayodhya Temple territory is no longer being disputed. The highest court – the Supreme Court of India has already provided a judgement on the issue. It is no longer being contested. How did Bloomberg miss such as big verdict which was splattered all over the news last year?
Illiterate staff and so-called journalists at Bloomberg need English 101 classes in order to try to write and report accurate news. Pro-Islamic, Pro-Jihadi, anti-India, anti-Hindu bias is not new in the media. However, one can hope that the failed journalists, writers and editors at Bloomberg will undergo basic introduction to the use of English language training so as to save massive embarrassment peddling fake news.
ESL (English as a Second Language) courses would be a great start for the Bloomberg staff. They seem to have lost command over the language during the process of kowtowing to their foreign masters.
Reference: https://www.bloomberg.com/news/articles/2020-07-26/india-s-pm-to-attend-temple-groundbreaking-at-disputed-site?srnd=india-v2
https://www.indiatvnews.com/news/india/remnants-of-temple-beneath-babri-mosque-in-ayodhya-57125.html
DISCLAIMER: The author is solely responsible for the views expressed in this article. The author carries the responsibility for citing and/or licensing of images utilized within the text.