Open Letter to "Secular" Hindus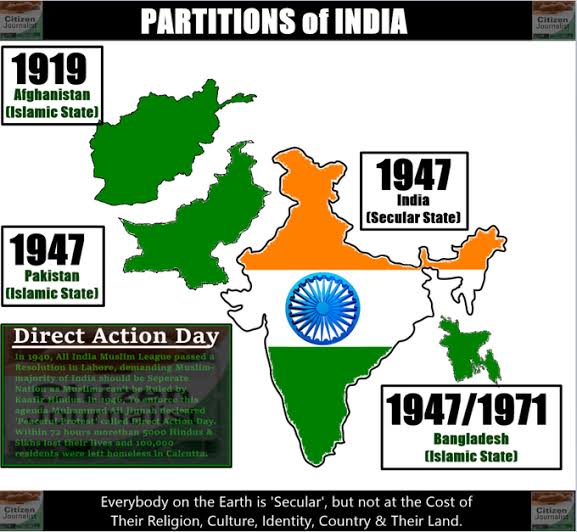 What is Secularism in #India
You are not Secular, but #Pseudosecular. If you were really secular , you would have been unbiased n spoken for Both communities. But you've always stood ONLY for others, even when they are wrong.
▪️Thats ok, just dont be a Hypocrite. Either be a #ProudSanatani or a #NonSanatani . How can you be both?
▪️We have suffered a Lot bec of people like you. Atleast u could have learnt from ones whom you are supporting how they fight for their community.
▪️Don't call yourself Secular all the while Hating Hindus & Hinduism.
▪️Remember one thing, you are not God, you can make mistakes…have you ever thought what if you are wrong n we were right all along…Think once. We have always supported other community when our few people harmed them.
▪️This is not any Religious quarrel. This is Battle of Civilizations … why? Bec we believed n still do that all communities, though we pray to different gods in different ways, it goes to same super Conciousness. So we accept all religions,  all traditions.  But they don't belive in such thoughts. They believe in #ConvertOrDie motto.
▪️Because of this  ours civilisation is facing extinction (mass conversions, Love Jihad, Land Jihad, Ethnic cleansings , Temple Iconoclasms , Sadhu Lynchings,  control on Temples, Tax on only Hindus, Tax on only Temples, Tax on only Hindu run Education systems,  Selling of Temple Land,  Deitys Ornaments…)
▪️We are nearing Extinction (ours is the only remaining LAST original civilization….rest all were completely destroyed by ABRAHAMICS. Do your research , you'llfind out the truth. This is the reason why we are raising our voices aganist Injustice. Fighting Back. To save our Dharma.
▪️They have support of entire Left wing Ecosystem,  Celebrities to tweet for them, foreign funding,  lawyers, politicians,  human rights organizations…all ready to help them.
▪️We don't have anyone except our God & Dharma.
▪️You left us at such a time to fight for the enemy …. aganist us.
▪️We literally are in a position of Arjuna in Mahabharat battle field …how can we fight aganist you…our loved ones …even though you are standing by our enemies who are ready to Annihilate our Civilization…
▪️ Read : https://haribhakt.com/why-hindus-should-never-trust-muslims/
⚠️  Warning : Too Graphic images (Reality). Pls don't view if you are physically or mentally sensitive. Children strictly prohibited viewing
Who are they …???
Ankit Saxena
Heena Talreja
Prashanth Poojary
Vidhu Jain
Vishnu Goswami
Amit Gautam
V. Ramlingam
Paresh Mesta
Mehakan
Dhruv Tyagi
Chandan Gupta
Devunoor Satyanarayan
Twinkle Sharma
Jithu Mohan
Bharat Yadav
Madhu Chindaki
Subodh Singh
Dr. Narang
Riya Gautam
Rudresh
Bandhu Prakash
Preeti Mathur
Kamlesh Tiwari
Priyanka Reddy
Vikas Yadav
Bhavesh Koli
Gangaram Singh Chauhan
Bharat Yadav
Avinash Saxena
Ravinder Kumar
Rinku Sharma
Remember Them ….???
Serial Killing of Hindu Sadhus
TD = To Death
12 Sadhus Murdered in 20 days in UP alone (UP & sadhus Targetted).
12 Aug '18, Alighar : 6 sadhus murdered by Sabir Ali, Ex Councilor & 5 other Muslims.

13 Aug '18, Sultanpur : 1 sadhu murdered by Iron Rod.

14 Aug '18, Haryana : 3 Sadhus Tortured, Tongue cut, stabbed multiple times, by 5 muslims, for reporting abt cow Smuglling / slaughter.

19 Aug '18, Kudarkot : 2 Sadhus Tortured, Tongue cut, stabbed multiple times, beheaded by 5 muslims, for reporting abt cow Smuglling / slaughter.

31 Aug '18, Dinarpur : 2 sadhus strangled TD.

31 Aug '18, Thalkala : 1 sadhu brutally hacked TD.

Aug '18, Allhabad , Sultanpur : Sadhu murdered & Hung from tree.

9 Dec '18, Mathura : 1 Sadhu brutally hacked TD.

16 Apr '20, Gadakchinchale : 2 Sadhus, beaten TD

20 Apr '20, Ananganadi : Priest found hanging.

28 Apr '20, Bulandshahr : 2 Sadhus Murdered by Drug Addict using Sword.

23 May '20, Nanded : 2 Sadhus dead.

29 May '20, Balivali : 2 Sadhus escaped from attackers.

16 Jul '20, Meerut : Sadhu killed for wearing saffron and Tilak. Anas arrested. Nadeem is suspected, who doesn't allow Temple Bells to ring in Abdullapur

11 sep '20, Mandya : 3 sadhus, stoned TD

10 Oct '20, Rajasthan : 1 sadhu, burnt TD

11 Oct '20, Gonda : 1 priest shot by 4 men over Encroachment onTemple Land (1 priest was attacked In 2019 there).
▪️Do you still think others are Oppressed or we are? Just because we are Traditional doesn't make us wrong.  We belive to be frank n outspoken rather than be coward to play Taqiyya..
▪️We are Not Fighting. We are Fighting Back the attacks on us. There is lot of difference in this.
Choice is yours.
DISCLAIMER: The author is solely responsible for the views expressed in this article. The author carries the responsibility for citing and/or licensing of images utilized within the text.