Braveheart UP Policewoman Stakes Her Life To Stop Lawless Tractor Rally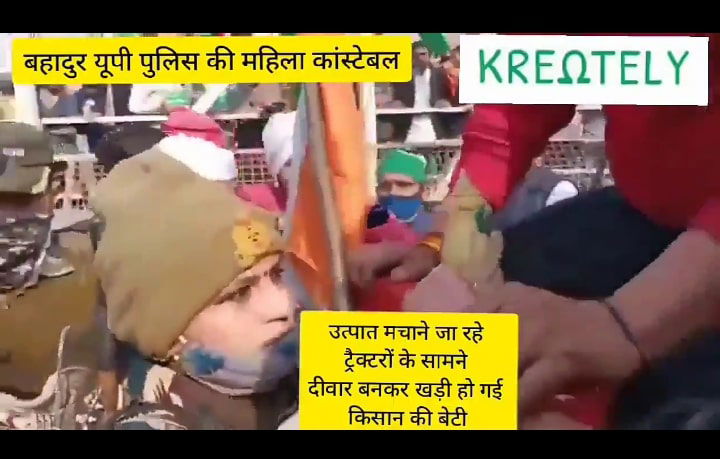 A Braveheart UP Police constable in UP today staked her life to stop a riotous tractor driven by group of so-called farmers in protest against the orders of the UP government's orders banning Tractor rallies and directing the so-called protestors to vacate highways in Ghazipur border and other areas of Western UP.
The UP Police constable woman stood in front of a tractor and stopped it from proceeding ahead saying, that she was also a farmer's daughter but she cannot betray the nation and will not allow the tractors to proceed ahead and cause riots and lawlessness under the garb of farm laws protest or raise slogans of Khalistan.
It is so moving to see how real farmers' families, including young women, are part of the same security system, police, CISF, CRPF, Indian Army which the marauding Tractor Rallies insulted by driving tractors recklessly trying to mow down the policemen doing their duty to maintain law and order in Delhi, UP and Haryana.
The spirit of the young woman constable's love and dedication for the nation is very awe inspiring where she stakes her own life to stop lawless protestors, not by trying to shoot them with guns, which would be easier for the state machinery considering the riotous protests, but by trying to appeal to the conscience, if the protestors have any, to stop destroying their own country under the garb of protests.
This act of the brave policewoman should shame the leftist-jihadi-Christian evangelist and Khalistani friendly media and parties, but they are beyond redemption and may come up with fabricated stories like how her sixth cousin or some distant relative is from BJP.
Find below the inspiring and heart rending video of the braveheart policewoman from UP taking on the unruly fake farmer protesters on Tractors.
DISCLAIMER: The author is solely responsible for the views expressed in this article. The author carries the responsibility for citing and/or licensing of images utilized within the text.