Chenrezig Gau Box Gemstone Pendant with Umbrella at Front- Made in Nepal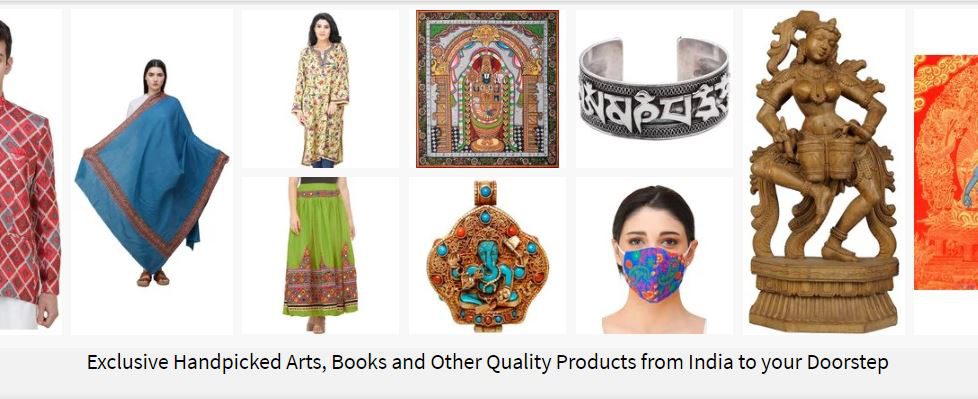 Exotic India Art is a one-stop point as an e-commerce platform dealing with Indian handmade products since 1998. Here you will find all India based products like Indian Arts, Books, Sculptures, Textiles, Paintings, Jewelry, Beads, Beauty, Healthcare and more. Exotic India Art is dealing with highly finished products with doorstep delivery.
Here in Exotic India Art gallery you will find many different kinds of Indian made Beautiful Jewelry collections. Here you will find Jewelries like Earrings, Rings, Necklace, Anklets, Pendant, Tantras, Bracelets, Buddhist, Hindu and other Religious Jewelry, fashion Jewelry, and many others made from different Stones and Beads like Coral, Lapis Lazuli, Perl, Sterling Silver, Amethyst, Amber, and others. They are made of different materials like Gold, Silver, Sterling Silver and others. You must visit to Exotic India Art Jewelry gallery to choose your matching one.
In Nepalese culture jewelry holds a significant place in evaluating people's dresses, spirituality and life; it is worn not only as a style statement but also like an amulet having its unique properties. This pendant holds a great auspicious content as the presence of three semi-precious stones of Coral, Turquoise and Lapis Lazuli forming an authentic umbrella (parasol) at the front side of the lid and representing one of the eight Ashtamangala signs, symbolic of protecting beings from harmful forces and illness with a temple shaped border and superfine work at the base.
Lapis Lazuli is the celestial deep blue metamorphic rock priced for its antiquity and intense color, which signifies royalty, truth and wisdom. Tibetans love the combination of red corals and the greenish-blue turquoise as it represents their colors of life and helps in increasing serenity, creativity and positive thinking which render them a life full of happiness and immortality.
As the lid opens we see the four limbed Tibetan Bodhisattva Chenrezig (Avalokiteshwara) residing in Padmasana on an intensely coiled leafy background with the anterior hands joined in namaskara and rear ones hold the sacred implements; ornamented in valuable sterling silver metal and the body is made up of stunning turquoise stone enhancing his beauty; he is delicately gloried with a semi-precious stoned crown and the lotus leaf pedestal.
This pendant apart from being a distinctive piece of jewel also holds adequate spiritual importance with Exotic India Art selling it in its best monetary value.
DISCLAIMER: The author is solely responsible for the views expressed in this article. The author carries the responsibility for citing and/or licensing of images utilized within the text.