Cow-Killing must be Stopped First for Sanatan Dharma to Rise Again!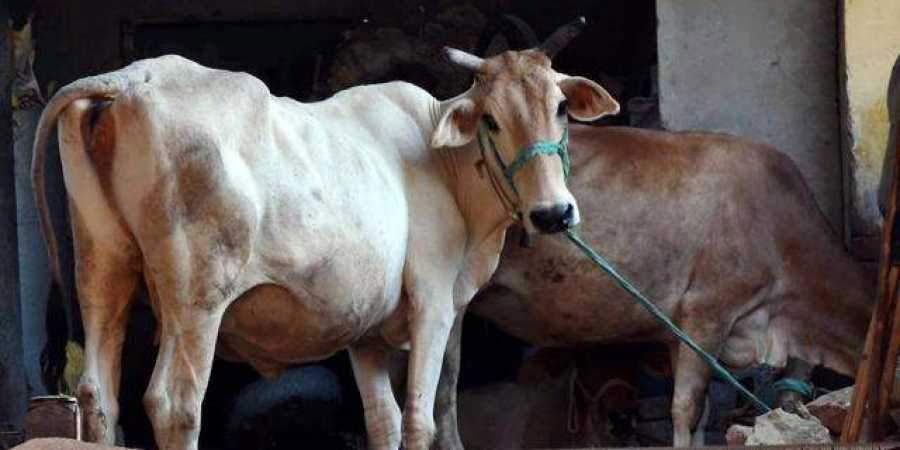 It is really worth pondering as to whether a culture that respects life in all its forms, from the tree to the snake and the tiny insect, does it really permit the slaughter of the cow? Has our history been distorted through a misinformed and misinterpreted version of the Vedas?
Gau-Mata (the cow) is not just another animal for us, but the basic lifeline that supports everyone, from the poor farmer in the village to the owner of the neighbourhood sweet-shop in the town. It disgusts me beyond imagination when so-called "liberals" and "seculars" not only take pride in Hindu-bashing and eating beef, but also satisfy their little egos by raising the question to those who do not eat beef that if I can eat fish and chicken curry, then what's the problem in eating beef? In the name of Hindu-Muslim unity, some such morons have even gone to the extent of arrogantly posting photos of themselves in social media relishing both beef and pork from the same plate! It is deeply hurting.
They also say that beef is a cheap source of protein for the lower classes, especially Muslims and Dalits, to tackle the problem of malnutrition among these communities. As if no other options for protein are available on this planet anymore and everybody is going to starve and die of malnutrition if they do not eat beef! If we go by this shamelessly hopeless "liberal" logic of beef-eating, then all the vegetarians of this country should have died of malnutrition by now because of the lack of protein-based food. We have the example of Haryana, a largely vegetarian state, but which has produced one of the highest number of both male and female sportspersons, athletes, and army personnel in this country.
Dear hypocrite/rootless "liberals", there is a problem in eating beef. There is definitely a problem. There always was. We cannot so easily normalise the eating of beef the way we eat fish or chicken or mutton. Consumption of beef and generalising it is not at all justifiable. Well, to understand why this is so, we briefly need to revisit history.
The cultural and civilisational roots of Bharatvarsha are largely rooted in agriculture and an agrarian-based economy in which the cow has always played a role of vital importance, not only as a source of livelihood but also as a symbol of family pride. In the Rig Veda, cow-slaughter has been declared a heinous crime equivalent to that of human murder and those who commit this crime shall be severely punished. The entire 28th sukta or hymn of the 6th mandala of the Rig Veda is abound with the glory of the cow. The Vedas accorded the stature of Aghanya to the cow, i.e. something which cannot be killed.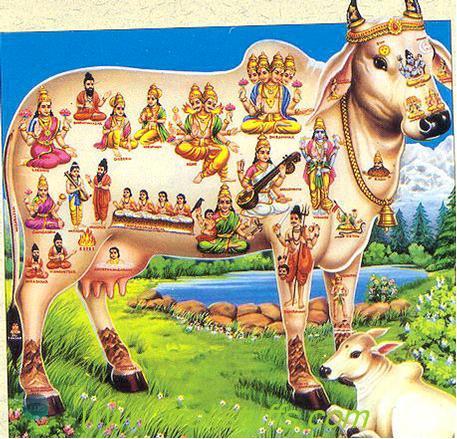 In the past, our ancestors relied heavily on milk, buttermilk, and other life-sustaining dairy products derived from the cow for their daily nutritional requirements. It was a traditional norm in almost all households which domesticated the cow to give individual names to their cows, because of the fact that she was considered as no less than just another family member. The cow happened to be a great asset, on which depended the overall prosperity and financial status of the family. In this way, Gau-Mata became an indispensable part of the family whose basic existence came to be centred around the cow. This is true of many village households in India even today.
The major festivals celebrated in different parts of our country from Baisakhi in Punjab to Pongal in Tamil Nadu and Bihu in Assam, etc. are all related to the different seasons of agriculture as per their annual harvest calendars. The cow plays a significant role in most of these festivals. In fact, Goru-Bihu or worshipping of cows is the first day of the major Assamese spring festival and New-Year – Rongali Bihu. In villages, cows are being taken to the nearby rivers for bathing, where they are smeared with a freshly prepared paste of turmeric, black lentil, etc. while people sing – lao kha, bengena kha, bosore bosore barhi ja/Ma'r xoru, baper xoru, toi hobi bor bor goru (meaning, "eat gourd, eat brinjal, and grow year after year/your mother is small, your father is small, but may you become a large one mother cow"). The cattle are then allowed to roam freely for the entire day. In the evening, when they return to their respective houses, their owners tie them to new ropes in their sheds, decorate them and treat them with traditional home-made Bihu delicacies such as pithas (rice-cakes), powdered rice and other vegetables from their own backyard.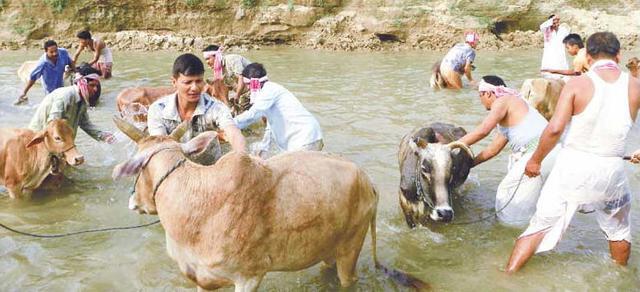 This is a culture where we have always worshipped the cow. A versatile animal that the cow is, almost each and every product of the cow including its dung and urine can be put to some use or the other. In Assam, young girls in the villages keep their hands wrapped in banana leaves overnight after applying jetuka (mehndi) a day before the Bihu celebrations begin in the month of April. Early morning, after removing the banana leaves from their hands, they go to the cow-sheds and place their hands below the udders of the cow while waiting for the first stream of her morning urine to come out to wash their jetuka in it. It is believed that doing so helps retain the deep blackish colour of the jetuka in their hands for a long time.
Besides its cultural and economic significance, the cow is also an animal that is blessed with a unique potential of displaying a wide range of strong emotions. If someone in the family dies or is terminally bed-ridden, it actually sheds tears and sometimes even refuses to eat. In fact, many a times, the cow is always the first one to be in tears if anything goes wrong in the family. Her eyes are a beautiful expression of love, warmth and care. It is a sacred animal that represents divinity and bounty of the earth.
We Indians have always shared a very powerful bond of love and affection with the cow. We all are connected to it at a spiritual and emotional plane, unlike any other animal. When we are born, we first drink milk from our biological mother and when we grow up, we drink milk mainly from the cow. In this sense, even if we leave aside all the associated cultural and religious belief systems, the cow is almost like a second mother to us. It is an irreplaceable animal that nourishes us with every possible vitamins/minerals/nutrients during our lifetime. No wonder, people become so much emotionally moved and terrified with anger at the same time upon hearing about any news of cow-theft or cow-killing that they even go to the extent of taking the law into their own hands! This is definitely unconstitutional, but if we try to understand the context, it becomes very difficult to decide who the real victim is in such cases.
So, the question is – Is it really necessary to slaughter such an all-round useful and important animal without which the existence of an entire civilisation is at stake? From the constitutional point of view too, Article 48 of the Directive Principles of State Policy of the Indian Constitution clearly says that – "The State shall endeavour to organise agriculture and animal husbandry on modern and scientific lines and shall, in particular, take steps for preserving and improving the breeds, and prohibiting the slaughter of cows, calves and other milch and draught cattle."
Of course, in the eyes of the so-called "liberals" and "seculars", one who raises this basic and fundamental question of cow-slaughter would amount to him/her being labelled as a 'Bhakt', 'Sanghi' or even 'Regressive Hindu Fundamentalist'! Gau-rakshaks or those who stand up for protecting and saving the cow from cattle smugglers and butchers are again portrayed in a negative light by "secular" activists. As usual, they play the dirty victim-card by raising slogans like "Cows in India are safer than Muslims" or "Hindustan is becoming Lynchistan", etc.
It needs to be recalled here that when the Zoroastrians (today's Parsis) took asylum in India in the 8th century to escape Islamic religious persecution in their native lands, they first took an oath to not eat the cow, mainly out of respect for the Hindu cultural and religious sentiments. Unfortunately, this same land of cow-worshippers has now turned into a land of cow slaughterhouses. According to a report published in the Time dated March 23, 2015, India ranks second-highest in the world in terms of the number of cow slaughterhouses after Brazil. It has also been the largest exporter of beef, widening its lead over second-ranked Brazil with a projected total of 2.4 million tonnes exported in 2015 as against Brazil's 2 million. As per data released by the country's Agricultural and Processed Food Products' Export Development Authority, beef has even overtaken basmati rice as India's largest agricultural food export item in terms of value (cited by The Economic Times newspaper).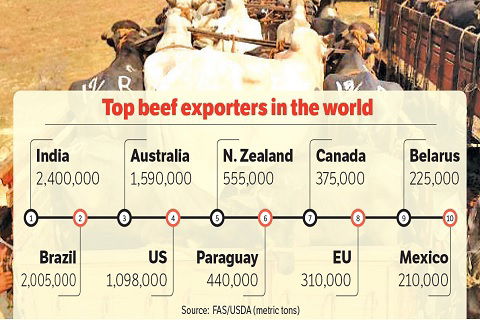 In June 2017, a video of struggling helpless cattle with their legs tightly tied to logs, being smuggled across a river from Dhubri district of Assam to Bangladesh went viral on social media. It blew the lid off the meat mafia operating in full swing in the border districts of Lower Assam along the land border with Bangladesh, to which around 3,000 cattle are illegally sent across daily from India and Nepal. From Assam, poor, innocent bovines are trafficked at night to Bangladesh via several river routes of the Brahmaputra. They are subjected to illegal atrocities for their meat.

It needs to be mentioned here that Dhubri district in Assam, which shares a border with both West Bengal and Bangladesh, figured high in cattle smuggling, estimated to be around 20,000 crore annually at its peak, say officials (Hindustan Times, July 16, 2018). One should note that Dhubri also happens to be the constituency of AIUDF chief Maulana Badruddin Ajmal. In a recent operation carried out by the BSF in the riverine area of Indo-Bangladesh international border, five persons suspected to be Indian cattle smugglers were apprehended, besides rescuing 101 cattle heads from the bordering areas of Kaliralga village in South Salmara Mankachar district under Dhubri Sadar Police Station (The Assam Tribune, August 26, 2020).
Traffickers in the Northern Indian states of Uttar Pradesh, Rajasthan, Gujarat, Punjab, Haryana, Bihar and Jharkhand also enter the border destinations in West Bengal and Assam with cattle. From the cattle-haats (markets) in Jharkhand's Pakur district and Kishanganj near the Indo-Bangladesh border, hoards of cattle are quietly slipped after sunset across the Ganga to Chapai Nawabganj in Bangladesh, to waiting agents who sell them for slaughter in khattals (Bangladeshi cattle markets) at triple their buying price. Since the demand for Indian beef is very high in the khattals, it is a highly lucrative trade for smugglers from across both sides of the border. During Eid, cows that fetch 30,000 ('24,000) to 45,000 takas ('36,000) in Bangladesh go up to 2 lakh takas ('1.6 lakh). In Bihar, cow smugglers had once chopped off the fingers of a gateman who refused to open the railway crossing gate for their trucks carrying the animals to pass before the train did. 
According to BSF officials, cow smugglers use all kinds of clever methods to trick the border patrols; such as, tying the cattle to banana trunk rafts, covering them with a blanket of weed and making them swim across the Brahmaputra, the most common among all being to herd them across the Bangladesh border. Recently, amid the coronavirus pandemic and the subsequent lockdowns, BSF officials in Nadia and Murshidabad districts of West Bengal had intercepted quite a few cases in which jobless migrant workers who returned from other states were being lured to join the cattle smuggling trade with the promise of easy money (Hindustan Times, August 31, 2020).
Former Uttar Pradesh DGP Vikram Singh had once said, "Cow smuggling is a huge racket involving the high and mighty from across caste and religious groups." It is a mafia that has been flourishing in full steam with the blessings of money and muscle power. As a matter of fact, former Union Minister Kapil Sibal's wife Promilaa Sibal was once known as the "queen of Indian beef trade". Their business – M/S Arihant Farmhouse Private Ltd. – thrived and was perhaps one of the biggest slaughterhouses in the whole of India, with the majority of their customers from the Gulf countries. It came into controversy after the Jain community in Delhi who are predominantly vegetarians, raised their voice against the name of the company. For the Jains, 'Arihant' refers to those who have attained eternal bliss. They strictly objected to a slaughterhouse that was operating by using this auspicious name.
In fact, it was the 'Pink Revolution' during the UPA regime that had not only led to the mushrooming of a large number of slaughterhouses, both legal and illegal, across the country, but also gave rise to an entirely new category of extremely skilled professionals in the form of cattle smugglers. There have been several instances of cow meat being labelled as buffalo meat, only to be renamed once it reaches its destination. It adversely affected India's rural agrarian economy in terms of livelihood, besides leading to a constant mental anxiety in the poor farmer's mind regarding the safety and security of his cattle.
Building temples and celebrating religious festivals with much pomp and show is of utmost importance to revive the lost pages of our history and restore back the forgotten civilizational legacy of Sanatan Dharma. But, if we Hindus cannot devote our time and energy to save the life of the innocent cow, we need to hang our heads in shame! It is also the equal responsibility of people from other religions to respect the religious and cultural sensibilities of the majority community. Secularism cannot be a one-sided affair every time. The cow is the spirit of Sanatan Dharma. Killing it for whatever purpose, implies killing the spirit of its followers, signalling the beginning of doom and degradation.
References:
DISCLAIMER: The author is solely responsible for the views expressed in this article. The author carries the responsibility for citing and/or licensing of images utilized within the text.