Criminal Complaint Against Hinduphobic Neha Dixit For Accusing RSS Of child Trafficking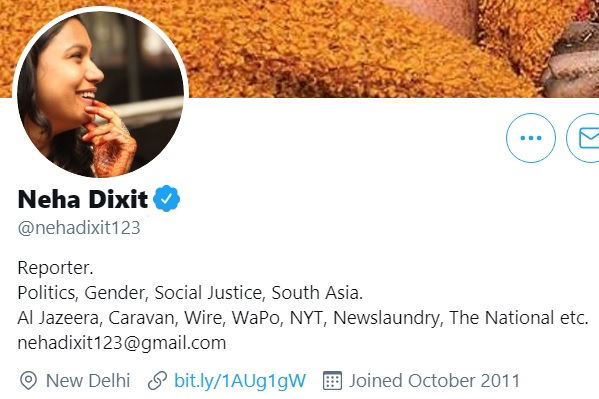 A criminal complaint has been lodged against propagandist masquerading as "journalist", Neha Dixit who in her blind hatred for RSS wildly accused them of child trafficking on her social media Twitter account.
A written complaint was filed by a RSS Swayamsewak Vivek Kumar with the Station House Officer of Tosham Police Station, Haryana and IPS officer, Bhiwani SP, Ajit Singh Shekawath on the matter.
The complaint stated that Neha Dixit had with mala fide, for reasons unknown, has accused RSS of child trafficking and other crimes without any basis.
Neha Dixit had on May 4th, controversially tweeted, "Please do not donate to Sewa International for Covid relief. They work as the welfare wing of RSS. Apart from supporting BJP govt's massive crimes including abandoning Indian citizens in this pandemic, they also traffic children from tribal areas to indoctrinate them".
The complainant pointed out that SEWA International is a not-for-profit organization whose moto is selfless service to humanity encouraging volunteerism internationally among children, youth, women and energetic senior citizens. It follows the ideals of RSS for nation building by involving and organising the entire society for prosperity of the nation.
The said social media post by Neha Dixit on RSS was baseless, derogatory and mala fide to say the least. She probably runs an agenda against the RSS at the behest of evangelist organisations who are unable to convert the maginalised sections of society which the RSS serves selflessly in remote villages and forests through their "Ekal Vidyalayas". The Maoists and evangelists run campaigns to evoke hatred against Hindu organisations and RSS working among poor tribals in forest areas, as it impedes them from inciting the poor tribals to become cannon fodders in their quest to wrest state power by massacre and 'bloody revolution'.
The criminal complaint stated that Neha Dixit has violated sections 499, 500, 504 of the IPC and has requested an FIR be lodged against her. It is hoped that Neha Dixit is legally prosecuted for spreading mischief, lies and propaganda against a nationalist organisation for ulterior motives.
DISCLAIMER: The author is solely responsible for the views expressed in this article. The author carries the responsibility for citing and/or licensing of images utilized within the text.