Nazre Imam – Curious Case of the Fraud Boy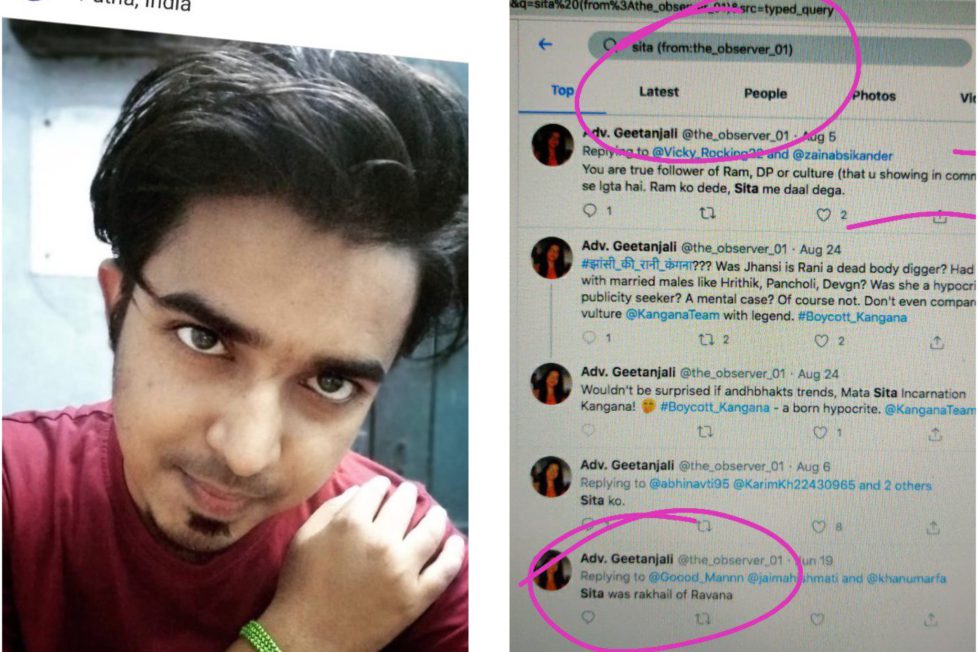 Nazre Imam or Advocate Geetanjali ?
Hindu IT cell recently exposed a boy who is using social media platform like twitter and Facebook in name of Advocate Geetanjali. He used this Hindu name to pass derogatory remarks against Hindu deities regularly from his twitter handle @the_observer_01 .
Members of Hindu IT cell works for filing complaint against the ones who deliberately hurt sentiments of Hindu by intentionally insulting Hindu deities and start searching about this boy who has abused and maligned the character of Goddess Sita publicly on various social media platforms.
When Hindu IT cell start working on this case they find out that there is no any lady as advocate Geetanjali . Hard working members like Ashish Makhijani, Pushkar Mishra, Satyam Mishra and whole team of Hindu IT cell found that this is a fake name used by a boy named as Hazre imam and there are nearly 15000 tweets done by this account.
After seeing this Hindu IT cell start finding about the truth of advocate Geetanjali in which they saw that there is tweets regarding prophet Mohammad and insulting tweets about Hindus and gods of Hindus and after watching and connecting more than 15000 tweets they find out that there is a boy in name of Nazre Imam who is retweeting and tweeting from this handle,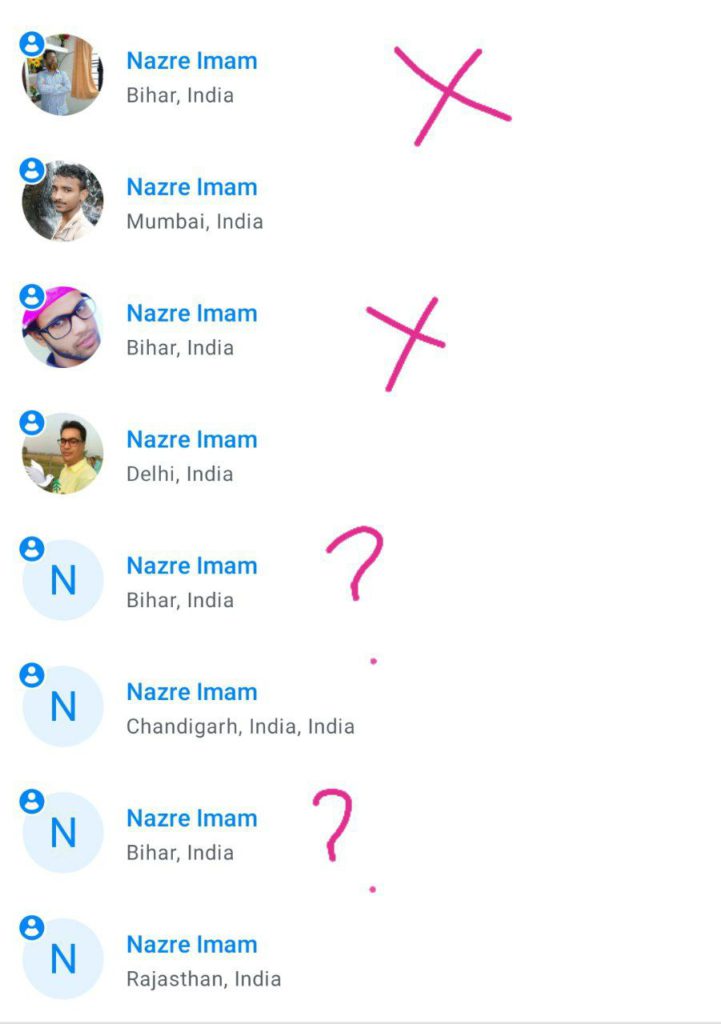 After searching on Facebook , LinkedIn and many other platforms volunteer from Hindu IT cell took him in confidence and traced all the details from him including his address as well as phone details in which they find out that this is a boy Resident of Patna and a former student of Engineering from college AZMET College Kisanganj , Bihar and his father is working in Railway and he is intentionally doing this kind of activities for targeting Hindus and sacred deities of Hindus.
Later on when he saw that members of Hindu IT cell start complaining about him and he is trapped and is getting exposed on social media he start saying on twitter that this is not his account and this is hacked by someone else and disabled everything from his accounts suddenly.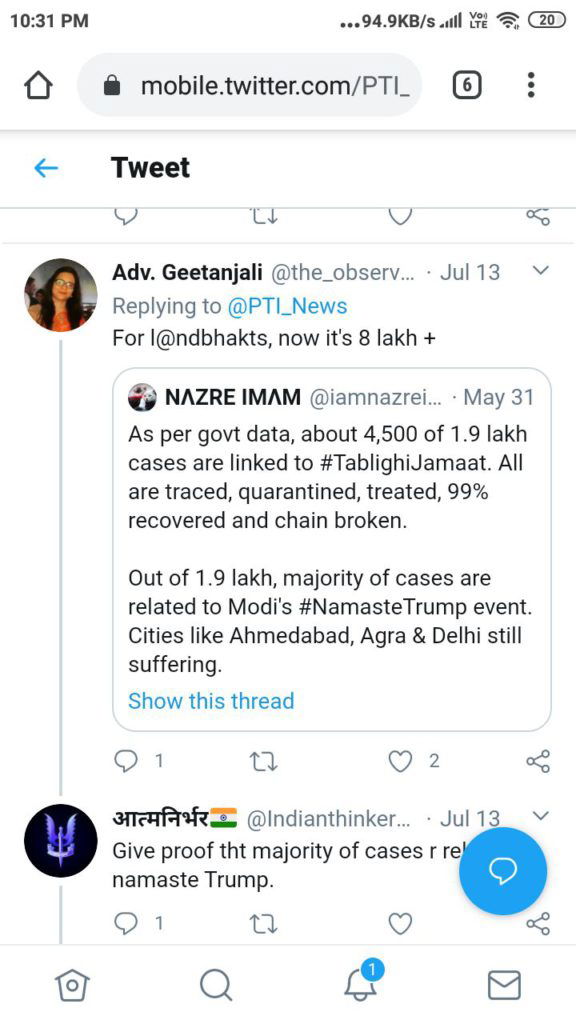 Hindu IT cell want to aware that how in today's time social media is misused for insulting Hinduism and deities , anybody can easily make profile on name of other women or religion and can start spreading the Hate, communalism, derogatory remarks, sexual comments , stalking, teasing ,Rape threats etc. we have to be very awake and before expressing and taking action against person like this or anybody we should first look up about their profiles, search and has to seriously investigate about that particular person so that nobody else will be targeted instead of real criminals .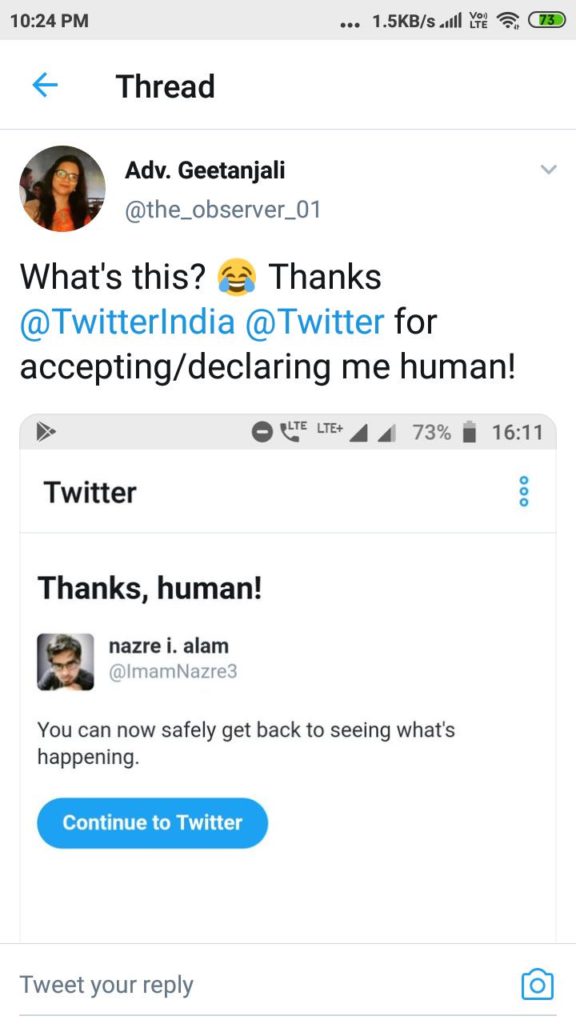 Nazre Imam has intentionally used name of advocate Geetanjali as a criminal lawyer so that nobody can have second thoughts about him and misused this name for committing crime and also has committed defamation against whole fraternity of Advocates and women in India. He has used Hindu names and start passing derogatory comments against Hindu deities with an intention to create hate between the Hindus group and spread this in whole large community for creating the violence in Indian society.
Hindu IT cell has filed complaints against him and he will be arrested very soon until that "be aware and safe on social media ".
DISCLAIMER: The author is solely responsible for the views expressed in this article. The author carries the responsibility for citing and/or licensing of images utilized within the text.