De-Control Temple: Decoding Poll promise by Indu Makkal Katchi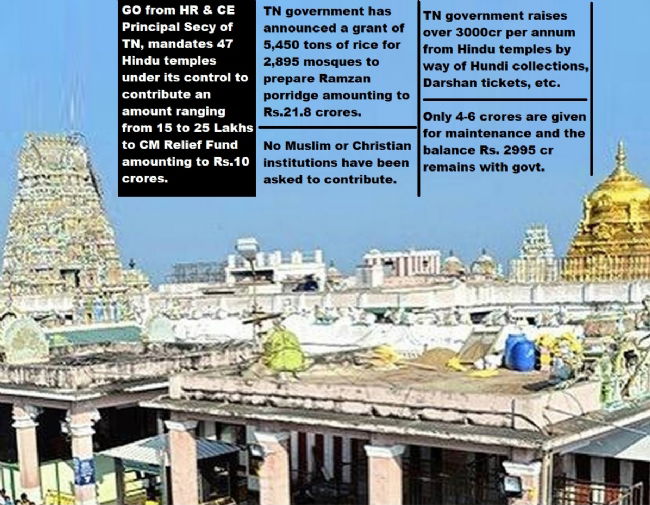 Unapologetic, Audacious and Upfront. 
Yes the three mild adjectives should define the demand of Hindu in Tamil Nadu Assembly election 2021, when it comes to raising pitch for decontrolling temples from Government control.
It is a stigma for Hindu Society that despite having secured the freedom of the nation nearly 73 years ago, it has not been able to take possession and control of its temple in India. The temple assets, wealth, donation, Hundi and worshippers Seva are being pilfered, plundered and diverted for Non-religious non Hindu causes. There is no one accountable in free India for this Government sponsored loot of over 1 lac temples and that is continuing for longer than a century now.
Perhaps Sleeping Hindu do not deserve better than this. Sad but bitter truth.
A silver line in the maze of development, a tweet post was spotted when one political party Indu Makkal Katchi based out of Chennai promised and tweeted about decontrolling the Temple as its Poll promise in an unambiguous tone. Yes it confirms of relieving the Temple from the clutches of Government control.
The author would lack in his words and imagination in describing the spontaneous response of an ordinary Hindu in the street on his reading this tweet. Is it! Unbelievable!
Yes, someone has raised the pitch, rolled his sleeves and is ready to ball. The tweet says and sums up the aspiration of Hindu society in no uncertain terms. Absolutely no ambiguity!!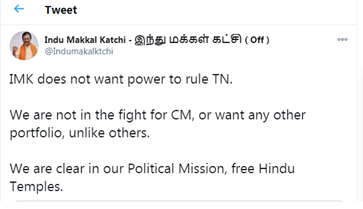 It is known to the entire nation how the Temples in India including TN have been taken in control. It is a story too full of deceit and hypocrisy. We have covered this story in detail earlier
This usurpation of Temple has led to unchecked pilferage of assets, idols and Temple land all Over India. Missionary took advantage of the situation and induced ordinary gullible for conversion. Resource-less temple struggled to survive and maintain its traditional service for its devotees. The loot of temple assets was one of the outrageous institutionalized plunder, yet it did not shake the conscience of Political leaders and intelligentsia. But now that this Political outfit Indu Makkal Katchi has set the agenda loud and clear, let all the political parties come forward to accept the need of the hour.
It is certainly expected from the rational party like BJP to come forward and support the idea of decontrolling temples.
Often the distractor to this idea raises issues related to the model of Governance to derail any discussion on this subject. The present status of administrative control runs through a Government department called Hindu Religious and Charitable Endowments (HR&CE). A department vested with too much of inter departmental power and with very limited or no accountability. The mammoth assets and its income is the sole reason why the Temple loot gang raises such controversial questions at the outset. Fact that Hindu Society had managed these temples for centuries and those were the prosperous and glorious days of temple management unlike these days. Hindu can better manage this. Cut, regulate or disarm the Power of HR&CE. Eliminate the shackles of Bureaucracy.  Allow Hindu Society to take control of management through a process of social organization. A story to highlight the scope of Temple management was done earlier as well. Many more such models can be put into public domain for debate and conclusion.
Indu Makkal Katchi certainly deserves a congratulatory message for having raised this issue. It is time when Hindu Society should carry this message to every home, every believer. Create an opinion. Mobilize support. Awaken the sleeping society. The Sin of controlling a temple needs to be atoned and addressed sooner than later. And all political parties should come forward to support this cause without any more delay.
DISCLAIMER: The author is solely responsible for the views expressed in this article. The author carries the responsibility for citing and/or licensing of images utilized within the text.