Decoding The Indo-China Conflict – A List Of Nehru's Blunders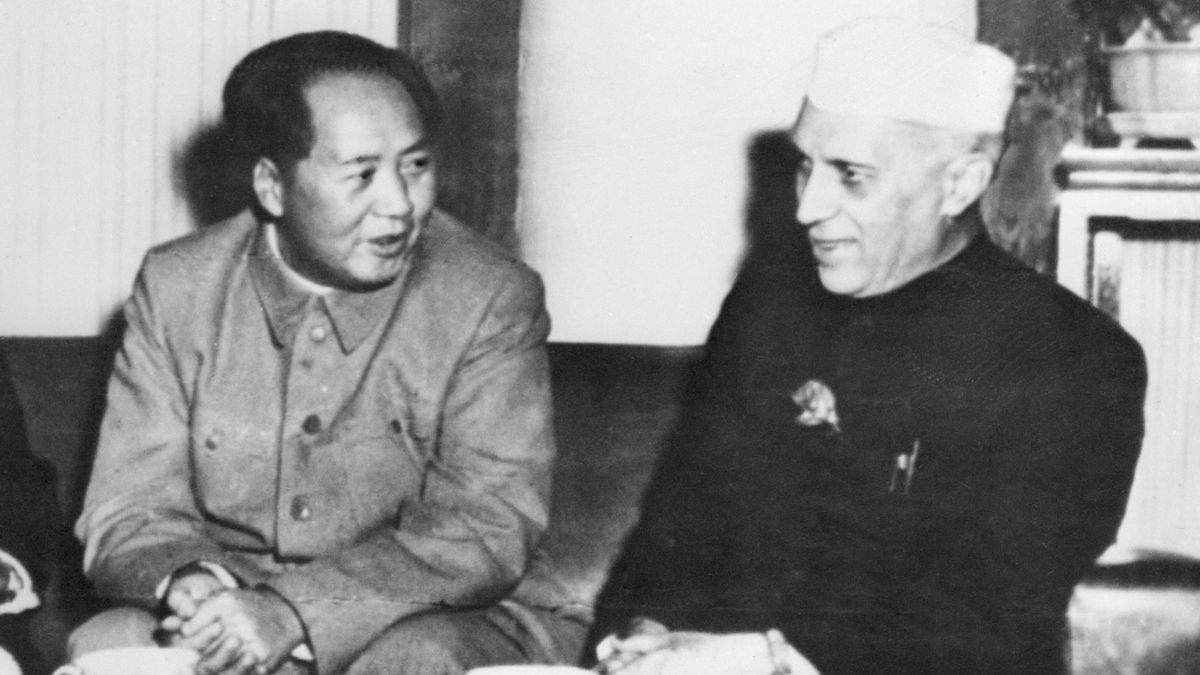 You all must have heard about the ongoing border tensions amid India and China. But the point is, why do these even exist in the first place. What mistakes were made in the past that led to severe damage of security and integrity of our nation.
So, here we begin decoding the Indo-China conflict.
1. Coco Islands
It is one of the least discussed issues when it comes to National Security. The Coco Islands; According to former Defence Minister George Fernandez, Jawaharlal Nehru gifted The Great Coco and The Little Coco islands to Burma, which later Burma gave to China for it's military use. China now has radar and communication centers there which keep a view on Indian military and naval activities in the bay of Bengal, which at any time can be a huge threat to us.
2. Pakistan Occupied Kashmir
Very common and vastly known, the Pakistan occupied Kashmir issue. ON 3rd December 1947, the Pakistani raiders launch a desperate attack to overtake Poonch. The attack comes from two sides, Uri and Naoshera. Within just a few days, Indian Army defended the territories and was in a good commanding position, BUT here the misfortune began, On January 1, 1948 Nehru took the case to the United Nations. He took the case in UN to get the solution of dispute state as per International law. But the question is, Was J&K considered as dispute state? The simple answer was NO. Because Maharaja Hari Singh had accepted J&K as part of India and signed the instrument of accession in October 26, 1947. That's more than two months before the day this blunder began. And, as a result, we have the POK issue today.
All thanks to Nehru!
3. Aksai Chin
Nehru, having a communist mind-set had all his faith in China, it's not me who is saying this, but Margaret Thatcher, Stanley Wolpert and Chester Bowles. In 1950s he even came up with the slogan of Hindi Cheeni Bhai Bhai. Trusting the Chinese Communist leadership, was indeed a big blunder by Nehru. The year 1962, Indo China war began, India lost against China. China annexed the part now called as Aksai Chin.
According to former Wing Commander Jag Mohan Nath, "If we had sent a few airplanes (into Tibet), we could have wiped the Chinese out. And everything could have been different in the 1962 War. They did not believe me there was no Chinese air force. Can you imagine what would have happened if we had used the IAF at that time? The Chinese would have never dared do anything down the line."
Defending his poor foreign and defence policy, Nehru said in the Lok Sabha, "अक्साई चिन में तिनके के बराबर भी घास तक नहीं उगती, वो बंजर इलाका है" "Not even a blade of grass grows there in Aksai Chin, that's a barren land". To which Mahavir Tyagi gave a befitting reply, he pointed towards his own bald head and said "यहां भी कुछ नहीं उगता तो क्या मैं इसे कटवा दूं या फिर किसी और को दे दूं?" "Nothing even grows here, should I chop it off or give it to someone else?"
After the war in 1963, Pakistan gave this piece of land to China.
Not just Aksai Chin in 1962, but Tia Pangnak and Chabji Valley in 2008, Doom Cheley in 2009, Demjok in 2012 and then in 2013, 640 sq km of Eastern Ladakh were also occupied by China. All thanks to the dynastic politics of the country.
4. Nepal
It is said that "Shortly after independence, the then Prime Minister of Nepal, Matrika Prasad Koirala had conveyed his country's wish to join India to Pandit Jawaharlal Nehru," which of course was denied. Merging Nepal into India would have solved the Problem of Chicken Neck, which is strategically a weak point for India. Although there are no official records regarding this, but many believe it to be true.
5. Baluchistan
In 1947-48, Baluchistan which was earlier also known as Kalat, opted to join India rather than Pakistan. And YES, Nehru denied! The reasons are still unknown that why he refused the land that could have been of a great strategical and tactical advantage to India. After that, Pakistan captured Baluchistan BY FORCE. Even today, Baluchistan wants freedom, the people there want to be liberated from the Pakistani Government, but that won't be shown in the mainstream media, as it will not create a communal divide. And mark this – All the credit goes to the one and only NEHRU!
6. Gwadar
In the South-west of Baluchistan, is Gwadar. After independence, according to the diplomatic community grapevine, Gwadar was administered by India on behalf of the Sultan of Oman as the two countries enjoyed excellent relations. When the Khan of Kalat asked the Sultan to return Gwadar to Pakistan, reportedly, the Sultan first offered it to India, but India declined to accept the gift.
This offer was probably made verbally. While senior diplomats confirm that such an offer was made, its authenticity could not have been verified independently. Oman then sold Gwadar to Pakistan for $3 million on September 8, 1958. Since December 1958, it has been a part of the Baluchistan province of Pakistan.
Gwadar would have been of great geographical and economical advantage. Having Gwadar under the Indian control would have today ensured that String of Pearls and the China-Pakistan Economic Corridor (CPEC) would either be non-existent today or wouldn't have posed much of a threat to India. Well, shouldn't we take another moment to thank Nehru for this blunder as well?
7. UNSC Permanent Membership
Both the US and the USSR were willing to accommodate India as a Permanent Member of the UNSC (United Nations Security Council) in 1955, in lieu of Taiwan, or as a sixth member, after amending the UN charter. This Nehru refused! Nehru wanted the seat to be given to Peoples Republic of China, as Nehru did not want China to be marginalised! It was almost as if Nehru, totally ignored India's own strategic interests!
History would have been much different if this offer had been subjected to serious negotiations. Since decades, we have been struggling for this seat. Again, the credit goes to Nehru.
8. Vijaya Lakshmi Pandit
Even though never requested by China, India had been voluntarily and vigorously advocating China for the Permanent Membership of the UNSC in lieu of Taiwan! India lobbied with all nations for the UN membership and UNSC permanent seat, not for itself, but for China!
Bizarrely, leading a delegation to the UN, Nehru's sister Vijaya Lakshmi Pandit, advocated China's case even in 1963, YES, 1963 – the year just after the Indo-China war of 1962.
What would have been the motive behind these strange moves?
Anyway, moving on to the next and the last point
9. Saying NO to Nuclear Arms
The then US president John F Kennedy was an admirer of the Indian democracy, and when he learnt that China was on its way to detonate a nuclear device, he wanted that it ought to be a democratic country like India, and not communist China, which should have nuclear capability.
The Kennedy administration was ready to help India out with nuclear deterrence. But, here we had a man-without-a vision and a man callous-on-external-security, you guessed it right, Nehru once again rejected the offer.
Currently, India has been canvassing support from various countries to become a member of Nuclear Suppliers Group (NSG)—in vain, so far.
Had Nehru gone along with Kennedy's advice, India would have detonated a nuclear device well before China. Had that happened, not only would India have been a member of the NSG long, long ago, but China would not have dared to attack India, nor would Pakistan have taken liberties to attack India in 1965. And YET AGAIN, all the credit goes to one and only NEHRU.


"To cure the British disease with socialism was like
trying to cure leukaemia with leeches."
—Margaret Thatcher

"He [Nehru] had no idea of economics. He talked of Socialism, but he did
not know how to define it. He talked of social justice, but I told him he could
have this only when there was an increase in production. He did not grasp
that. So you need a leader who understands economic issues and will
invigorate your economy."
—Chester Bowles

"Nehru's inability to rise above his deep-rooted Marxist equation of
Western capitalism with imperialism, and his almost paranoid, partly
aristocratic, distrust of free enterprise in its most successful form as
'vulgar', cost India dearly in retarding its overall development for the
remaining years of his rule, as well as for the even longer reign of his more
narrowly doctrinaire daughter."
—Stanley Wolpert
DISCLAIMER: The author is solely responsible for the views expressed in this article. The author carries the responsibility for citing and/or licensing of images utilized within the text.