Demand for not transforming temples into malls and pilgrimage centres into tourist sites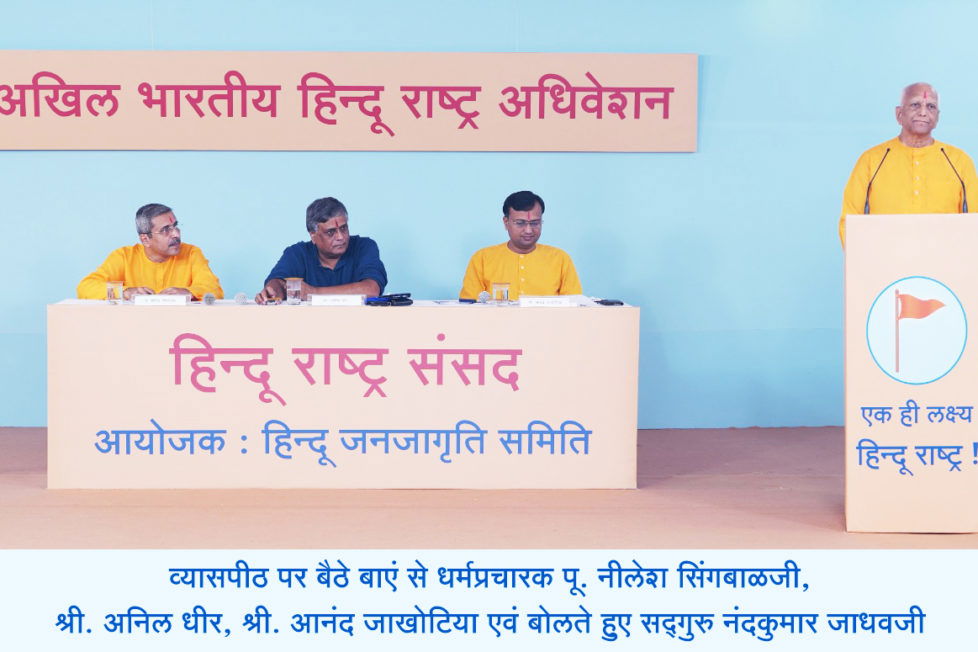 The First Hindu Parliament instructs to include 'Ideal Temple Management' as a subject in the curriculum
The kings and monarchs of ancient times built huge temples at Angkor Wat, Hampi, etc. and also managed them beautifully. Through the medium of these temples, they would run Goshala (Cow shed), annachhatra (free food), Dharmashala (Traveller's inn), educational institutions, etc. and thereby, render invaluable help to the society. As a result, Hindu society remained connected with the temples. However, in the present times, there is so much commercialisation of the temples that they have started becoming shopping malls, and the pilgrimage centres in the name of development, are being transformed into tourist sites. Preventing these changes is necessary. Hence, the trustees of the temples and the priests should ensure that the management of the temples is ideal. To be able to do this, the 'First Hindu Parliament' has instructed to include 'Ideal Temple Management' as a subject in the curriculum. On the second day of the Dasham Bharatiya Hindu Rashtra Adhiveshan, 'Ideal Management of the Temples' was taken for discussion in Hindu Rashtra Parliament. During the discussion, the trustees of various temples, devotees, Advocates and devout Hindus studiously expressed their views. The role of speaker was played by Mr Anil Dhir from Odisha, that of Deputy-speaker by Hindu Janajagruti's Dharmapracharak Nilesh Singbal, and that of secretary by Mr Anand Jakhotia.
      After deliberations that lasted two and half hours, the following resolutions were passed – 'Hindu temples be freed from the clutches of Government and be handed over to the devotees', 'Only Hindus be appointed to as functionaries of the temples', 'Sale of liquor, meat and propagation of other sects be banned around the temple premises'. All these resolutions were approved by the attendees with acclamation of Jayatu Jayatu Hindu Rashtram.
While introducing the topic in the beginning, Deputy-speaker Nilesh Singbal said, "Today, the Divine wealth of every temple taken over by the Government is being misused. So that this wealth is used in an appropriate manner, the ideal management of the temples is very important". Sushri Rampriyashri ji Mai Shree, President, Rampriya Foundation, Amaravati, Maharashtra said, "It is necessary that the youth in the country get acquainted with the history of India. To do this, the children, youth should be associated with the temples". The Dharma-pracharak of Sanatan Sanstha said that, the temples all over India should implement the ideal dress code that is implemented by the temples in Goa. During the session, Mr Sharad Kulkarni – the PRO of Mangalgraha Seva Sanstha from Amalner, Jalgaon, Maharashtra, H.B.P. Madan Tirmare of Gajanan Maharaj Seva Samiti from Chandur Bazar, Amravati, Maharashtra, Mr Sudhakar Tak – the President of Shri Sant Pachalegaokar Mukteshwar temple, narrated how they manage their temples. Direct telecast of the Adhiveshan is being done from YouTube channel HinduJagruti.

Ramesh Shinde
(National Spokesperson, Hindu Janajagruti Samiti
DISCLAIMER: The author is solely responsible for the views expressed in this article. The author carries the responsibility for citing and/or licensing of images utilized within the text.