Did #Nehru Betray Azad?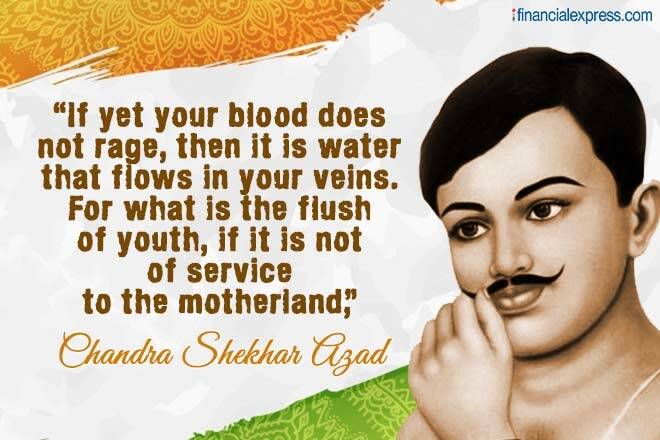 Chandrashekhar Azad (real name Chandrashekhar Tiwari; 23rd July 1906 – 27th February 1931) was an Indian Revolutionary who reorganized the Hindustan Republican Association under its new name Hindustan Socialist Republication Army (HSRA).

Azad, a 15-year-old school student joined the Non-Cooperation movement led by Mahatma Gandhi, which resulted into arrest. He was presented before a magistrate, where he gave his name as Azad (The Free), his father's name as Swatantrata (Independence) and his residence as Jail. Because of this answer he was given 15 lashings and the magistrate and officers were surprised when he courageously accepted the punishment and its bearings.

Azad became a well-known revolutionary. The Englishmen knew he was a threat to the British colonization and was on the radar of British Policemen.

A meeting was to be held in Azad Park (then Alfred Park) to discuss the further planning of the HSRA. Chandrashekhar Azad and many other revolutionaries had to attend it. But the Police surrounded Azad when someone betrayed him and gave the information of the meeting to the British. Azad also Injured (and maybe killed) many Policemen and when his all ammunition was finished, he had no option but kill himself with spare bullet he had.

Now the question is, who betrayed Azad? It is said that Vibhadra Tiwari (Azad's old companion) turned into traitor.

Recently many people have started believing that Jawaharlal Nehru was the one betrayed him. This is what at least Azad's nephew Sujit Azad claims.
HSRA and INC did not really have good relations with each other. Nehru criticized Azad in his autobiography that they did not have same point of view towards freedom struggle. And the most Important is that Azad met 2 or 3 hours ago with Nehru before his death. This is the most important fact which makes Nehru suspect of betraying Azad.

Azad died at a very young age. India lost another brave hearted Revolutionary. Azad played an important role and proved to be a gemstone in the Indian history of Freedom struggle. So today, (23rd July) we should remember him on his Jayanti and his struggle to make INDIA Independent.

JAI HIND. VANDE MATARAM.
DISCLAIMER: The author is solely responsible for the views expressed in this article. The author carries the responsibility for citing and/or licensing of images utilized within the text.