Durga Puja: Hinduism is the only religion that worships the divine feminine form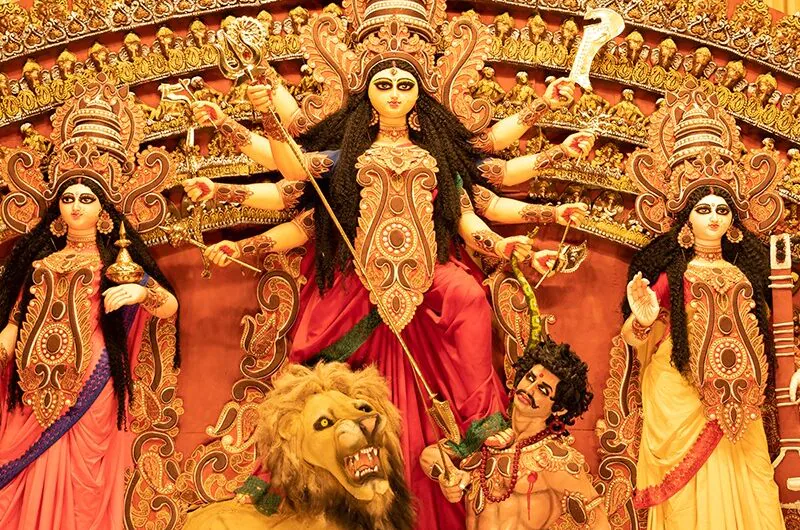 Everyone must have heard the famous Bengali proverb "Baaro maashe taro parbon", "বারো মাসে তেরো পার্বণ", which means thirteen festivals in twelve months. It holds very true in Bharat (India), as every month there is one or more festivals being celebrated in one or other part of India.
Hindus and celebrations are inseparable and the biggest revelries come around September -October months of the year which starts from Navaratri and ends with Bhaiya Dooj.
Durga Pooja is one of those festivities which is celebrated by all Hindus not only in India but around the world.
History of Durga Puja
According to Hindu scriptures and even archaeological records, Durga Puja is a primeval celebration and has been through many ages. It has its state in Rigveda and Atharvaveda hymns. At Mahabharata times Yudhishthira and Arjuna were said to be the worshipper of the goddess and has a prominent mention.  Similarly, in Puranas, it has considerable citing. Kings and queens also had made many temples of goddess Durga and are still present in India, Pakistan, and Bangladesh.
Why Durga Puja (Durgotsav) is so special?
Maa Durga is best known for killing an evil demon in a battle that lasted nine days and nights and that is why the festival lasts for nine days and nights as well.
Each day is represented by a different color which symbolizes one of her distinct characteristics or traits. Many Hindus wear a different colored traditional outfit each day to reflect this
Lord Brahma, had blessed Mahishasura with the gift of immortality which means that he will never die, as he was very dedicated to the Lord.
However, this boom from Lord had one condition – the only person who would be able to defeat Mahishasura would be a woman. But Mahishasura in his pride has never thought that one woman would be strong enough to kill him and happily accepted the boom deal.
Over the years, Mahishasura and his men became so powerful force that they keep attacking people on Earth and no gods were able to defeat him. Mahishasura had intentions to rule over the universe and make Mother Earth a hell to live in.
Seeing his cruelty which was increasing day by day, finally Lord Brahma, Lord Vishnu, and Lord Shiva – "Tridev or three most powerful Hindu gods", decided to come together and created the Goddess Durga, the most powerful woman so that she will be able to destroy Mahishasura according to the boom.
Maa Durga fought with the fiend (asura) for 10 days, and it proved quite difficult as Mahishasura kept changing his form to confuse her. Finally, when the fiend turned into a buffalo, Maa Durga exterminates the shape-fitting and deceptive buffalo
Therefore, nine days with each different figure of goddess Durga is adored and devotees fast & rejoice this as the biggest festival.
Navaratri
Whenever anyone mentions Durga Puja, the first word which comes to mind is Navaratri. Navaratri, (Sanskrit: "Nine Nights") also called Sharad Navaratri (Navratri), is one of the major festivals held in honor of the divine feminine, Maa Nav-Durga in Hinduism.
Navaratri occurs over 9 days during the month of Ashvin, or Ashvina (in the Gregorian calendar, usually September–October). It often ends with the Dussehra (also called Vijayadashami) which is celebrated on the 10th day.
Navaratri is celebrated four times a year – 
However, the early autumn festival, also called Sharad Navaratri, is the most significant. It begins on the same day as Durga Puja, a 10-day festival devoted to the victory of the goddess Durga, which is particularly celebrated in certain eastern states.
Nine Forms of Goddess Durga
There are nine aspects of Maa Durga which is celebrated on nine days of Navaratri.
The first day is known as Pratipada, this day is associated with Shailaputri ("Daughter of Mountain"), an incarnation of Parvati. It is in this form that Durga is worshiped as the wife of Shiva; she is depicted as riding the bull, Nandi, with a Trishul in her right hand and lotus in her left. Shailaputri is considered to be the direct incarnation of Mahakali. The color of the day is yellow, which depicts action and vigor She is also considered to be a reincarnation of Sati (Shiva's first wife, who then reincarnates as Parvati) and is also known as Hemavati.
The second day also called Dwitiya, this day is associated with Goddess Brahmacharini, another incarnation of Parvati is worshiped. In this form, Parvati became Yogini, her unmarried self. Brahmacharini is worshiped for emancipation or moksha and endowment of peace and prosperity. Depicted as walking bare feet and holding a Japamala (rosary) and a Kamandala (pot) in her hands, she symbolizes bliss and calm. Green is the color code of this day. The orange color which depicts tranquility is sometimes used yet strong energy flows everywhere.
The third day is called Tritiya and commemorates the worship of Chandraghanta – the name derived from the fact that after marrying Shiva, Parvati adorned her forehead with the Ardhachandra (Half-Moon). She is the embodiment of beauty and is also symbolic of bravery. Grey is the color of the third day, which is a vivacious color and can pep up everyone's mood.
Goddess Kushmanda is worshiped on Chaturthi or the fourth day. Believed to be the creative power of the universe, Kushmanda is associated with the endowment of vegetation on earth, and hence, the color of the day is orange. She is depicted as having eight arms and sits on a Tiger.
Skandamata, the goddess is worshiped on Panchami or the fifth day. Skandamata is the mother of Skanda or Kartikeya. The color of white is symbolic of the transforming strength of a mother when her child is confronted with danger. She is depicted riding a ferocious lion, having four arms, and holding her baby.
Born to sage Katyayana, she is an incarnation of Durga and is shown to exhibit courage which is symbolized by the color red. Known as the warrior goddess, she is considered one of the most violent forms of Devi. In this avatar, Katyayani rides a lion and has four hands. She is a form of Parvati, Mahalakshmi, Maha Saraswati. She is celebrated on Shashtami or the sixth day. In eastern India, Maha Shashti is observed on this day and starting of Shardiya Durga Puja.
Considered the most ferocious form of Goddess Durga, Kaalaratri is revered on Saptami or the seventh day. It is believed that Parvati removed her fair skin to kill the demons Sumbha and Nisumbha. The color of the day is royal blue. The Goddess appears in a red-colored attire or tiger skin with a lot of rage in her fiery eyes, her skin turns black. The red color portrays prayer and ensures the devotees that the Goddess will protect them from harm. She is celebrated on Saptami or the seventh day. In eastern India, Maha Saptami is observed on this day and Bodhon of Shardiya Durga Puja.
Mahagauri symbolizes intelligence and peace. It is believed when Kaalaratri took a bath in the Ganga River, she became extremely fair from her darker complexion. The color associated with this day is Pink which depicts optimism. She is celebrated on Ashtami (eighth day). In eastern India, Maha Ashtami is observed on this day and starting with Push-Anjali, Kumari Puja, etc. It's a very important Tithi and is considered the birthday of Mahishasura Mardini Rupa of Chandi.
On the last day of the festival also known as Navami or the ninth day, people pray to Siddhidhatri. Sitting on a lotus, she is believed to possess and bestows all types of Siddhis. Here she has four hands. Also known as Mahalakshmi, the purple color of the day portrays an admiration towards nature's beauty. Siddhidatri is Parvati, the wife of Lord Shiva. Siddhidhatri is also seen as the Ardhanarishvara form of Shiva and Shakti. It is believed that one side of Lord Shiva's body is that of Goddess Siddhidatri. Therefore, he is also known by the name of Ardhanarishwara. According to Vedic scriptures, Lord Shiva attained all the siddhis by worshiping this Goddess. In eastern India, Maha Navami is observed on this day and is as important as Ashtami. Also, Navami-Homa is a very important ritual done in the Tithi.
Celebration on Navaratri
In the western states of Gujarat and Maharashtra, Navaratri is celebrated with folk dances.
There are two main types of dances to celebrate Navratri.
The first is Garba, a traditional dance where you clap your hands whilst going around in a circle. The music is exciting and it gets louder and louder with lots of drumming.
The other dance is called Raas. Worshippers use what are known as dandiya sticks which are usually wooden, decorated with ribbon.
The sticks are hit together to the rhythm of the music.
After Raas, there is the prayer or worshipping ritual called the Aarti. Candles or lamps are lit
Mantra Recitation During Durga Pooja
The mantra which is recited during all 9 days is:
ॐ दुं दुर्गायै नमः
Om Dum Durgayei Namaha
Mantras are used across religious and spiritual traditions as a meditative "tool of thought," helping to prepare the practitioner for deeper states of meditation and higher levels of consciousness.
Recitation of Om Dum Durgayei Namaha with devotion, humility, and a sense of surrender to divine powers is a means of receiving Durga's blessings. This can help to clear obstacles in relation to health, finance, and success, bestowing devotees with wisdom, well-being, and prosperity.
Om Dum Durgayei Namaha may be repeated silently as a form of meditation or chanted aloud in order to harness the energy of the sound vibrations.
When Durga Puja Celebration Starts
Durga Puja countdown begins on Mahalaya, which marks the beginning of Devi Paksha. It is the day when Goddess Durga is believed to have descended to earth with her children Ganesha, Kartik, Lakshmi, and Saraswati. It is said that Maa Durga begins her journey from Mount Kailash to her maternal home on Earth on Mahalaya.
Although Durga Puja's fiesta is celebrated all over the country it is particularly famous in West Bengal, Tripura, Assam, Odisha, Bihar, Jharkhand, and Bangladesh. In the Himalayan Kingdom of Nepal, it is called Dashain. It is the foremost festival of Shaktism tradition across the country in Hindu custom.
In every Eastern State, every household reverberates with the sonorous voice of Birendra Kishore Bhadra as his narration of the Goddess's victory over Mahishasura — called the 'Chandipaath' — is played out at dawn on Mahalaya, marking the beginning of Durga Puja celebrations. People start shopping for Durga Puja begins nearly a month before the Durga Puja celebrations begin.
During the celebration, on the first day, a huge beautifully crafted idol of Maa Durga is installed in decorated pandal (Podiums) all over the country and at homes, the worship area is cleaned and a Kalash (Urn) is put in as a symbol of the goddess.
However, the actual Durga Puja revelry begins on Shasthi and lasts till Dashami.
The five days of Puja celebrations are marked by different pandal-hopping, 24 hours recitation of Durga mantras, visiting friends and relatives' homes, and of course, relishing a lot of foods including sweets.
Although festivities are celebrated all 9 days but in eastern states of India, especially, Bengal, Bihar, and Assam, there is grand five days of Durga Puja celebrations. It is observed as Shasthi, Saptami, Ashtami, Navami, and Vijayadashami. Different rituals are performed on each day starting from Shasthi or Sixth Day.
Maha-Shasthi: The face of the Durga idol is unveiled on Shasthi, which is the sixth day of the celebrations. Several rituals are performed on Shasthi such as Kalprarambha, Bodhon, Amontron, and Odhibash. The beginning of the Puja is known as Kalprarambha. Unveiling of the face of the Durga idol is known as Bodhon, which is performed in the evening. Amontron refers to inviting Devi Durga while Odhibash is the ritual sanctifying the stay of the Goddess in the mandap.
Maha-Saptami: Saptami also called the seventh day begins with the immersion of a banana tree in sacred water just around dawn. The tree is then dressed in a saree and worshipped with flowers, incense, and sandalwood paste. This is called Kola Bou or 'banana (plant) bride'. It is placed beside Lord Ganesha, indicating its role as his newly wedded wife. Another symbolic ritual while worshipping Kola Bou is the sacred bath of the Nabapatrika or nine leaves. It comprises leaves from nine plants representing nine forms of Shakti — Brahmani (banana), Kalika (colocasia), Durga (turmeric), Kartiki (Jayanti), Shiva (wood apple), Raktadantika (pomegranate), Sokrahita (Ashoka), Chamunda (arum) and Lakshmi (paddy). Nabapatrika is taken for a bath (snan) in the river (Ganga in Kolkata). The Nabapatrika is made by tying the leaves with Koyala and Aparajita plants. This also represents Goddess Durga's victory over Mahishasura.
Maha-Ashtami: The eighth day of Durga Puja is known as Ashtami and it is regarded as the most auspicious day. On Ashtami, it is believed that Goddess Kali appeared from the forehead of Devi Durga and killed Chanda, Munda, and Raktabija — the asuras or demons who were with Mahishasura. Kumari Puja or Kanya Pujan is also a significant part of Ashtami. It refers to a ritual that involves inviting young girls and worshipping them as avatars of Devi Durga. The face of the Durga idol is unveiled on Shashthi. The most important part of Ashtami, though, is the Shondhi Puja as it is the juncture of Ashtami and Navami Tithi. A yagna is performed at this time.
Sandhikkhan is considered to be the glorious time when the idol of Devi Durga got Praana or life and the spirit blessed Rama when he sought Durga's blessings before his battle with Ravana. During Sandhikkhan, 108 lotus flowers are offered to the Goddess and 108 lamps are lit.
Maha-Navami: As per Hindu scriptures, Devi Durga assassinated Mahishasura on Navami. Owing to this, Devi Durga is also known as Mahishasura-Mardini — "The vanquisher of Mahishasur". Navami is a very auspicious day for new beginnings.
The annual Kanjak Puja is performed in certain households on Navami as well. Poori (made of Flour), Black Gram(Kale Channe), and Halwa (sweet Pudding from Suji) are served to young girls who are worshipped on this day.
Vijayadashami: Also known as Dussehra, Vijayadashami marks the end of the Durga Puja festivities. On Dashami, women dressed in the traditional "Red Border (Laal Paad Shada) Saree" celebrate with Sindoorkhela. Devi Baran is performed at first as married women bid farewell to the Goddess. Aarti follows as women apply sindoor on the forehead and feet of the Goddess.
After that, women apply sindoor on each other's forehead as well as on their Shakha, Pola, and Noa (bangles made of conch shells, coral, and iron) that signify the Bengali woman's marital status. Sweets are offered after the Sindoorkhela.
The Festival which every Indian wait with bated breath throughout the year is "Durga Puja".
DISCLAIMER: The author is solely responsible for the views expressed in this article. The author carries the responsibility for citing and/or licensing of images utilized within the text.