Force feeding beef to Hindus-an open secret?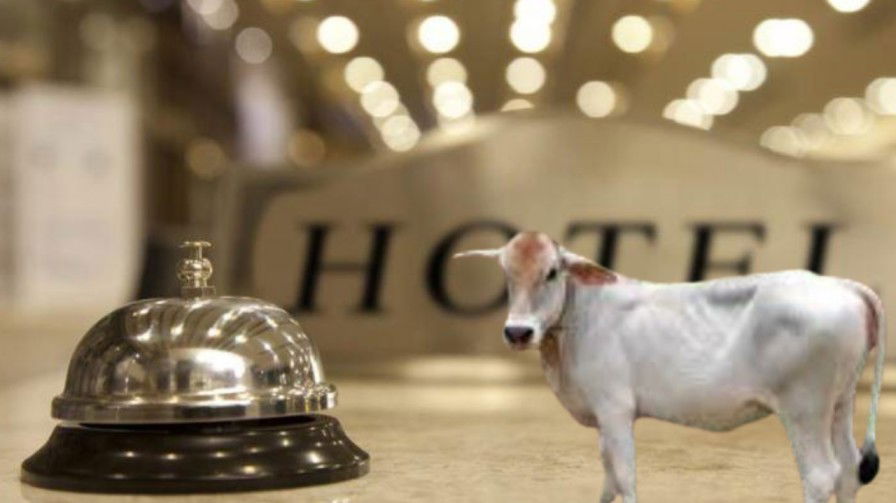 Imagine a situation if a Muslim is forced to eat or cook pork in a Hindu owned institute or a business? An epic backlash will be witnessed globally. The news will spread like wild-fire, Hindus will be called fascist, Intolerant, atrocious, and much more. Ironically, Hindus being forced to eat and cook beef is a reality, which is never talked about.
For an average person, it is important to know these astonishing facts, which are an open secret within an industry. An Industry that trout itself as a symbol of status and glamour, "alluring, captivating, and esteemed" Hotel Industry in India. Force-feeding beef is a common practice, where many people just blend into the scenario or quit, but raising your concern is not an option.
Coming from a hotel management college in India, which was owned by a well-known Muslim Trust, with various educational businesses ranging from schools to engineering colleges. The following claims are based on personal experience and not on rumors.
There are mainly four operation departments, Front Office, Housekeeping, Food and Beverage (F&B) Service, and Kitchen. Typically employees in operations have a hotel management diploma or degree from colleges or universities. During their studies, they are required to take theory and practical lessons on various subjects, cooking being a part of it.
There are times where beef was a part of the menu in our Kitchen practicals and regardless of one's religious belief you will have to cook beef. How could I cook Cow which I have worshiped since my childhood? Sometimes cooking beef was part of the exam as well. Hotel management courses are expensive. If you fail that year, you must repeat the year and pay fees, all over again. A lot of students come from a humble background and cannot afford to waste neither their time nor money repeating a year. What is their option but to cook beef?
On the other hand, the Islamic religious belief was protected in the same college, as alcohol was not permitted even just for demonstration in restaurant practicals when learning service of wines and making cocktails. Students were made to use water as a substitute. During an annual college festival, a reputed Wine company was stopped from sponsoring an event, as the company wanted to "display a Wine advertisement banner" on the college campus for 3 days. A prominent chicken supplier was rejected as a sponsor for an annual dining event; although they were ready to provide "Halal" certification the Head of the departments of culinary, said he wanted us to personally witness the chicken being slaughters to make sure the Chicken is halal and "a Halal Certificate provided by the company is not trusted." The same college and same chef (A former Executive Chef of Taj hotel group) who made Hindu students cook beef.
The story does not end at the college gates, it gets progressively worst. Being good in the kitchen, I did not choose the Culinary as a career, Why? Should I land a job at a major hotel in India, in a kitchen I might be forced to eat beef. The most preposterous reason typically given to justify, "What if a guest does not like it and they tell you to try for yourself? What will you do, so eat it!"
Most of the time, people select the lavish hotel industry, because they dream about the affluent and glamorous lifestyle. They are buying a gold-plated dream, with no delivery in sight.
I met a Hotel intern (Hindu) in the UK, he was from Mumbai. He bought a beef sandwich, so I asked him do you eat beef? He told me that he never used to eat beef, even during his Hotel school days, but several months after completing his college he finally got a job, in a well-known hotel in Powai, Mumbai as a Cook. On the first day of his new job, the executive chef of the property asked him if he ate beef and his reply was NO. The chef then put a piece of beef on a dish and asked him to eat. He was given no choice in the matter, as the chef told if he did not eat beef, he would be fired for "incompetency." Sandeep came from a middle-class family and had financed his education with loans. He had a family obligation to help pay off the loan. Getting a job was not easy, so he did not have any option but to eat beef. The chef is a popular Maharashtrian chef, who had appeared in many TV shows and is awarded by various organizations including Shiv Sena.
This is just one example but this practice is very prevalent and widely accepted in this Industry in India. All of this might sound outrageous and obnoxious but facts are hard to digest! If you are the rebel and walk out of the job, possibly you might be blackballed in the industry or if you are a whistle-blower and by some miracle, you are still able to maintain your job, the repercussions are not easy to deal with. Using industry power, exploitation is openly practiced and accepted in the Indian hotel industry.
Anyone in the industry knows how interns and rookies are treated and retaliated if they resist. Mental enslavement and intimidation are alive and well in the Indian Hotel Industry. I had witnessed this ridiculous practice predominantly in India.
This practice is just another part of religious persecution of Hindus, under the name of "professionalism," which is subtle and goes unnoticed.
DISCLAIMER: The author is solely responsible for the views expressed in this article. The author carries the responsibility for citing and/or licensing of images utilized within the text.