Why Indian Americans sudden drift to Republican Party is Imperative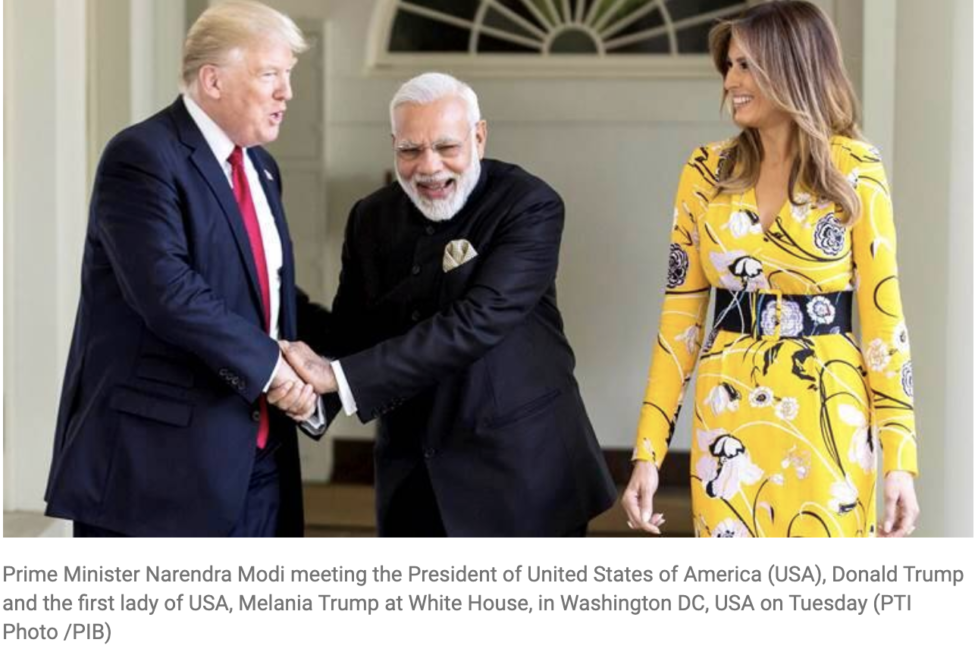 As we know India maintains relations with the US in Bi Partisan manner. No matter who is in White House, India maintains the relations and welcomes the new President. The point at this time is who is better for India in the 2020 elections? This question haunts many Indian Americans who couldn't make a final call due to various reasons.Many Indian Americans traditionally lean to Democratic Party as a notion that makes them believe that Democratic Party is friendly to Immigrants. Thus, this obvious reason makes them vote for Democratic Party. However, this perception is now changing and most of IndianAmericans coming out of the box to make decisions on various aspects of the American life and living.
Indo-US Trade Relations

Considering one aspect of Indo-American relations, which comes under foreign policy of Trump. During the past four years, The United States seeks an expanded trade relationship with India that is reciprocal and fair. In 2019, overall U.S.-India bilateral trade in goods and services reached $149 billion. U.S. energy exports are an important area of growth in the trade relationship. Also, the crude Oil imports from India has significantly increased to 48 million barrels in 2018 compared to 9.8 million barrels in 2017. Also, India has contributed a significant $8 billion to the US economy in terms of Indians enrolling into various US colleges and universities. One important set back for India is that the Trump administration revoked the Generalized System of Preferences (GSP) status. This is due to the reason that Trump believes in America First and his emphasis is clear that US interests will come First. Likewise, India too emphasized India's interests.
The United States (US) has revoked India's benefits under the Generalized System of Preferences (GSP) and imposed Section 232 tariffs on Indian steel and aluminium. In response, India announced retaliatory tariffs. This brief probes the ongoing trade tensions between India and the US, despite a reduction in the trade deficit.
As part of retaliation, India also imposed import duties on 29 US products including walnuts,almonds, pulses. However, despite the fact that there are differences in trade, US and India have reached an agreement on defense trade. The US will be selling $3 billion worth of military equipment and Apache Helicopters to India. The United States wanted the trade to grow for another $5 billion which both countries are working to get on table. However, on many occasions President Trump directly quoted Prime Minister Modi as a strong leader and not easy to negotiate. This is the first time since India's independence, an American president has said something about India in a much positive opinion.
Improved India-US Relations
As part of strong US India relations, the United States hosted a 2+2 ministerial dialogue between the two nations to strengthen the ties in the area of global security, economic cooperation, trade and defense. In Dec 2019, The US hosted the 2+2 ministerial dialogue between the Sec of State and External affairs Minister of India. Six months later, US and India are now working to host a 2+2 discussions in India.
The United States supports India's emergence as a leading global power and vital partner in efforts to ensure that the Indo-Pacific is a region of peace, stability, and growing prosperity and time to time US supports the role of India's permanent seat in UN Security Council. Recently, US strongly supported India's candidature for a temporary two year term in Security council.
India's Relation with Republican Presidents
Coming to History, India and the United States always had a great patch up with a Republican Presidents except during the President Nixon period. However, India always had turbulent times during Democratic Presidents except with John F Kennedy and President Obama. Although in many ways, India got benefited during President Bush and in fact the decade starting from the millennium India strived hard to repair the relations with the United states from rocky relations with President Clinton. It was during the Bush Presidency, India worked to get a Civil Nuclear deal to satisfy its clogging power needs. Bush had worked with congress to pass the Hyde Act and Mrs Clinton voted against it while Biden voted for the deal. However, apart from this, His advocacy made India secure a seat in the Nuclear supplier Group which it would not have possible without Bush in White House.
Immigration
Apart from this, Indians benefited immensely during Bush Presidency, thousands of Indians got their Green cards in 2006 while thousands of Indian students benefited with a two year Optional Practical Training (OPT) from one year to two years. Not limited to that, Indian students benefited with a special quota for STEM students in H1 B visa. Recently, President Trump made it to a three year OPT. Republican party always wanted fair legal immigration and Indians in America are always pragmatic and energetic. Thus, President Trump is pushing Congress to pass a bill on Merit based green cards rather than siding with illegal immigrants.
Likewise, when we look into specifics of GOP Presidents, we need to remind ourselves as President Eisenhover offered India a permanent seat in the United Nations Security Council which apparently India Prime Minister denied that offer and instead recommended China.
Campaign Against Hindus by Far Left Progressives
Although Joe Biden is a moderate in Democratic party, The notion that Indian Americans widely believe is that, he is being influenced by FarLeft Radical Progressives in the party. Apart from this, his alignment with Pakistan is questionable in Indian matters. In 2008, he received Pakistan's Second Highest Civilian Award but that doesn't matter in normal situations however, as we connect the dots, since his primaries early this year, he has been influenced by his pakistani campaign managers to make statements against India on Kashmir. Not just that but in the past his number two Sen. Kamala Harris too made a statement against India on Kashmir. However, Indian External Affairs Minister noted that US Democrats perception on Kashmir is short sighted and Half truth baked with hatred and concoction of lies.
Apart from this, Far left progressives in Democratic Party were involved in Anti Hindu activities like "Holi against Hindutva". Far Left Progressives tried to divide the core of Hindus. It is sad and disappointing to underscore the fact Hindu and Hindutva both are same and Hindutva glorifies Hindu culture . By making derogatory statements on Hindutva, it angered millions of Hindus. Even Hawaii House Rep. Tulsi Gabbard expressed anguish about rampant Hindu phobia.
It was shocking and staggering to note that people who do not practice Hinduism nor believe in Hinduism making derogatory comments on Hindu rituals and Hindu traditions and attributing to the Political aspects of India is certainly condemnable. Holi against Hindutva group consists of Left radical , Muslim students and also Sikh students belonging to Khalistan separatist group making comments on Hindutva. Their goal is to divide Hindu Society as much as possible for their convenience and short term goals. This one side narrative against Hindus is not acceptable and Hindus are becoming victims to the political game of Appeasement by Democratic Party. Thus,Invoking the famous quote by President Obama "Never forget the roots from where you came from" is what making Indian Americans move to Republican Party.
Ref:
Some aspects were taken from Observer Research, Economic Times.
DISCLAIMER: The author is solely responsible for the views expressed in this article. The author carries the responsibility for citing and/or licensing of images utilized within the text.