'Get woke, go broke' – Jay Ersapah, the Vijaya Gadde of #SVBBank?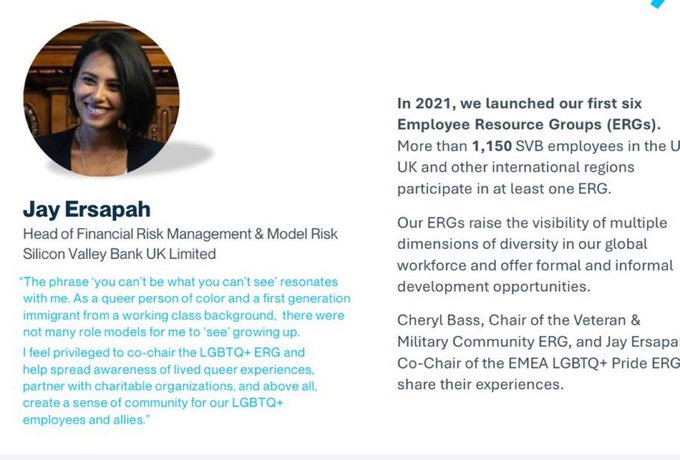 Silicon Valley Bank, which recently collapsed after disclosing a $1.8 billion loss, operated without a Chief Risk Officer for almost nine months between April 2022 and January 2023. The bank's former Head of Risk, Laura Izurieta, left in April 2022 and was not replaced until the hiring of Kim Olson in January 2023.
With over $209 billion in assets, the California-based lender was the 16th largest US bank. The bank became the largest to collapse since the 2008 financial crisis.
However, in a twist, the boss of Financial Risk Management at SVB's UK branch, Jay Ersapah, has been accused of prioritizing pro-diversity initiatives over her actual role. While Ersapah acted as the CRO for Silicon Valley Bank in Europe, Africa, and the Middle East, she organized a range of LGBTQ+ initiatives, including a month-long Pride campaign and "safe space" catch-ups for staff. 
In the past, she has also moderated the EMEA Pride townhall and served as a panellist at the bank's Global Pride townhall to share her experiences as a lesbian of colour. Her LinkedIn profile indicates that she has had a successful career, having worked for several high-profile names in the finance sector, including Citi, Barclays, and consultancy firm Deloitte.
The bank's CEO, Greg Becker, credited Olson's "deep and multi-faceted financial services experience" as a senior risk leader, regulator, and bank supervisor, indicating that such expertise is necessary for the role. Silicon Valley Bank's website states that the CRO reports to a seven-person committee made up of board members and the CEO.
But, biased critics have hit out at Ersapah's apparent preoccupation with LGBTQ+ issues.
One Facebook user, Paul Tucker, wrote: 'The [SVB] Board of Directors is filled with diversity hires who are there because of their woke credentials.
'They all have pronouns in their bios, which are filled with corporate newspeak.
'This is what happens when you allow people to manage your money based on woke principles instead of on their actual skill and competence.
'I hope the depositors at this failed bank enjoy all of that diversity, because diversity is your strength, eh?'
He signed off the post: 'Get woke, go broke.
Another Twitter user said: 'Head of Financial Risk at SVB Jay Ersapah might've been busy with more important projects at the bank, such as LGBTQ issues, rather than assessing risk.'
"Is she Vijaya Gadde of #SVBBank? Her bank Risk management strategy went for a toss and stocks fell from 700$ to 40$ and #SVBCollapse That is what happens when head of financial risk of a bank is Concerned more about woke politics than taking care of the Financial risk of the bank," another Twitter user said.
Some also came to the rescue and talked about how greed and the hyper-capitalistic mentality were the reason for the collapse of the bank and not Ersapah's gender or woke ideals.
Source plus image minus title: https://www.businesstoday.in/
DISCLAIMER: The author is solely responsible for the views expressed in this article. The author carries the responsibility for citing and/or licensing of images utilized within the text.