Golden Gift of 2020 : Hindu Ecosystem and Kreately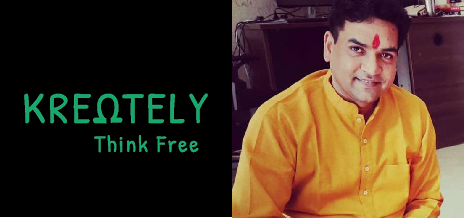 Year 2020 has disrupted civil life all over the world. The Wuhan virus took away the sheen, progress and vitality of global society. The news of preventable death, crumbling health services, receding global economy and penury to ordinary bread earner has dispirited the entire world.
Amidst such destruction and pessimism only, Sanatan Avtaar has evolved. Yes, Spirit never dies. All is never lost. Let the world read about the Story of 10 Avtaar. Yes, Sanatan means perpetual. Recall the Great Bhagwat Gita, "Word of Wisdom". It was narrated in the battlefield of Krushetra. Let the world read and realize essence of Shrimad Bhagwat Gita. The assertion of Chaitanya Mahaprabhu and Srila Prabhupada is set to reverberate if Humanity and nature has to coexist and prosper. Let the world know this and realize.
Back In India, love for life and optimism for betterment remained the thriving idea of Sanatan Society. Two visionary institutions were conceived and fructified in the year 2020. Sagacious thinker and Visionary leader planted two saplings. Thus germinated two organizations that are set to change the undertone and deliverability at the ground. These two organizations were felicitated with two ceremonious names.
· Kreately … https://kreately.in/
· Hindu EcoSystem …
Kreately is a unique platform of creative and thinking minds. It blends the flowing ideas on Bharat "Our Nation" for its glorious past and promising future. The platform has offered voice to writers, thinkers, cartoonists, historians and humanists. Absolutely unshackled from the insensitivity of rigid editorial boards, it represents the true spirit of freedom of expression. Yes, you could be your own editor here. Columns on a wide range of subjects getting penned in different geography and in different languages is second to none in today`s academic world.
In just six month, Kreately had contributed to the intellectual society with over 4000 articles in five different languages. You would scan to see the varied style of narrative of the published article here. It is from research to compilation, opinion, analysis and factual commentary.
Adversity is the time of innovation, invention and discovery. In years from now this platform will certainly emerge to be one of the richest repositories of creative ideas. The Taxila, The Nalanda, The Vikrashila were plundered, razed and burned by the uncouth medieval barbarians, but they could not frost the seeds of creativity from the Sanatan Mind. Day's ahead and unfolding content at the Kreately will set a milestone to come.
Another movement of significance that has started in 2020 is Hindu Ecosystem.
It is by a voluntary group of activists under the resilient leadership of Sh Kapil Mishra. Sh Kapil Mishra is a young dynamic leader of Bhartiya Janta Party, who has decided to unmask the narrative of Pseudo secularism and appeasement from the civil narrative.
Hindu leadership had remained for long under the prison of individual inhibition, Social modesty and political infirmity in public life. It had never organized to challenge the shameless narrative of victimhood and propaganda of anti-India forces.
Historical blunder had happened. Yet no resolute organization of vision and voice emerged who ever demanded Hindu`s rights with audacity. Hindu-Eco System is an expression of this silence and helplessness. Hindus had been deceitfully trained through Macaulay institutional to either remain mute or shy away from discussing issue related to illegal immigration, Church conversion, demographic inequality, religious bigotry and terrorism. No discussion ever happened about the Hindu holocaust, Lynching of a Hindu, Love Jihad and Missionary deceit. No one raises the issue of religious and cultural invasion on Hindu Temples and traditions.
Silence and Anguish.
Hindu needed a Voice, an organization where each limbs are the stakeholder. The professionals, intellectuals, writers and activists should join to raise the voice for posterity of Hindus.
Hindu Ecosystem is the answer to such questions. The Bull has hit the target. How? Just scan the social, electronic and print media around the time when the Hindu EcoSystem declaration was made. A sane mind will be ashamed to read those reaction and adjectives chosen by missionary jihadi anti Hindu forces. Criticism, accusation, abuses, filth and threaten were the expression of their narrative.
Accept, smile and be unapologetic. Vow to say, it becomes even more imperative now to have a successful formidable organization at the Ground called Hindu Ecosystem.
Thank you- 2020.
DISCLAIMER: The author is solely responsible for the views expressed in this article. The author carries the responsibility for citing and/or licensing of images utilized within the text.