Hindu History of Afghanistan – Hindu Shahi Dynasty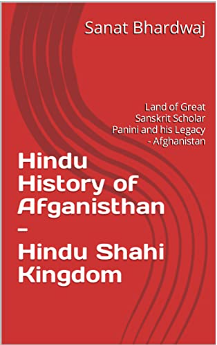 Book Review – Hindu History of Afghanistan – Hindu Shahi Dynasty.
You purge History and enslave posterity.  Apt summary of how today's Afghanistan can be described.
Hindu History of Afghanistan is as glorious and splendid as any other civilization. It was vibrant, full of life, culture, established tradition and above all a will to survive and fight.
Medieval was the Jungle era. The medieval history of Afghanistan turned out to be bloody and horrible against the successive Turkish and Arab Invaders.  The Valor and struggle of Local Hindu Afghani has no match. They fought relentlessly for their belief, culture and tradition for over 4 Centuries.
But History is written by victorious. 18th and 19th Century Historians and the King of Afghanistan ensured to purge the amazing past of their forefather.
Today an ordinary Afghanistan has no clue whatsoever of their splendid Historical past. Children of Panini should have been torch bearers of Education and academia in the World .The Children of greatest Warrior Chieftain Lawik could have been epitome of Bravery and Self esteem.
But this Hindu History of Afghanistan was systematically erased.​ There does not exist any library where treasured manuscripts and relevant articles have been preserved. Education system of Modern Afghanistan has been systematically destroyed.  Language, Folk lores, customs and tradition have been systematically assaulted.
Author through this Book Hindu History of Afghanistan: Hindu Shahi Dynasty has kindled the fire. Historical details of the kingdom, their successors, their Geographical territory, their adventure struggle and romance with life has been captured in a poetic flow.​ Some Persian secondary sources have retained dotted connection.  Hazara of Afghanistan who are the descendents of Buddhist Mongol have many folk lore which speaks of medieval Hindu Society.
It is Valiant effort and months of research from the elusive primary and secondary source which has made this Book possible.​ ​A commendable Job with hope and trust, that the Slavery of Panini Land will be reversed in a day.
​
DISCLAIMER: The author is solely responsible for the views expressed in this article. The author carries the responsibility for citing and/or licensing of images utilized within the text.