Hindus being alienated in India !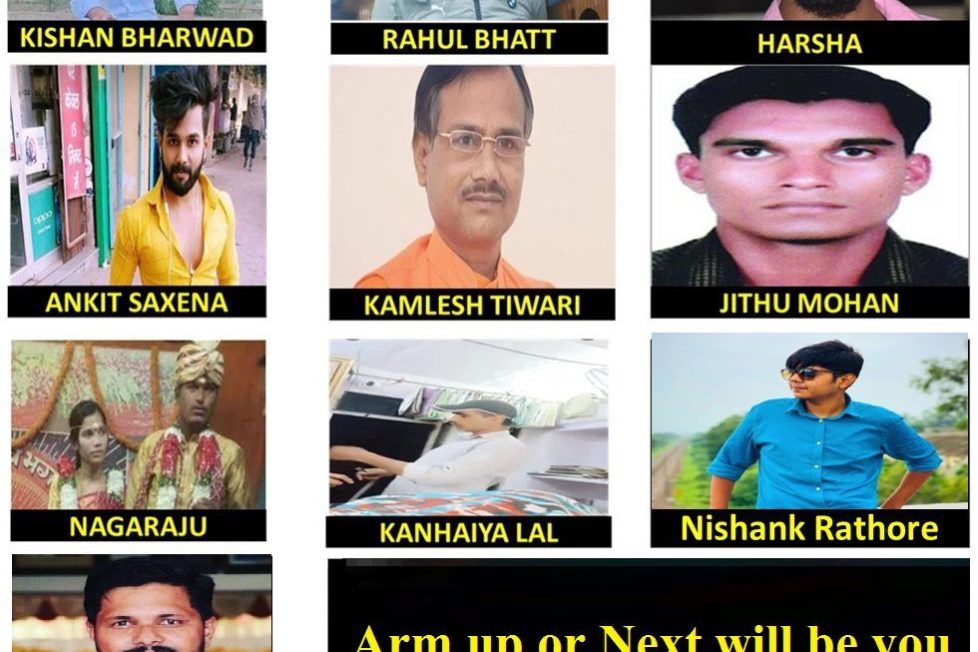 One month has elapsed since the murder of Kanhaiya Lal in Udaipur. Kanhaiya Lal was beheaded on 28 June by Mohammed Gaus and Riyaz Attari. The gruesome murder was committed to avenge a WhatsApp post made in support of Nupur Sharma. Both the Jihadis are currently being tried and Hindus hope that they will be sentenced to death. It has emerged that the incident has links to the Pakistani terrorist organisation, 'Daawat-E-Islami'. This is not a standalone incident; every Hindu who has voiced their support to Nupur Sharma is faced with a threat to life. The murder of Umesh Kolhe from Amravati, the life-threatening assault on the Hindu youngster Ankit Jha from Seetamarhi (Bihar), the murder of Nishank Rathore from Bhopal and the murder of Praveen Nettaru, BJP Youth Wing leader from Karnataka's Bellare are fresh examples of this phenomenon. Praveen Nettaru had made a Facebook post in support of Kanhaiya Lal.
The investigation into Kanhaiya Lal's murder has revealed that 300 individuals from 25 states are in touch with 18 terrorists of 'Daawat-E-Islami'. Therefore, the series of killings points at this organisation. All the YouTubers, bloggers, lawyers and devout Hindus who had voiced their support to Nupur Sharma in the last two months need to be extremely cautious. The situation is akin to a mystery flick where the question of, 'who will be killed next?' looms large. This is indeed a scary misfortune of this country of majority, but helpless, Hindus !
Jihad and France !
The murder of Praveen Nettaru poses three pertinent questions. The first one being – how can common Hindus be truly safe when a BJP Youth Wing leader is killed when the pro-Hindu BJP is in power in both the state and the Centre? The police suspect that the Jihadi terrorist organisation, Popular Front of India is responsible for this incident. This is the same organisation that has chalked out a time-sensitive blueprint of making India an Islamic nation by 2047. It is even giving military training to several radical Muslims across the country toward this cause. Despite all this, why has the organisation not been banned, is another mystery. Supreme Court senior lawyer, Shri Ashwini Upadhyay has posted a very vocal and thought-provoking tweet on the backdrop of Nettaru's murder. He said, "Jihad cannot be controlled either through condemning, torching effigies, protest march, publishing pictures of the deceased Hindu victims, blocking roads, Twitter trends, talk shows, demanding death penalty, financial aid to victim's families or by reciting Hanuman Chalisa. It takes fire to fight the fire. Therefore, a stringent anti-Jihad law is the only means to curbing Jihadi attacks." Whether the government is thinking of drafting an anti-Jihad law or going to let Hindus succumb to the 'Sar tan se Juda' campaign of the Jihadis, is the third question !
The 'progressive' France implemented a whopping five new laws imposing restrictions on Jihad and Madarsas-mosques following the beheading of Samuel Paty by his Jihadi student in the French capital in 2020. It is therefore imperative for the Indian government which is perceived to be Hindu-centric to stand up to the challenge and investigate the Jihadis to find out the machinery working behind them and put a time limit to hanging them to death.
The need for self-defence !
Several Hindus have been killed; however, nobody has felt the need to cry citing 'the murder of democracy', 'the murder of freedom of expression', or 'the murder of free-thinking'. When M M Kalburgi, and a Muslim in Dadri, Akhlaq were murdered, the Congress had created chaos and staged a protest march from the parliament to the Rashtrapati Bhavan; what does it have to say on the murder of Hindus? The country's 'elite class' comprising of intellectual writers, journalists, businessmen, lawyers, etc. is having a gala time in 5-star hotels. It is critical for Hindus to question this lobby's hypocrisy, through constitutional means. Else, the condition of Hindus in India will be similar to that of Hindus in Pakistan and Bangladesh, in a few decades. On this backdrop, a statement made by Hindu Hrudaysamrat Balasaheb Thackeray about 20-25 years ago is relevant even today. A young lady had asked him at an event, "What message do you want to give to the youth that is actively involved in protest march and riots? To this, Balasaheb enthusiastically replied, "If the nation's laws are ineffective in protecting you, then you have the right to defend yourself!" The underlying message is not to take arms and create bloodshed, but to be strong enough to defend yourself. The Indian Constitution has given every citizen the right to Life and an action toward this is justifiable. Considering this, Hindus should wake up and get united, and make themselves capable to protect their Dharma and the Hindu society with an undying commitment.
Else O' Hindus, you will be alienated in your own country – this divine land that is Bharat !
DISCLAIMER: The author is solely responsible for the views expressed in this article. The author carries the responsibility for citing and/or licensing of images utilized within the text.