How Communist destroyed a Vibrant West Bengal. – Part 1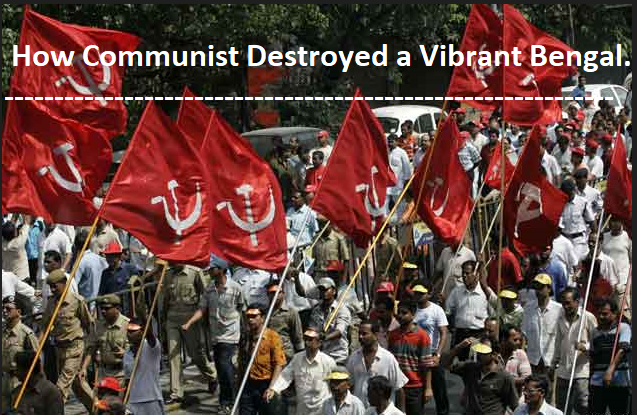 You destroy Industry; the rest of the Society will decay gradually.  A lone sentence that can explain the bitter truth and misfortune of Bengal Society during Communist Rule between 1977-2011.
Generation to come should be told and re-told about the nefarious design and evil end that Communist brought to Bengal. They wrecked the Social and Industrial establishment besides destroying Bengal from the position of Industrial leader to a poor state of India.
West Bengal still has many memories left with the Rule of Late Bidhan Candra Roy, Who had a vision to modernize, urbanize and enrich. There are countless achievements which worked as the foundation for progressive Bengal during his era. His death in 1965 brought Bengal into political instability. Communist took advantage of this Chaos and confusion. Successive Chief Ministers My Ajoy Mukherjee and Siddhartah Shankar Roy could not demonstrate the ability to expose the pernicious design and malevolence of Communist ideology to masses. Frequent President Rule in West Bengal demoralized masses further allowing Communist to enroot into the Society.
Strike, Closure, Procession and violence were becoming new norms. Communist leadership visions were clear to ignite masses, divide society and stall any progressive thinking. Thereby they can get a more impoverished society who can be instigated for their political mobilization in no time.
Industry should be closed and driven away from Bengal. This diabolical idea was conceived and now put into operation. The entire machinery from top to a street level comrade were working to achieve this ignominious end.
Communist arrived as piggyback. It arrived as coalition partner in Government in 1967 with Jyoti Base as Deputy Chief Minister to Late Ajoy Mukerjee Chief minister. A coalition government is weak, untrustworthy and anti-people. And communist proved that in no time.  Anchored by Late Jyoti Basu,  the State Government issued an administrative circular denying Police any right to intervene against Labor agitation or Industrial Gheraos. The one-line circular made Police machinery helpless and dysfunctional in front of CPM goons.  Within a year of this circular, not a single day went without agitation and bandh in Bengal Industrial life. However, the worst was yet to come.
1965- Birla`s Texture unit Eastern Spinning Mills was a celebrated organization. They were leaders in manufacturing rayon and Textiles. Communist could not have tolerated an Industry. The union and labor should demonstrate its mighty power to the Owner and industrialist. Adtiya Birla himself was on a visit to Kolkata and his factory. Comred had this opportunity. They pounced on Aditya Birla. Dragged him out of the car, stripped him semi naked, beat him up and paraded him in full public view to humiliate. All this happened between the Writer Building and RBI building in full public and administrative galore. Eastern Spinning Mill was forced to close. The Union called for strike and Comred celebrated. Aditya Birla could barely manage to save his life, he returned to Mumbai, and closed all his investments. And Bengal lost one of the biggest Industrial houses and its services.
Another Manufacturing Giant of the day, Philips had its factory in Beliaghata.  They had a near monopoly in the Electronics providing huge direct and indirect opportunities to Bengal. The head of Philips Mr Frits Philips arrived in Kolkata to visit his Beliaghata Factory. The news of Industrialists reaching Bengal spread like fire. Comred arrived.  Call for Bandh was made. Union mobilized professional troublemakers. Factory main gate was closed. Frits Phillips could not visit his factory, his request to the Police and administration brought no response. Disappointed and insulted, he returned, withdrawing all his Industrial investment from Bengal.
The story of Aluminum corporation of India is no less pathetic. It was India`s first integrated Aluminum plant established by Sh Lakshimpat Singhania. After CPM took over Bengal, regular Bandh and strike had paralyzed the efficient functioning.  Violence within the Industrial premises was becoming routine.  More organized and more violent union has absolute immunity and impunity. In one of routine aggression, a labor thrashed Work manager, leading to mass unrest. Union went ahead and closed the power supply to the smelters. Plan was now dysfunctional. Singhnia tried his luck to relocate and protect his investment. CPM denied and rather nationalized the Plant in 1974.
In 1990, the Bengal Industrial environment was becoming thin and unresponsive.  Most of the Major and big Industrial houses had either withdrawn or operated with skeletons.
Still Kolkata was hub of Hosiery Business. It was market leader and with product catchment to entire South Asia. It is said the diabolical plan to upset and close this hosiery business from Kolkata was planned at the behest of the Chinese.  China, who wanted to lead the hosiery Business found Kolkata too competitive to handle.  Stupidity has no end. CITU, the union of labor, called for a mass strike. A record 144 days strike paralyzed the Hosiery Industry of Kolkata. Arsonist had a field day. Factory property was either plundered or stolen by CPM led goons and CITU trade union. There was no end to the strike until hosiery business Kolkata collapsed.
This act of state hooliganism unnerved every left-over existing Investor. Within a few years, Industrial groups like Thapar, JK and a couple of Multinational relocated their plant and silently withdrew from Bengal. Bengal Industry was nearing its total collapse.
Tata nano, a coveted project, was the brainchild of Late Buddhdev Bhattacharya who took over an Industrially impoverished and resource-less Bengal from Late Jyoti Basu regime.   But the culture of Hate for Industry and Industrialists coupled with high handedness against another political Party TMC led to withdrawal of Tata Nano project again.
With loss of Industry, Bengal lost revenue, human resource and Social mobility. A state that fathered great Poet, Critical thinker, Amazing Scientist and profound academician was now reduced to the last league of Indian State. Migration of Talents depleted the Nobility and Bengal pride. Communist rule was violent and bloody.
Communist ensured they destroyed Bengal before they were ousted by people in 2011.
DISCLAIMER: The author is solely responsible for the views expressed in this article. The author carries the responsibility for citing and/or licensing of images utilized within the text.