How to analyze mock test papers?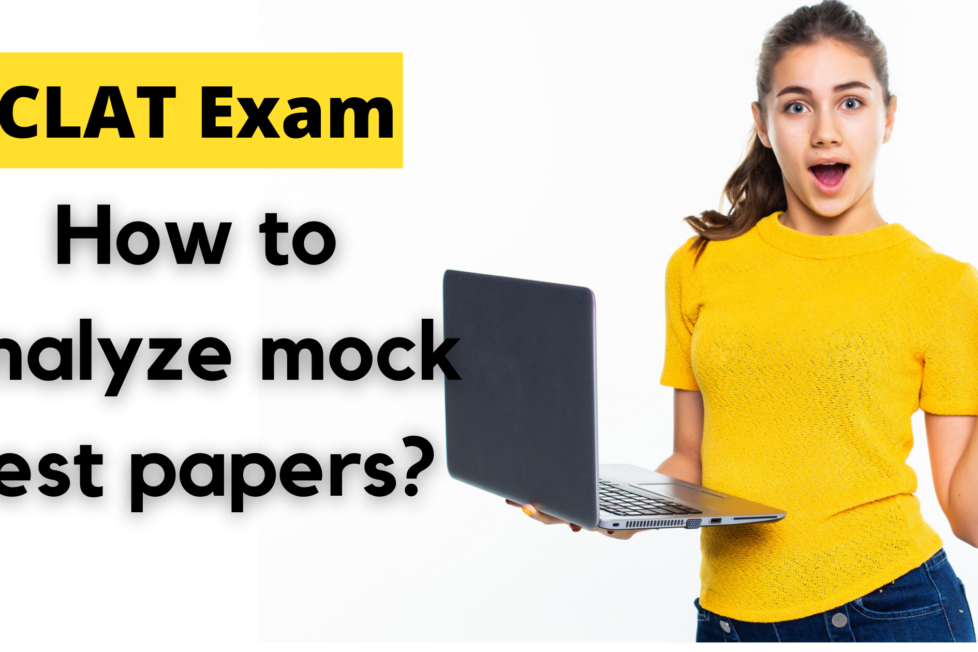 Analysis of CLAT mock test papers is very essential to improve your score in mocks and give your best shot in the actual CLAT 2022 exam. Let us now start discussing the above questions from the beginning.
1. Are your mocks perfect? What are quality mocks? What kind of mocks should be solved?
The first and foremost thing is to give quality mock tests. Give mocks that are specially designed for law entrance. If you analyze the paper pattern, the syllabus is given by the CLAT Consortium, you will find that the mocks you are giving are not useful for your CLAT preparation; These types of questions can never be asked and never right! And you struggle to increase your score in the mocks which are never practiced for CLAT and AILET.
Understand it This is a serious issue that many law-abiding people are not even aware of. Either they take everything carelessly or they totally depend on coaching which already has thousands of students like you and in this crowd of thousands you can be left behind to get proper advice; Remember you are different; You need to brush up on your strong areas; You feel that you have to improve your weak areas in a way suitable only for you.
Remember that not all who are in coaching get selected in National Law University (NLU), and CLAT 2022 does not require coaching; It requires the right strategy, consistency in preparation, and lots of mocks (with analysis) practice.
2. When to do the mock analysis? What to analyze in the mock?
You can give weekends to revise what you have studied in that week or month and also analyze all the mocks given in that week.
Firstly, know your score, has it increased from the previous mocks attempted by you? Is your score lower than the previous one? Has your score stabilized? Now, let's analyze each section to see what type of questions are you constantly attempting wrong? These are the areas you need to work on; First, understand its principle and then solve some 100-200 questions (without and then with timer). Try to revise only those questions which you have attempted to get wrong later as well.
4. How to analyze the mock section?
Go through each section. For the English section of CLAT, practice lots of RCs. Solve 5 RCs daily. We have already given 1000 RC on our telegram channel. You can access them on Telegram.
In the current affairs section, revise all the questions in the future also (especially the ones you attempted wrong) – this creates a question bank for you. Apart from scoring CLAT's current affairs collection (1000+ questions) is a boon for aspirants who want to top this exam, as it is a compilation of all important current affairs in MCQ format (like CLAT paper format).
In Legal Reasoning, again like you would mark and revise wrong questions in GK and Current Affairs, here you should do the same. Also, revise all the legal updates of 2019-20 which you will also get from the Legal Reasoning Compendium (500+ Questions) of ACE CLAT.
In Logical Reasoning, try to solve the question again which you attempted wrongly. Still, if you try to get it wrong, go for topic theory, brush up on your fundamentals, and solve some questions from that topic as well as the questions which you did wrong in the mock. was solved by The same should be done in quantitative techniques.
Try to revise all the wrong questions before giving the next mock. Mock tests do not require special preparation; Just revise the previous mocks (whatever questions you attempted wrong). and that is all.
Improve your weak areas by analyzing them in mocks. Sometimes we feel that we are good at a certain subject, but in reality, we come to know our strengths and weaknesses when we attempt the mocks within the time limit; In a real exam center environment. So, be serious and attempt mocks as if you are taking the actual CLAT exam.
Hone your strength too. But first, improve your weak areas. So give more time to weak areas and less time to strong areas. But revise all the weak and both the areas from time to time.
5. How many mocks should we solve?
If you start solving mocks now, you have two months in your hands which is enough to prepare for this exam. Solve 40-50 mocks with analysis. At present try to solve one mock every day and also analyze it on the same day. But the condition is that the mocks should not be random, should not be irrelevant to the paper pattern and format of the CLAT exam. So, choose your mocks wisely. Be mindful of the type of mocks you are solving, whether your mocks are increasing or developing with the level of the exam (hard, easy and moderate), or whether you are giving it just for the sake of it. If you are weak in any subject you can join the best CLAT coaching in Lucknow for CLAT 2022.
Check the sample papers of CLAT, AILET, SLAT, and LSAT in the 'Resources' section after login. Current Affairs & Legal Affairs with Previous Year Papers
DISCLAIMER: The author is solely responsible for the views expressed in this article. The author carries the responsibility for citing and/or licensing of images utilized within the text.