IAS couple, who roamed with the dog in Delhi's stadium, gets transferred, orders issued by the Ministry of Home Affairs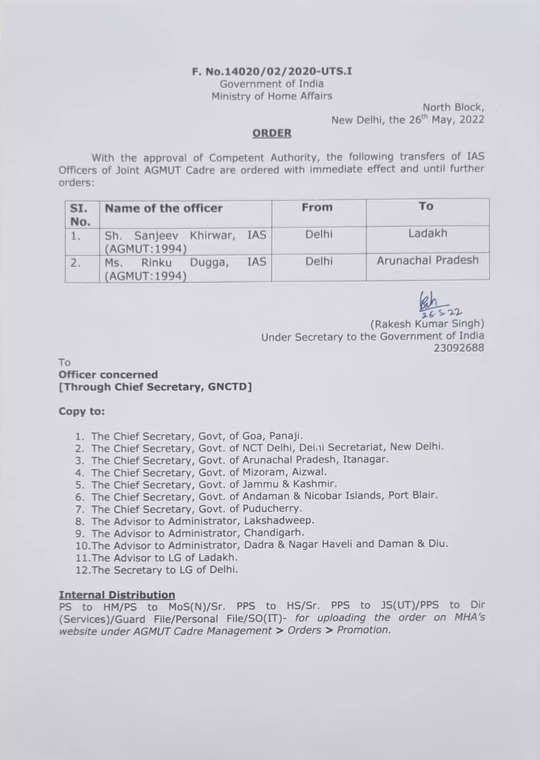 From social media to newspapers, one person was the most discussed today. His attitude was discussed more than the person. These people are Sanjeev Khirwar, an IAS officer posted in Delhi, whose picture of walking a dog with his wife in the capital's Thyagaraj Stadium in the morning became increasingly viral. The IAS couple was transferred by the Union Home Ministry after all-round defamation. Both the husband and wife have been transferred to different places by the ministry. Husband Sanjeev Khirwar has been sent to Ladakh, while his wife Rinku Dugga has been transferred to Arunachal Pradesh. Information about this was given by the office of the Ministry of Home Affairs (MHA). Sanjeev Khirwar is a 1994 batch IAS officer of AGMUT cadre. Presently Sanjeev was posted as Principal Secretary in Revenue Department in Delhi.
What was the reason for transfer of Sanjeev Khirwar?
The Tyaagraj Stadium Complex is under the Delhi government. The Indian Express reports that Khirwar has been occupying the stadium in the early evening for the past few months. From there the athletes and their coaches are banished. Why? So that Officer Babu can walk his dog. Yes, you may be surprised to read this, but this is the truth.
According to media reports, the coach told that earlier we used to train here from 8 to 8:30. But, now they are asked to leave the stadium at 7 pm so that the officials can walk the dog there. Because of this our training and practice routine is getting affected. According to media reports, it was seen at 6:30 pm for three days in about 7 days that the guards are evacuating the ground by whistling. The stadium's administrator, Ajit Choudhary, said the official timing of the game is 4 to 6 pm, but "in view of the heat" they allow athletes to train till 7 pm. It is not known whether any government officials are using the stadium after 7 pm. Taking this seriously, the Union Home Ministry is believed to have transferred Sanjeev Khirwar and Rinku Dugga to Ladakh and Arunachal Pradesh.
All government sports centers will remain open till 10 pm – 
After the picture of IAS Sanjeev Khirwar walking a dog in the stadium, the Delhi government also issued new orders for the capital's stadium. Announcing on Thursday, the Kejriwal government has directed all sports centers to open by 10 pm. CM Kejriwal said that all sports complexes under the Delhi government will remain open till 10 pm so that all the players can practice till late at night.
DISCLAIMER: The author is solely responsible for the views expressed in this article. The author carries the responsibility for citing and/or licensing of images utilized within the text.